Disclosure: This article is part of a military personal finance bloggers #BRSBlitz education campaign sponsored by USAA. I am receiving a fee for posting; however, the opinions expressed in this post are my own.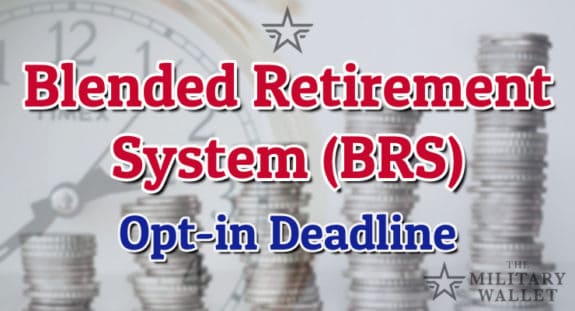 The Blended Retirement System (BRS) officially rolled out on January 1, 2018. Members who joined the military on or after January 1, 2018 are automatically enrolled in the BRS.
Members who joined the military before that date were eligible to remain under the previous military retirement plan, or they could choose to opt into the BRS if they had less than 12 years of active duty service (or an equivalent number of points in the Guard or Reserves, which comes out to 4,320). Those with more than 12 years of service are automatically grandfathered into the High-3 Retirement Plan.
There's a catch, however. The decision to change retirement plans is irrevocable, and members only have one year in which to make their decision. That window is closing on December 31, 2018.
That means there is only one month left to decide to stay the course with the legacy retirement plan or opt into the Blended Retirement Plan.
The decision is a highly personal one and will depend on many factors. As such, I can't tell you which is best for your situation. Only you can do that. But you will need to decide soon.
A Brief Overview of Your Retirement Options – High 3 vs. BRS
The legacy retirement plan, called the High 3 Retirement plan, is a cliff-vesting retirement system which vests at 20 years of service. A cliff-vesting retirement plan simply means that you earn full retirement benefits all at once, rather than over time. This is common for many pension systems.
The High 3 Retirement plan takes an average of your highest 36 months of pay and uses that as a multiplier based on the number of years you served. Simply take your average pay and multiply it by 2.5% per year served. 20 years of service will earn you 50% of your average base pay. You earn another 2.5% for each additional year served. (DFAS will actually calculate partial months and days as well, but you get the idea).
The Blended Retirement System has a few changes from the High 3 Plan. It utilizes a lower multiple for each year of service, but it also adds matching TSP contributions and a Continuation Pay bonus.
The BRS uses the same average of your highest 36 months pay but uses a lower multiplier to determine the amount of your pension. The BRS uses a 2.0% multiplier instead of 2.5%. Half of a percent doesn't sound like much – until you run the numbers. Suddenly, a pension based on 50% of your base pay at 20 years is only 40% under the BRS – a reduction of 20%.
Fortunately, there is more to the story. The BRS also offers members something not offered under the High 3 retirement plan – matching TSP contributions, up to 5% of your base pay.
Members are also eligible for a Continuation Pay bonus when the member reaches 12 years of service, provided he or she agrees to another service commitment of 3 or 4 years (branch specific).
The Active Duty Continuation Pay Bonus is between 2.5x to 13x the member's monthly base pay. (Each branch of service can determine the exact amount, but it will be no less than 2.5% of base pay). Guard / Reserve Continuation Pay Bonus is between 0.5x to 6x the monthly basic pay of a member of the same pay grade, as if serving on active duty.
Comparing The Retirement Plan Options
Looking at the above overviews, you can sum up the plans like this:
High-3 Plan:
50% pension at 20 years, plus 2.5% for each additional year served.
BRS:
40% pension at 20 years, plus 2.0% for each additional year served;
Plus matching TSP contributions of up to 5% of your base pay
Plus Continuation Pay Bonus at 12 years of service, worth at least 2.5 times monthly base pay
How Do I Know Which Retirement Plan is Better?
The short answer is – you don't. You will have to use some educated guesswork and some nifty tools, like the calculators provided by the DoD, or the BRS Tool available on USAA.com.
Both of these tools are available to everyone, and you do not need to be a USAA member to use the BRS Tool on their site.
Now input your data and run the numbers.
Calculators are useful tools, but they can never be perfect. Keep in mind that no one can predict future stock market returns, inflation, and similar factors.
You can also play around with some assumptions to see how changing inputs impacts the end results. The most important thing is to understand how these two plans work, and whether or not one may be better than the other for you.
Get started with the Military Retirement Comparison Tool on USAA.com.
Now Let's Take a Step Back and Look at the Big Picture – It's Not Just About the Money
My friend, Doug Nordman, over at The Military Guide, calls the Blended Retirement System, "a lifestyle decision masquerading as a financial decision."
And he is spot on.
The truth is, the vast majority of active duty military members will never make it to retirement. There are hundreds of reasons why – personal, medical, professional, you name it. There are as many reasons as there are people in the military.
Fewer than 20% of military members actually remain on active duty long enough to earn a pension. That means over 80% walk away from the military with no retirement benefits.
DoD officials estimate that close to 85% of participants in the Blended Retirement Plan will leave the military with at least some retirement benefits.
That is quite a difference!
Staying in the Military Until Retirement Isn't Guaranteed
People who separate from the military for a variety of reasons and the vast majority of them never end up receiving any military retirement benefits.
I left active duty after 6.5 years of service. I was completely burned out and I needed to change both my personal and professional situation. I left active duty with no military retirement benefits.
It was only after meeting Doug and reading his book, The Military Guide to Financial Independence and Retirement, that I realized I may still be able to serve. After an 8.5 year break in service, I joined the Air National Guard and I am now a little over halfway toward earning a military retirement.
I bring this up because I was very close to being in the 80+% of servicemembers who leave the military with no military retirement benefits. I later joined the Guard, so I may end up earning military retirement benefits in the end. But even that isn't a given.
I would have jumped at the chance to join the Blended Retirement System while I was on active duty, had I been given the opportunity.
The Blended Retirement System Gives You Options
Participating in the BRS, and taking control of your financial planning, gives you the option to walk away from the military if you want to, or at least help you to be better prepared if you are forced to separate from the military, even through no fault of your own.
Being able to walk away from the military knowing you're are on track for retirement is priceless – and that can come through your pension if you reach retirement or through the Thrift Savings Plan or other investments.
Is participating in the BRS a requirement to save on your own? Absolutely not. But the matching TSP contributions are a nice incentive to contribute to your TSP, and the additional 5% (if you max out the matching contributions) will help you reach your goals more quickly.
Again, the Blended Retirement System has a financial element, but it's not just about the money.
What Else Should I Consider When Making My Decision?
There are many things to consider – where you are in your career, the likelihood you will remain in the military long enough to retire (keep in mind, fewer than 20% of all servicemembers reach retirement), your civilian career prospects, and many other factors.
We have a detailed article that covers 10 factors to consider before opting into the BRS. It was written by Forrest Baumhover, a retired Navy officer and current financial planner. So he is coming at this article with two levels of professional experience.
Here are some additional articles you can reference for this decision:
Which Military Retirement Plan Should I Choose?
Again, this is highly personal. Speaking as someone who left active duty after my first term, I can appreciate the flexibility the BRS offers. On the other hand, I can also appreciate the allure of the higher fixed-pension.
If you are junior in your career and undecided about your plans, then I would give consideration to the BRS. The decision becomes more nuanced and personalized as you gain rank and years of service. That's when the math changes.
At the end of the day, you will need to examine your military career prospects, desire to continue serving, and your ability to serve.
Then run some numbers and come to a decision you can live with.
Again, I recommend using both the DoD BRS calculator and the USAA's Military Retirement Comparison Tool.
Both tools should help you have a better understanding of your options.
Take Action by Dec. 31, 2018
December 31st is the last day to take action. There will be no extensions to the deadline.
That said, I recommend making your decision soon and be sure to take action in advance of the deadline. The last thing you want is to miss the deadline because of a last-minute glitch, or because you get distracted by the holidays.
Schedule 30 minutes to an hour to run some numbers, talk it over with your spouse/significant other/mentor/friend, then take action!
About Post Author