The Department of Defense (DoD) recently announced they are removing Social Security Numbers from all DoD issued military ID cards in an attempt to make them more secure and help prevent identity theft. In my opinion, this move is long overdue, and was the subject of an article I wrote about how military members are prime targets for identity theft.
New guidelines regarding the issuing of DoD ID Cards.
The new process for issuing DoD identification cards will eventually phase out the requirement for printing SSN's on DoD ID Cards, including ending the requirement to enter SSN information in the bar codes of CAC cards. This change will affect all DoD ID card holders, including active duty military members, members of the Guard and Reserve, family members, retirees, contractors, and anyone else who receives a DoD ID card. As part of the directive, SSNs should not be relied on as a unique ID number.
These changes are being made by the Department to protect the identity information of cardholders. Changes to ID cards will occur when the cardholders' expired cards are renewed. You can renew your ID card at any RAPIDS Location.
Three phase removal of SSNs from DoD ID cards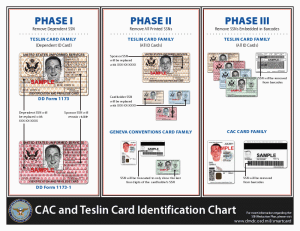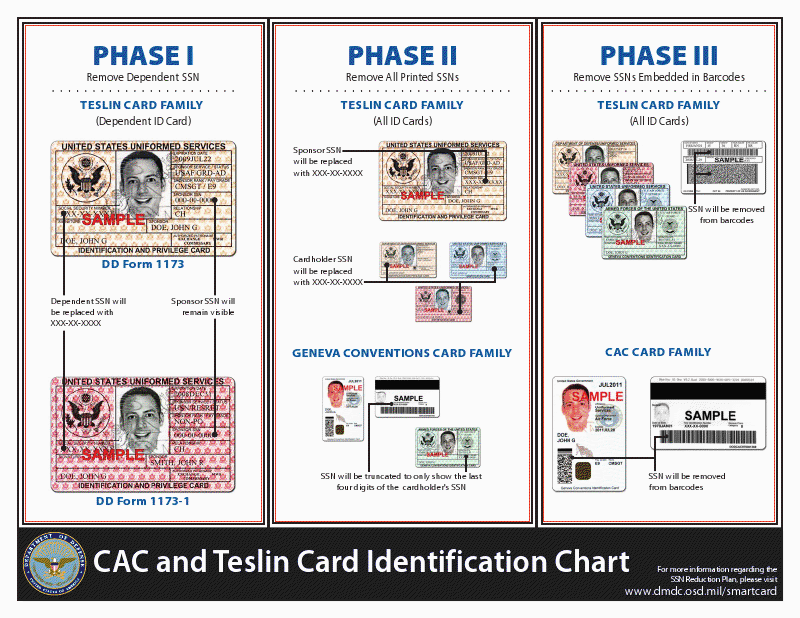 The removal of SSNs will occur in three phases, all of which will occur when DoD ID cards are renewed (do not go to the Pass and ID section at your base and request a new card solely to get your SSN removed, they will probably not do it).
Phase One: Remove Dependent SSNs To begin by end of calendar year 2008
Phase Two: Remove printed SSNs from all cards* To begin by end of calendar year 2009
Phase Three: Remove SSNs embedded in barcodes To begin during calendar year 2012
Removal of SSNs from DoD Retiree cards
DoD issued retiree cards usually have an indefinite expiration date. The earliest you will be able to replace your DoD issued retiree card for one without your SSN will be January 2010, as the priority will be to get active duty military members cards replaced first.
Additional information:
DoD card renewal locations: Updated DoD identification cards without the owner SSN will be issued at over 1,500 RAPIDS ID card centers worldwide. Visit the RAPIDS Site Locator to find a DoD ID card renewal location near you. Use the online RAPIDS Appointment Scheduler to set up an appointment for a new Military ID Card.
Required items: Be sure to bring two forms of identification, including at least one state or federal photo ID.
For more information call you local Pass & ID center or the nearest RAPIDS Site.