UPDATE: Congress has decided not to cut BAH from dual military couples. This proposal was suggested in the fall of 2015. It was scrapped in the summer of 2016. Your BAH is protected for now. Do keep in mind that Congress and the DoD are looking for ways to save money and this proposal could be made again in the future.
There is a rumbling in Congress that would eliminate Basic Allowance for Housing (BAH) for the lower ranking member of dual military couples. The proposal would also cut BAH by 25% for unmarried servicemembers who share housing with other military members.
This current proposal is included in the Senate's version of the 2016 Defense Authorization Bill, but it does not appear in the House version of the bill. President Obama has gone on record as not supporting this language as written in the bill.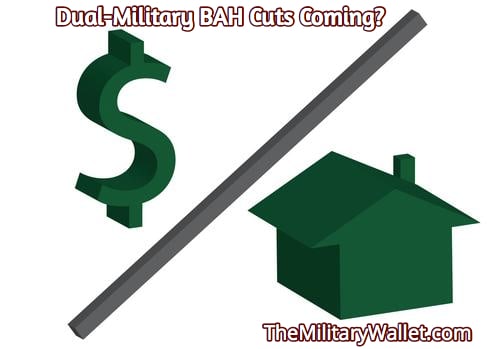 Note: This is only a proposal. Right now, this isn't a new law, and it hasn't been voted on, or approved. In fact, there is a lot of high-level opposition to this proposal. But it's worth writing about for two big reasons:
Where there is smoke, there is fire.
The military is going through a lot of changes right now, and benefits that have long been considered sacred, may not always stay that way.
Let's look at this proposal and see how this would affect service members, and understand why this is not in the best interest of our troops.
Why Cut BAH?
It all comes down to money. The government is looking to save money anywhere it can, and the military is one of the nation's biggest line items. Troop-related expenses, including payroll, health care, retiree benefits, and other benefits, are one of the largest line items for military spending. And since personnel costs are one of the largest military line items, they are an easy target.
Case in Point: BAH was recently targeted when Congress agreed to reduce BAH to only cover 99% of expenses. Until recently, BAH was set to cover 100% of housing expenses for the local area. But starting in FY 2015, BAH was reduced to cover only 99% of expenses for the local area. (Read more about BAH protection to see how you are grandfathered in to your current BAH rates until you PCS or PCA).
BAH was effectively reduced by 1%, which was a much lower reduction than the 5% reduction that was originally proposed. Even so, shaving 1% off BAH rates will save the government $200 million per year. That is a massive amount of money. But now the government wants to make more cuts, only this time they want to take a lot of money from a few servicemembers, instead of a little money from many servicemembers.
Why Target Dual Military Couples and Those who Share Housing?
Again, money is the issue. There are some people who look at the situation from the outside and think, "well, we provide our troops with a housing benefit, but when they shack up together, they get double the pay, even though it only costs marginally more to house two people than to house one person. Therefore, we can save money by limiting BAH to one member for a married couple, or by reducing the benefit for military members who elect to have a military roommate."
It doesn't take much to look past this line of thought and understand that BAH is part of the overall pay and benefits package military members receive. This is the same overall pay and benefits package used to compare military pay to civilian pay, or to compare military compensation to other military members. Arbitrarily reducing BAH for select members means they would suddenly earn thousands of dollars less than their peers for the same work performed.
One of the interesting things about military pay and compensation is that for all intents and purposes, it is equal. A military member with the same pay grade, years in service, and zip code earns the same as another servicemember in the same situation, regardless of whether or not they are in the Air Force, Army, Marines, or Navy. The only aspect of their pay that may set them apart would be special duty pay, such as flight pay, hazard pay, sea pay, etc. Barring that, all things are equal. In fact, pay and benefits are equal even if one service member has a "cushy" office job, and another person works a difficult manual labor job, or their job puts them at the tip of the spear.
The argument for and against duty-adjusted pay has been around for years, and has never gotten far when it comes to overhauling the pay system. So if we are so focused on giving military members equal compensation regardless of their military job, why would we penalize members based on their living arrangements?
This Proposal is Discriminatory and Harmful

Reducing BAH for dual-military couples and military members who co-habitate arbitrarily and effectively reduces the pay and compensation package those military members receive. It penalizes those who decide to marry another service member, and it penalizes those who decide to share living expenses with another military member.
Servicemembers who were once living separately but later decide to get married or move in together would have to take a pay cut to do so. In some cases, the pay cut could be very large (Losing your BAH could amount to a pay cut of over $10,000-$20,000, depending on rank and location). I can't think of any company or organization in the public or private sector that would arbitrarily decide to hand out pay cuts when their employees decide they want to marry another employee, or if they decided to live with another employee in order to share expenses.
In fact, you would think many other organizations would encourage marriage and being fiscally responsible.
Finally, this proposal would be discriminatory toward female servicemembers. DoD data shows that approximately 20% of active duty women are married to other servicemembers. Less than 4% of male servicemembers are married to another military member. (Source – 2013 Military Demographics Report, page 44).
Regardless of whether or not the female were the higher or lower ranking individual in the marriage, either she or her spouse would lose their BAH under this proposal. That would effectively give a massive pay cut to 20% of our nation's female servicemembers, while only doing the same to 4% of our nation's male servicemembers. How would this foster equality in the workplace?
Do we want to tell our military members they can marry whomever they want to marry, but they may have to take a pay cut to do so?
I understand trying to save money. But this isn't the way to do it.