Our economy has been going through some major changes recently – including a period of high unemployment, depressed stock prices, and a floundering real estate market. As our economy recovers we are facing new challenges, including rising gas prices and higher food prices, and it's very possible we may witness inflation in the near future.
One way some investors choose to diversify their investment portfolios and hedge against inflation is by purchasing precious metals such as gold and silver. Many investors like gold and silver because they are tangible assets, unlike stocks and bonds and some other investments. That said, precious metals aren't completely inflation proof and as an investment they do carry risks – so be sure to do your due diligence before investing.
How and where to buy precious metals. There are a few ways you can purchase precious metals, including buying stocks and ETFs which represent precious metals companies, or you can buy physical gold, silver, platinum, or palladium bars or coins. Most bullion is sold at the melt-price and many coins are collectible and fetch a small premium over bullion. You can buy physical gold and silver from coin shops and other retailers, including online retailers.
After researching gold and silver companies online I decided to try out one of the more popular online options – American Precious Metals Exchange (APMEX). I recently received my first order from them – a silver coin pictured here in this article. This particular coin is 1 ounce of silver and features an enameled 4 leaf clover (I'm of Irish descent, so it's fitting for me). 🙂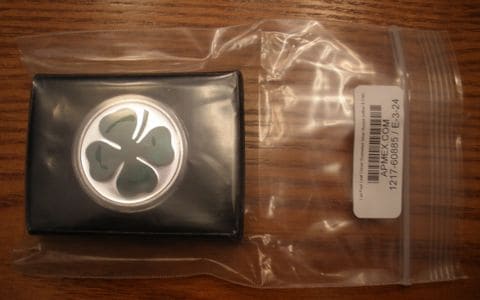 Receiving the first shipment. I was very happy with the delivery, which arrived quickly and was well-protected, as you can see in this picture below. The silver coin arrived in a padded envelope inside a plain brown box and there was no external indication of the contents, which is good for security reasons. In addition, the wrapping was tamper proof (and difficult to remove!) and I was required to sign for the package before I received it. In essence, no one will be able to mess with your order without you knowing about it!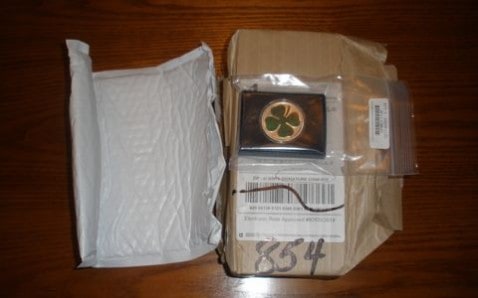 About APMEX: American Precious Metals Exchange is a well known and established dealer of precious metals such as gold, silver, platinum, and palladium, and collectible coins, currency, and similar investment grade items. They have been around since 1999 and have a customer satisfaction rating that exceeds 98%. They offer a wide variety of investment grade coins and bullion (according to their site):
We carry all U.S. Mint bullion products including gold, silver and platinum American Eagles. We also sell all Royal Canadian Mint Products including the gold, silver and platinum Maple Leafs as well as Krugerrands of South Africa. Additionally, we make markets in most gold bullion coins of any other foreign country.
How to buy gold, silver, or other precious metals from APMEX: The process is easy – simply visit their site and sign up for an account (signing up is free and you will be automatically registered to win 1oz of gold!). Once you are registered you will also receive their free weekly newsletter which is informative and helpful for investors of all skill levels.
Buying precious metals is a simple process. Once you are logged in, you simply select the items you want to purchase, then go to your cart. There is a slight premium over the market price, which is how APMEX makes their profit (just like if you ever exchanged money in an airport). This is normal for all precious metals dealers and APMEX is transparent in their pricing and among the industry leaders. In addition, you can receive a discount on the premium when you buy multiple coins or bars in the same purchase.
Your price is locked in for 10 days or until they receive your payment (this is to protect everyone since precious metals fluctuate in price).You can pay with the following methods:
Certified check
Cashiers check
Money order
Check
You can pay also with your credit card, but you will pay a slight premium due to the transaction costs they incur. Since you are dealing with investments, it's probably best to only use your credit card on a batch purchase or if you are getting cash rewards to off set the transaction fee.
Overall thoughts on APMEX: Overall, I am very happy with the process and I would be very comfortable making a larger purchase order in the future. If you are someone who invests in precious metals then I recommend visiting APMEX and looking around their website and comparing it to your favorite dealer before making any purchases.
About Post Author