Happy Veterans Day! Veterans Day is celebrated this year on Monday, Nov. 11, 2019. The Federal Holiday will be on the same day.
Many restaurants and companies thank our veterans each year by offering them discounts or a free meal.
To those companies offering veterans a free meal or discount, the military community gives a collective thanks!
Below you'll find a continuously updating list of this year's restaurant offers for veterans. Last year over 100 restaurants participated. Most restaurants announce offers at the end of October, up through Veterans Day. We will update this page daily.
Download a PDF of these Veterans Day free meals and discounts: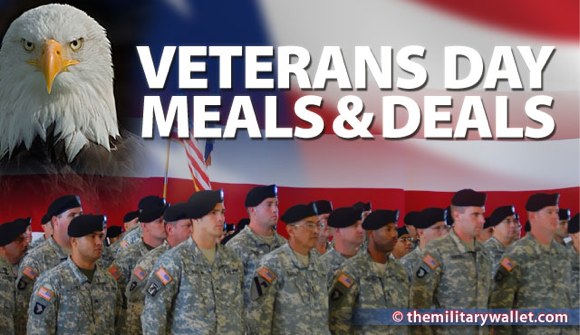 Please credit this resource: We are frequently updating this list with new deals and offers for the military community. If you use items on this list, please direct your visitors to this page so they can find the most up to date information: https://themilitarywallet.com/veterans-day-free-meals-and-discounts/ Thanks!
2019 Veterans Day Free Meals
Many restaurants offer free meals on different days. We will do our best to list them in a way that will help you find the offers by date, as well as byu alphabetical order. So we will list three sections: Free Meals Before Veterans Day, Free Meals on Veterans Day, and Free Meals After Veterans Day.
Without further ado, here is our list of free Veterans Day meals. Stay tuned as we are frequently updating this page as offers become available, and check in with your locations for dates, participation, and availability.
Free Meals on Veterans Day 2019
A
Applebee's, Nov. 11, 2019: One of 8 entrées to choose from for a free meal. Military ID or proof of service required. You can read all about the offer in our post here, and get more information and check out all of Applebee's locations on their website.
C
Chili's, Nov. 11, 2019. Free meal from a select menu. Dine-in only and participating locations only. Proof of military service required. More info.
G
Golden Corral, Nov. 11, 2019 (5pm – 9pm): The 19th annual Golden Corral Military Appreciation dinner is available to any person who has ever served in the United States Military. If you are a veteran, retired, currently serving, in the National Guard or Reserves, you are invited to participate in Golden Corral's Military Appreciation dinner, which you can learn all about in our post here.
M
Manhattan Bagel, Nov. 11, 2019. Free Bagel and Cream Cheese with I.D. (no official link; we received notification via press release) Locations.
R
Red Robin, Nov. 11, 2019. Free Red's Tavern Double and Bottomless Steak Fries for all Red Robin guests with a military ID or proof of service. More info.
Veterans Day Discounts – Rules of Engagement
Proof of Military Service
Most companies require some form of military ID or proof of military service. These include:
A Military ID Card (active/reserve/retired)
Current Leave and Earnings Statement (LES)
Photograph in uniform, wearing your uniform (if your service permits)
Veterans Organization Card (e.g., American Legion and VFW)
DD214, other discharge paperwork, or another form of identification
Other restaurants and companies may go by the honor system.
Participation
Second, always call ahead to verify locations, times, and participation. Many of the listed companies are franchises and may have different policies.
We will do our best to keep this page updated as we find new info, but the only way to guarantee you get your Veterans Day meal is by calling ahead and checking with your location.
Tipping
This one may be a no-brainer, but you should tip your server thoughtfully regardless of whether you ate a free meal or not.
In other words, please tip your wait-staff on the full meal price. Show your appreciation for their service. It's the right thing to do!
More Ways to Save this Veterans Day
We've written multiple posts to share even more military discounts and Veterans Day deals at your disposal.
In addition to paying an appreciative visit to one of the restaurants above, you can celebrate this Veterans Day with Veterans Day Activities, Events, & Attractions and Veterans Day Retail Discounts & Special Offers, including free National Park Admission, Amusement parks, and retail and regional discounts.
Don't miss out on all of the generous offers at your disposal this year.
Veterans Day Meals and Deals image and all written content copyright this site. All other images copyright their respective restaurant or brand.