Table of Contents
One of the most popular questions we receive is about travel discounts for military members and veterans. While there are some excellent discounts available for eligible military members and veterans, some other discounts can be more difficult to track down, and may not be worth it once you find it. Many companies don't have express policies for military discounts, and the companies that do may have limitations on availability (for example, the discounts may only apply to active duty members traveling on official military orders).
Let's take a look at some of the travel discounts out there, and how you can save on your travel, even if you aren't able to score a military discount.
Military Travel Discounts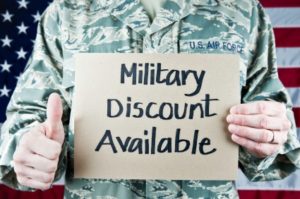 To make things easier, let's break these discounts into categories, including air travel, lodging and resorts, and everything else.
Discount Air Travel
Flying is generally the fastest and most convenient way to reach distant destinations. Thankfully, there are a few good ways to save money on your next flight. There are two main categories we'll look at – flying on commercial airlines and flying on military aircraft using Space-A travel.
Discount Airline Tickets
Most airlines offer a military discount, but you won't find these offers listed on travel websites. You will need to visit the airline website or call their customer service department to get the discounts. Many airlines also waive the checked bag fees for military members, especially when they are traveling on orders.
One of the most important things you need to know about military discounts is that they are often only available for active duty or members of the Guard/Reserves, and are sometimes only available when the member is traveling on official orders. Many military discounts for airline travel are also given as a flat percentage off the full-price fare and may not be the best price available. In many cases, you can find a better deal through discount travel websites.
Space-A Travel
Space available travel is great in theory, but may be limited in practice. As the government continues to downsize, the availability of Space-A travel becomes more and more limited. In general, Space-A travel is only open to active duty military, members of the Reserve Corps, retirees, and dependents of these groups. Recent changes to the law have also extended eligibility to veterans with a 100% service-connected disability rating.
Space-A Travel Availability
There are some scheduled trips that happen like clockwork and can be easy to jump onto, but in general, it is hard to reliably plan on using Space-A travel unless you live close to a participating unit, you have a flexible travel schedule, and you have a solid backup plan (which may include buying a last-minute ticket on the economy if your Space-A flight falls through).
According to the Air Mobility Command (AMC):
The best resource is to either visit the AMC Travel Site, or contact the nearest military passenger terminal (a list of Passenger Terminals is available on the AMC Travel Site). The terminal staff will have the most current information. If you plan to travel Space A, contact the passenger terminal(s) where you plan to depart from.
Here is the Space-A Travel Handbook (pdf) from the AMC.
Discounts on Lodging and Resorts
Hotel Discounts
I have found that most hotel chains will offer military discounts, provided there isn't a major event going on (for example, you will be hard-pressed to get a military discount at a hotel chain in NYC over New Year's Eve, or a similar time when most hotels are fully booked).
Many hotel chains are also willing to cap their rates at the local per diem rate, which can equal substantial savings, depending on the hotel chain and location. Rates capped at the per diem rate may require official orders, and almost always require an active duty or Guard/Reserve ID card.
Note: these tips generally apply to your standard travel hotels and will not apply to your more premium hotel chains.
Base Lodging
Most medium and large size bases have lodging available. It is generally available to active duty, retirees, members of the Guard/Reserves, veterans with a 100% VA service-connected disability rating, and dependents of these groups.
Base lodging is generally much cheaper than hotels on the economy and is usually very clean and well-maintained. Some bases may be off the beaten path in terms of where they are located, but depending on where you are traveling, the cost savings may be worth the small inconvenience.
Military Resorts
The Armed Forces Recreation Centers offer exceptional discounts off comparable locations. Some popular resorts include the:
In some overseas locations, Status of Forces Agreements may make some groups ineligible to stay at some resorts. You can find more information at the Armed Forces Recreation Center website.
Military Vacation Clubs
Other options include Armed Forces Vacation Club and the Veterans Holidays website.
Some of these vacation plans offer exceptional value. Be sure to double-check eligibility before making any reservations. In many cases, eligibility is limited to active duty, Guard/Reserve, retirees, and surviving spouses, and the families of those members.
Other Military Travel Discounts
Rental Cars
Many rental cars have negotiated rates with government agencies. If you are traveling on official orders, you should be able to get a great rate. You may also be able to get a similar rate if you are on personal business and have a military ID card or retiree. These rates aren't usually available for those who are no longer serving and didn't reach retirement.
Bonus discounts may be available: Many car rental agencies charge higher rates for those who are under age 25 or age 26. This is often waived for military members.
Savings Through Travel Websites
Personally, I usually find the best deals by using travel websites like Travelocity, Priceline, Hotels.com, Expedia, and similar sites. They typically have the best inventory and you can often compare prices between multiple airlines or hotels. These companies make it very easy to book package deals, so you can book an airline ticket, hotel room, and rental car all in one place.
While this is certainly more convenient than booking each separately, it's not always less expensive. So be sure to shop around.
Bonus: some of these companies offer discount plans or rewards for frequent customers. For example, Hotels.com offers a free nights hotel stay for every 10 nights you stay through reservations you book through them. I've earned several free nights stays through the Hotels.com rewards program.
Credit Cards and Rewards Programs
Using a travel rewards program can help you earn points and benefits such as free checked bags, priority boarding, free flights, free nights at a hotel, and other perks. These are even better when used in conjunction with a credit card rewards program.
Some of the more popular travel credit cards are a joint offering between a credit card company and a specific airline or hotel chain. Many come with a sign-up bonus equal to a free flight or several nights stay at a hotel.
Some of these rewards credit cards have an annual fee (usually waived for the first year, depending on the credit card issuer), and some come with additional perks, such as bonus points for purchases on a branded airline/hotel, free checked bags for you and your party, priority boarding, discounts on flights and merchandise, and other benefits. Some even come with a free flight or free night stay as part of the annual renewal fee, which essentially cancels out your annual fee. Here are some lists of the current credit offers you may find helpful:
As with all credit cards, be sure to read the fine print before signing up for any deals, and be sure to pay your card in full each month to avoid any fees or interest.
Travel Insurance
If you are ever worried about not being able to complete your travel you should really consider a travel insurance policy. These companies are a great option and many offer military discounts.
Finding the Best Travel Discounts Takes Time
In my experience, booking the best travel deals requires a little legwork and a lot of patience. If you are traveling on military orders, always check with your unit before booking travel. They may have access to special offers or may have other requirements.
If you are traveling on your own, then start with your itinerary, and determine whether or not you can work some of the military-specific travel options such as Space-A, Armed Forces Recreation Centers, or base lodging into your plans. If you can, then you can usually save a substantial amount of money on your trip. If you aren't able to work one or more of those into your itinerary, then you can always go look at the travel websites mentioned above. Worst case scenario, you get the same deal everyone else gets.
Best of luck, and safe travels!
Getting ready to buy a home? Find a trusted VA lender in just a few minutes.
Some VA lenders are tailored for borrowers with weaker credit, while others offer a larger variety of VA loan types. The best way to determine if you are eligible is to start by connecting with a lender. Lenders can pull your Certificate of Eligibility in minutes to see if you meet the basic service requirements and have VA loan entitlement. Additionally, a lender can review your financial information to determine if you meet credit and income guidelines.