InterContinental Hotel Group (IHG) is one of the largest hotel chains in the world, with more than 6,000 international hotel properties.
IHG's hotel portfolio includes 17 brands:
IHG divides these brands into four collections; more on that below.
Table of Contents
Does IHG Offer Military Discounts?
IHG's 17 brands offer a variety of lodging experiences and pricing. Most also provide military and veteran discounts.
For official travel, civilians, military and defense contractors can get hotel rooms at GSA-negotiated government rates. For vacation, you can obtain IHG veteran discounts and military leisure rates when you book online or by phone.
What Is the Military Discount Rate at IHG Hotels?
IHG military discounts vary by hotel and availability. The IHG military discount applies to most of its hotels in the U.S. and Canada and many overseas properties. This discount is at least 5%, according to IHG's website, and you may save significantly more.
Keep in mind, hotels offer a limited number of rooms at discount rates, so make sure you book as early as possible.
Eligibility for IHG Military Rate
IHG offers special rates for both official and leisure travel.
You can book with either rate online by selecting the "government/military rate" in IHG's drop-down menu in the room lookup tool. Enter your search requirements to see IHG's military rate hotel booking options for official and leisure travel.
Make sure you book the correct rate. If you can't prove your status at check-in, you must pay the full price.
Official U.S. Government Rate
IHG offers rooms at U.S. government rates at over 3,000 locations worldwide. The General Service Administration (GSA) publishes these rates annually, which represent the maximum the government will reimburse you per night, not including taxes.
To make sure you're getting the correct GSA rate, check out the GSA's per diem lookup tool here. If the per diem rate isn't available online, you can book by calling IHG at 1-877-424-2449.
You can only book these rates when you are on official travel, according to the government rate policy published on IHG's website.
You must show a copy of your orders or use your government travel card at check-in.
You can book these rates online by choosing the official government rate option at room selection or call IHG at 1-877-424-2449.
Military and Veteran Leisure Rate
IHG also offers military and veteran leisure rates at properties throughout the world. You can use these hotel military discounts at participating IHG properties worldwide.
Active-duty, veteran and retired military members and their families are eligible for the IHG military discount. To book these rates online, filter rooms by "government/military rate" when you search bookings and choose a room with the military leisure option. You must show a military or veteran identification card at check-in to prove your status.
What Are IHG Army Hotels?
Whether you're traveling on vacation or PCS orders, consider booking at one of the IHG Army hotels. IHG's army hotels are some of the best hotels for military discounts. These hotels include Candlewood Suites, Staybridge Suites and Holiday Inn Express locations at 39 military bases. You'll also find IHG's special "Historia" lodging facilities, set up inside historic military buildings.
For retirees: When booking online, click on the "i" next to each option to find the retiree rate. (It is usually the lowest rate).
Remember, you must provide proof of your military retiree status at check-in.
IHG Army Hotels offer competitive rates for leisure stays. A quick search turned up a $129 per night retiree rate or $150 military leisure rate at the Fort Shafter Army Hotel in Honolulu. This was about 50% cheaper than other hotel listings in the area for the same time frame.
While anyone can book a stay, you must have base access and military, veteran or dependent identification to check in.
All IHG Army hotels are pet-friendly, making these great to book if you have to travel with your dog or cat – though you may have to pay a pet fee.
Use this dedicated site to book an IHG Army Hotel.
IHG Hotels Offering Military Discounts
With so many options in cities around the world, which IHG should you choose?
Here's a look at each IHG hotel collection to help you decide which IHG hotels with military discounts are best for your needs.
IHG Essentials Collection
Consider hotels in IHG's essentials collection for budget travel and when you don't need a kitchen or multi-room suite.
Avid Hotels
Launched in 2017, Avid Hotels have simple designs with open storage. You won't find kitchens or closets, but Avid rooms include a work desk, hard floors and blackout curtains. Hotel amenities include coffee and complimentary breakfast items.
Avid may be a good choice if you're looking for a quick, affordable stay in a basic hotel room.
How to Book Avid Hotels Military Discounts
You can find military discounts on the IHG reservations page or by calling 1-877-424-2449.
Ideal for budget family trips, Holiday Inn hotels have been around for more than 70 years.
Holiday Inn's "kids stay and eat free policy" sets them apart from other IHG brands. Up to two children can stay free per room, and up to four children can eat for free for breakfast, lunch and dinner when accompanied by adults.
Kids under 18 qualify for "stay free" rates, and children under 12 can eat free at Holiday Inns in the United States, Canada, and Central and South America, according to the Holiday Inn website.
How to Book Holiday Inn Military Discounts
You can book official military and leisure travel discount rates here. A second menu row will appear when you click on the destinations block in the booking menu. In the "rate preference" drop-down menu, select "government/military rate."
Holiday Inn Express
Unlike its big brother, Holiday Inn Express is a distinct brand within the IHG repertoire. Geared toward business travelers, Holiday Inn Express keeps its lodging experience "simple and smart" by streamlining check-in and amenities, including "Grab 'n Go" food items, according to its website.
How to Book Holiday Inn Express Military Discounts
Use your military discount to book Holiday Inn Express stays online or by phone. When calling the IHG reservations line at 1-877-424-2449, tell them about your military affiliation and identify if you are seeking the official or leisure rate.
IHG Suites Collection
If you need room to spread out, consider IHG's collection of suite hotels. These are family-friendly properties with amenities for long-term stays, such as fully-equipped kitchens and separate living and sleeping areas.
Candlewood Suites
Candlewood Suites work well for long-term family stays, like PCS moves or leisure travel.
Each Candlewood Suite features the following amenities:
The Gazebo Grill, where you can grill your own food, often pool-side
An appliance borrowing program where you can sign out crock pots, waffle makers, blenders and more to use in your suite
Free laundry facilities, including washers and dryers
Free WiFi
A large working desk in every suite
Full kitchens in every suite
The Candlewood Cupboard where you can buy food items 24 hours per day
24-hour gym
100% pet friendly
Candlewood Suites offers single and double-bed studio suites and one-bedroom suites with weekly housekeeping.
How to Book the Candlewood Suites Military Discount
To get the hotel military discount at Candlewood Suites, book online and select "Government/Military Rate" from the rate drop-down menu. Alternatively, you can call the reservations line at 1-877-424-2449.
Staybridge Suites
Staybridge Suites are another option for guests with extended period stays. Standard amenities include:
Fully equipped kitchens, including coffee makers, toasters and dishwashers
Large workspaces
Iron and ironing boards
Staybridge has four basic floorplans, including studio, one-bedroom and two-bedroom suites, according to the IHG website. Bedrooms contain one king or two queen-sized beds.
Staybridge Suites have evening socials each Monday, Tuesday and Wednesday, when appetizers and drinks are free.
How to Book Staybridge Suites Military Discounts
You can book military rates on the Staybridge Suites reservations page.
Atwell Suites
Atwell Suites are ideal for working trips, featuring coworking and public areas where you can collaborate on professional projects or socialize. You can also book hotel meeting rooms for more privacy.
Atwell Suites offers complimentary breakfast and nightly free shareable plates along with beer, wine and cocktails.
Additionally, the following comes standard at Atwell:
A "wet bar" in each room that includes a coffee maker, sink, minifridge and microwave
A 55" flat-screen television
Lots of outlets throughout the suite
Spa bathroom with full-size shampoo, conditioner and other amenities
Lounge area with sofa
Standing desk (you can sit too)
Full-size closet with two entrances, so you can access it from your main suite or the bathroom
Hard flooring (for those who hate hard-to-clean hotel carpet)
On-site fitness studio
How to Book Atwell Suites Military Discounts
You can book official and leisure travel military discount rates at Atwell Suites on the IHG website or the Atwell Suites reservations page.
Holiday Inn Club Vacation
Holiday Inn Club Vacations work if you want to book a villa with a private bedroom in a popular tourist destination. Holiday Inn Club Vacations is a timeshare program, but IHG also books rooms for regular travel.
Holiday Inn Club Vacations offer various amenities on-site, which may include:
Golf or mini-golf
Fully-equipped kitchen
Patios
Balconies
Pools
Full-service spas
Waterslides
Fitness centers

In addition to the cost of lodging and taxes, you may have to pay a compulsory resort fee when you stay at these locations.
How to Book Holiday Inn Club Vacation Military Discounts
You can book stays at the IHG website or the dedicated Holiday Inn Club website. With the latter, select the middle option, "Book a Resort Villa," then "government/military rate" at the drop-down menu on the next page.
IHG Premium Collection
IHG's Premium Collection features upscale hotels located in diverse locations. These hotels are suitable for personal or professional travel.
Rooms at IHG's premium hotels tend to be more expensive than rooms in essential hotels.
Voco Hotel
Voco vows to make your stay memorable by focusing on these three aspects of your visit:
Warm hospitality at your check-in, including a complimentary, locally-inspired refreshments
Luxurious bedding and bathroom amenities for an indulgent experience in your room
Social spaces, including bars and lounges, where you can spend time with friends and family or just enjoy your surroundings

These hotels are ideal for work travel, featuring business packages with options like late check-out and meeting rooms.
How to Book Voco Hotel Military Discounts
Military discounts are available when you book online and choose the appropriate rate preference, or you can call IHG to book your rooms.
Hualuxe Hotel
Hualuxe is an international brand "tailored for Chinese guests," according to the IHG website. Exclusively located in China, all Hualuxe hotels practice Chinese etiquette and status recognition.
The hotel also features a range of spaces for business banquets, private parties, and relaxed private business meetings, including the distinctive "LUXE tea" and "LUXE gather" spaces.
About Booking Hualuxe Hotel Military Discounts
It's possible to book military discounted rooms with Hualuxe on the IHG website. However, if you're a current military member, you should be careful about identifying your military affiliation in China. Speak to your security manager before requesting a military discount at one of these hotels.
Crowne Plaza
Crowne Plaza offers upscale rooms at properties around the world. Crown Plaza's WorkLife rooms feature a desk, sofa, device recharging stations and aromatherapy sprays.
How to Book Crowne Plaza Military Discounts
There are more than 400 Crowne Plaza locations throughout the world. You can book a discounted military and government rate at the IHG website.
EVEN Hotel
IHG describes its EVEN Hotel brand as a "wellness lifestyle hotel." Check out these properties if you like to maintain your fitness while traveling.
EVEN Hotels offer in-room fitness and training accessories including streamable routines. Every room has natural eucalyptus fiber bedding and a workspace with a standing desk.
On-site athletic studios include group exercise classes, cardio, strength and core equipment.
EVEN Hotels' Cork and Kale Market & Bar includes healthy options, including gluten-free choices. They also have desserts, smoothies and organic cocktails.
How to Book EVEN Hotel Military Discounts
You can book rooms with military discount rates at the IHG website or by calling 1-877-424-2449.
IHG Luxury and Lifestyle Collection
IHG's luxury and lifestyle collection hotels are for travelers who want to splurge. You'll pay the most for these top-tier rooms, so they represent a once-in-a-lifetime vacation opportunity for many travelers.
Six Senses
Six Senses are luxury resorts in exotic locations. Each includes wellness and spa amenities like massages, facials, personal training and health consultations.
How to Book Six Senses Hotel Military Discount
Though you can find their listings on the IHG website, you'll have to book stays at the Six Senses website, which is an external site. You can also see contact information for individual hotels on this site if you want to book by phone.
Six Senses is not a military discount hotel. Rooms at these resort locations are not eligible for military discounts when booking online or via phone.
Regent Hotel
Regent Hotels are another luxury offering. Regent currently has eight locations but plans to double its hotels in the near future, according to its website. You can currently find Regents in these cities:
How to Book Regent Hotel Military Discounts
To book a room in a Regent, you can click here. Regent offers military discounts at hotels located throughout the world.
InterContinental
InterContinenal represents IHG's flagship brand. InterContinental has several types of properties:
InterContinental is IHG's most widespread luxury brand, with more than 200 locations throughout the world. The InterContinental Hotel in Kabul, Afghanistan is not affiliated with IHG.
How to Book InterContinental Military Discount
You can book InterContinental stays everywhere (except Kabul) and see all their other locations here. Government and military rates are available from the "rate preference" drop-down menu in the reservation portal.
Vignette Collection
The Vignette Collection is a group of unique and individual luxury hotels owned by IHG. Having launched in 2021, the Vignette Collection is IHG's newest brand. Hotels in this collection are independently owned properties that operate as franchises within the Vignette Collection, according to a press release on the IHG website.
IHG has two unique Vignette Collection hotels with six more on the way. You can book these hotels directly from the IHG website. You can also get military and government rates online by choosing the appropriate "rate preference" from the drop-down menu. As with the other rates, you will have to prove your affiliation at check-in, and the special rate might not be available at all locations.
Vignette locations include Brisbane, Australia and Bangkok, Thailand. The Vignette Collection Casa da Comphania in Portugal will open in March 2023.
How to Book Vignette Collection Military Discounts
You can visit this page to book stays at the Vignette Collection or the main IHG website.
Kimpton Hotels and Resorts
Kimpton Hotels are another set of distinctive properties within the IHG portfolio. These one-of-a-kind properties include luxuries properties in the following destination styles:
The brand also has some unique amenities like special breast milk fridges they can deliver to your room, evening socials and even live music and special events like their Kimpton Off the Record series. In 2022 artists included Vincent, Gallant, The Soul Rebels and Lila Ike.
How to Book Kimpton Hotels and Resorts Military Discounts
You can book hotels from the IHG Kimpton website, and rate options include government/military.
Hotel Indigo
Hotel Indigo is another option if you want to stay in a boutique hotel with its own unique style instead of a large corporate chain. Hotel Indigo operates in capital cities and cultural centers around the world.
No two Hotel Indigo properties are alike, according to its page on the IHG website.
Along with their celebration of local flair, Hotel Indigo rooms feature large murals, plush bedding and hard floors. Their spa bathrooms have upgraded "rainfall" shower heads and high-quality, full-sized amenities. They also have 24/7 fitness and business centers.
How to Book Hotel Indigo Military Discounts
You can book Hotel Indigo stays on the IHG website, including discounted military and government rates.
Other Benefits at IHG Hotels
In addition to IHG hotel military discounts, look out for these IHG hotel programs:
IHG Rewards Club
Join the IHG Rewards Club before you visit any IHG property. You can earn points toward a free vacation by saving and redeeming flight and hotel travel rewards.
How Many Points You'll Earn
Staying at most IHG branded hotels will net you 10 points per dollar spent, or five per dollar at Staybridge Suites and Candlewood Suites. IHG also has "milestone rewards," which are extra rewards you accumulate every ten nights after your first 20 nights.
These milestones allow you to choose from several rewards as you reach each increment. For example, after you reach the milestone of 20 nights, you can choose between getting a bonus 5,000 point reward, two food and beverage rewards or one suite upgrade.
Elite Status
You can earn elite status with IHG with your accumulated IHG Rewards Club points or by reaching a certain amount of qualifying nights in a calendar year. As you accumulate points and nights, you can achieve the following statuses:
Silver status after 10 qualifying nights (no points option)
Gold status after 20 qualifying nights or 40,000 points
Platinum status after 40 qualifying nights or 60,000 points
Diamond status after 70 qualifying nights or 120,000 points
IHG Reward Redemption
You can spend your rewards points on free nights, booking discounts or popular products and gift cards.
Flexible Booking Options
IHG hotels feature flexible booking options without deposits or change penalties. Flexible offers vary by location, however. You may not be able to use the flexible booking option if you book your room with a military discount, so make sure you check that before booking.
Mobile Check-In
You can use your mobile device to check into your hotel room at more than 3,000 IHG properties once you install the IHG app on your phone.
IHG Hotel Rewards Credit Cards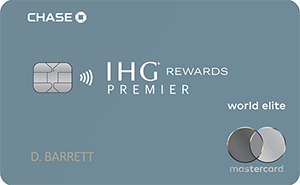 Hotel credit cards aren't for everyone, but they could make a lot of sense for people who are loyal to a particular hotel chain, like IHG and the IHG Rewards Premier Credit Card from Chase.
With a co-branded credit card, you can earn points within your favorite hotel brand and then redeem those points for rewards such as free nights or upgrades. You might also be able to qualify for elite status and the benefits that come with it.
About Post Author