Editorial Note: We may earn a commission through links from our partners. American Express is an advertiser on The Military Wallet. Commissions do not affect our editors' opinions or evaluations. Terms Apply to American Express benefits and offers.
Did you know many credit card companies are going above and beyond their legal obligations under the Service Members Civil Relief Act?
Many companies are retroactively lowering interest rates for balances placed AFTER your enlistment! Under the SCRA, 6% is the maximum interest rate credit card companies can charge, however, many institutions are choosing to offer even lower rates.
Considering my current circumstances, this is fantastic news.
What Are SCRA Credit Card Benefits?
Active duty U.S. military members can receive financial relief and protections under the Servicemembers Civil Relief Act (SCRA). SCRA benefits start on the date when active duty orders are received, and SCRA coverage usually terminates within 30-90 days after the discharge date from active duty.
Under SCRA, credit card rates are capped at 6%. Another important part of the credit card provisions are that most banks and credit card issuing companies will offer a refund on interest and annual fees for certain financial obligations that were incurred prior to a servicemember's active duty military service.
Banks will also lower the interest rates on loans that existed before the servicemember joined the military. For example, if you bought a car or a boat with a 12% loan prior to serving, you can request to have your interest rate lowered to 6%.
The 6% cap applies to all debts incurred prior to entry into active-duty service, including student loans, credit cards, mortgages and car loans. The cap remains in effect for the duration of a servicemember's active-duty service.
Interest accrued about 6% must be forgiven, not just merely postponed, and the amount of remaining monthly payments must be reduced to reflect the lower interest rate.
All active duty members are covered by the SCRA, including those in the Army, Air Force, Coast Guard, Marine Corps, Navy, Space Force, reserves and National Guard. SCRA only applies to reservists and members of the National Guard when they're serving on active duty orders
SCRA benefits also apply to spouses and children of qualified servicemembers, and any person who relied on the servicemember for at least 50 percent of their support, for up to 180 days prior invoking SCRA benefits.
To access SCRA benefits, servicemembers must make an application in writing to the lending institution where they are seeking the reduction.
Learn More:
Read our full guide on the best credit cards for military servicemembers and veterans
How to Benefit from Credit Cards While in the Military
Banks and lenders are extremely generous when it comes to doling out perks for servicemembers. Here's several common benefits that are often offered to military families that are worth investigating with your current credit card provider or when you're ready to find a new card to use.
No annual fee
Cash back incentives
Cash back programs for military-related expenses such as moving, uniforms, etc.
No overseas transaction credit card fees
Incentives for electronic payments or automatic electronic payment transfers
Waived or reduced credit card cash advance fees
Lower APR interest rates for military members (many offer rates below SCRA mandates)
No over-limit credit limit fees
No penalty APR interest rate adjustments for late payments
Any special perks or incentives for deployed service members or their dependents
Special "reserve cards" for military families
My Current Go-To Card
For the two or three people who truly know me, I'm always looking for a way to save a few bucks. Since January of 2015, I've been a geographical bachelor living in Houston, while my family maintains a residence in San Antonio.
I reside on the North side of the city, well outside of the Beltway. I opted for comfort and security, and some would say I'm paying a premium for rent. Between my house and apartment, we currently pay close to 3k a month for the most basic living expenses. I live off of a credit card and typically pay the balance in full (or close to it) before the end of the billing cycle.
Currently, my go-to credit card is the . I swipe this card to cover all of my day-to-day living expense while simultaneously earning rewards points.
Now the scary part.
This card comes with a hefty annual percentage rate (APR) on purchases. (See full terms and conditions here.)

Aha Moment With Spencer & Amex
Recently, I ran across a post from the Military Money Manual, which explained how American Express goes above and beyond their legal obligations under the SCRA.
Following Spencer's guidance, I've submitted my request to have my account handled in accordance with the SCRA.
Armed with this new information, I conducted a brief Internet search, searching for a list of credit card companies that also provide similar support under the SCRA.
To my surprise, I failed to locate a substantial resource to share, so I decided to create one.
Not Just American Express – Many Banks Participate
Many credit card companies are heeding the call and retroactively lowering interest rates, reducing the interest on balances placed AFTER enlistment, and cutting refund checks.
Now I understand that for many of us, the promise of 0% APR and having our annual fees waived may sound like an April fools post on the Duffel Blog.
But I've been able to locate 13 credit card companies that have been secretly offering SCRA benefits to service members, and in some cases, their spouses.
Here are some of the best military credit cards:
List of SCRA Friendly Credit Card Companies
Here's a List of 13 Credit Card Companies that Go Above and Beyond To Support Service Members Under the SCRA:
USAA SCRA Benefits
Benefits: USAA has three unique programs designed to put money back into service members pockets:
SCRA: USAA provides service members with a reduced interest rate of 4%, for credit card debt incurred prior to active duty. This is good for up to six months after separation
Deployment or PCS: Active duty members can get a 4% interest rate, and some fees waived on their USAA MasterCard, Visa or American Express for current balances, new purchases, and cash advances for up to 12 months for PCS or up to 15 months for deployment.
Campaign Medal: USAA members awarded a qualifying campaign medal can get all the interest incurred during the campaign refunded on their USAA MasterCard, USAA Visa, or USAA American Express.
How to apply: Find out if you qualify online and send in the required documents. Call 210-531-USAA (8722) for more information.
American Express SCRA Benefits
Benefits: American Express is showing their support for our military by waiving all credit card annual membership, over limit, late payment, returned payment, and statement copy fees for active duty military service personnel.
The SCRA benefits are offered through various products including (which otherwise incurs a fee), the (a ), the (a annual fee), and others. Amex also waives late payment, over limit, returned check charges and statement copy charges.
How to apply: If your card is account is enrolled in American Express online services, you can submit your request online. You will be required to submit documentation proving your service, such as documentation prepared exclusively by a branch of the military, the Department of Defense or your commanding officer which indicates that you are on active duty (e.g., active duty orders, change of station orders, DD-214 forms, letters from commanding officers, etc.).
Phone: Call the number on the back of your Card or 1-800-253-1720 to submit a request. If you are outside the United States, you can call us collect at 1-336-393-1111.
Fax: Fax documents establishing your active duty to 1-623-444-3000. Please make sure to include the applicable American Express Account numbers.
Mail: Send a copy of documents establishing your active duty to: American Express, Attn: Servicemembers Civil Relief Act, PO Box 981535, El Paso, TX 79998-1535. Please make sure to include the applicable American Express Account numbers.
Bank of America SCRA Benefits
Benefits: Bank of America will waive all fees, lower APR to 6% all pre-service balances, during active duty and for up to 180 days after separation.
How to apply: Service members have up to 180 days from the date military service is completed to request benefits and provide documentation. To apply you'll need one of the following:
A copy of your enlistment orders or your military orders calling you to active duty service
A properly completed Department of Defense Short Form (PDF requires InstallAdobe Reader)
Source: https://www.bankofamerica.com/military-banking/military-banking-faqs/
Barclaycard SCRA Benefits
Benefits: Barclaycard will waive all fees, lower APR to 0% for all pre-service balances, and all transactions made during active service.
How to apply: Contact the SCRA assist line at 1-866-918-5212 and ask to apply for SCRA benefits.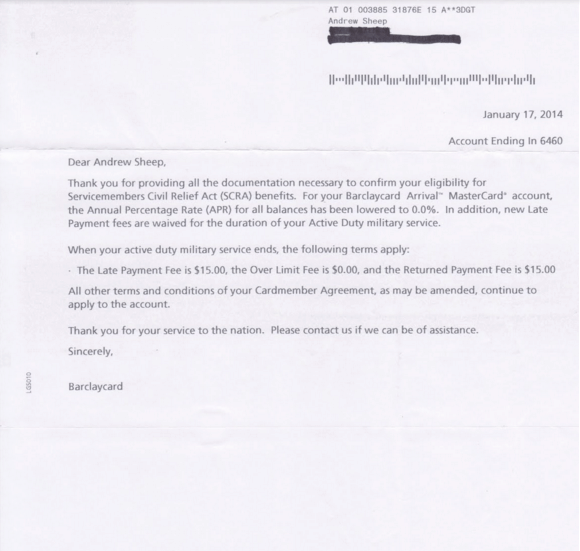 Source: http://themilitaryfrequentflyer.boardingarea.com/2014/01/27/how-to-get-your-annual-fees-waived-on-barclaycard-cards/
BBCA Compass Bank SCRA Benefits
Benefits: BBVA Compass Bank offers special banking products as a way of saying thanks to military personnel. Military members are eligible for interest rate reductions to 6% and waiver of all fees.
How to apply: Contact the bank at 1-800-266-7277
Open an account: To open an account visit BBVA Compass Bank
Capital One SCRA Benefits
Benefits: Under Capital One's SCRA Program Service Members and spouses are eligible for a maximum interest rate of 4%, waiver of all fees assessed on accounts.
How to apply: The fastest way to secure benefits is by completing the online form.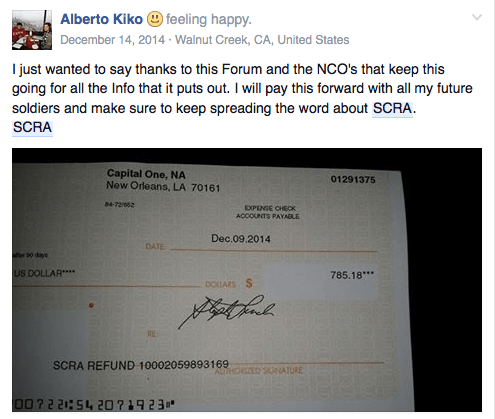 Chase SCRA Benefits
Benefits: Since 1989, Chase has been offering convenience, savings, service and security to the US Military. Chase will waive all fees, lower APR to 4% on eligible balances and for one year after separation. On Chase Military cards all interest and fees incurred during deployment will be refunded.
How to apply: To request assistance log into your online account:
Click Secure Message Center (in blue on the upper right side)
Select Send new message
Under inquiries select Military Service Members Civil Relief, then select SCRA Orders/documents from the drop-down menu, then click Go
Please be sure to enter account # in the blank message box provided (only one account # is needed)
Click Add/Remove attachments
Select Done
Phone: For a military specialist, call 1-877-469-0110 (for U.S. calls) or 1-318-340-3308 if overseas.
Citi SCRA Benefits
Benefits: Citi has customer service representatives standing by to answer your questions and solve your problems. The waive all fees and will reduce your interest rate to to 0% APR, for all Citi card accounts, opened prior to active duty.
How to apply: Call Citi at 1-877-804-1082 or if outside the U.S. (call collect) 1-605-335-2222.
You may also fax, mail or overnight/express delivery to the fax number and address listed below. Please make sure you also send the proper documentation – this could include a copy of your written Department of Defense (DoD) orders, a letter from your commanding officer, or any other document that the DoD deems a substitute for official orders.
For credit cards, mortgage, and other banking products from Citi:
Citi Customer Service
SCRA Unit
P.O. Box 790398
St. Louis, MO 63179
Fax: 1-866-533-0503
Discover SCRA Benefits
Benefits: At Discover, we are grateful for your service or the service of a loved one, and want to help you take full advantage of your benefits. Service members and their spouses/domestic partners have earned the following Service Members Civil Relief Act (SCRA) benefits for the period of active duty service:
6% or less annual percentage rate (APR) on Discover card purchases and cash advances
No late fees
This coverage lasts as long as the service member is on active duty—and is even applied retroactively to the active duty start date. Once activated, your SCRA benefits may automatically extend to other Discover products, such as personal loans, home equity, home loans, and student loans.
How to apply: Simply log into your Discover account and request SCRA benefits.
Source: https://www.discover.com/credit-cards/member-benefits/scra-benefits/index.html?ICMPGN=FTR_PUB_SCRA_TXT
Synchrony Bank SCRA Benefits (Formerly Known as GE Capital)
GE Capital SCRA Benefits: GE Capital recently rebranded as Synchrony Bank. This screenshot shows how one GE Capital customer received several large refunds after contacting their customer service department.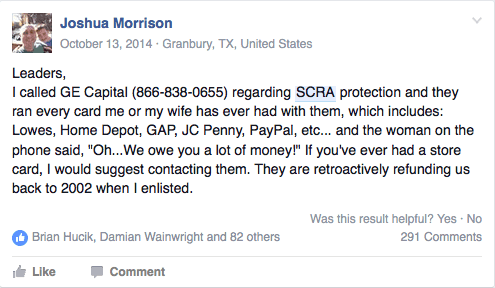 Synchrony Bank SCRA Benefits: Synchrony Bank will review all current and closed accounts (GE Capital) and will reduce interest rates to 6%, and waive all associated fees.
How to apply: Contact Synchrony Bank at 1-855-872-4311 or 1-866-419-4096, provide your social security number and a recent LES.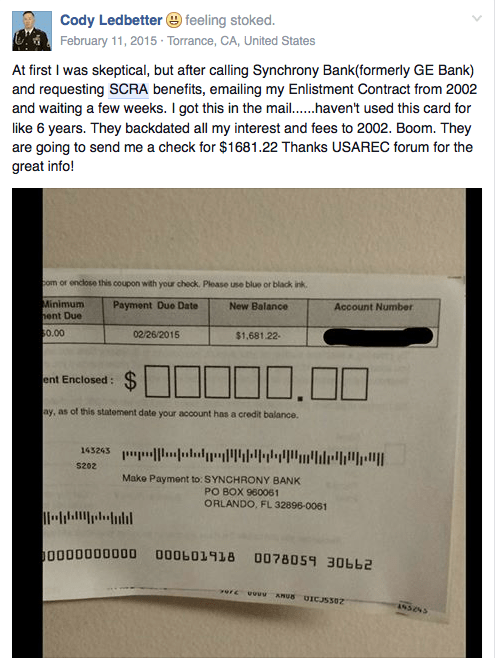 US Bank SCRA Benefits
Benefits: If you obtained your U.S. Bank mortgage, loan, a line of credit, or credit card before being called to active duty, SCRA allows a cap of 6% on the interest rate and a waiver of all fees while you are on active military service.
How to apply: Contact the Military Services Center to request the benefit:
Source: https://www.usbank.com/military/servicemembers-civil-relief-act.aspx
Wells Fargo SCRA Benefits
Benefits: Service members can limit interest rates to 6 percent for credit cards —if they obtained the loan before their entry on active duty. The interest rate reductions are temporary and rates will return to the prior rate at the end of active duty (or longer as provided by the law for certain loans).
How to apply: Contact credit card services at 1-800-642-4720.
Source: https://www08.wellsfargomedia.com/assets/pdf/personal/military/servicemembers-civil-relief-act-commitments.pdf
Victoria's Secret SCRA Benefits
Benefits: ?Victoria's Secret will only apply benefits for an account of a service member or where the service member is a co-signer, not just an authorized user. Also, the card has to have been obtained BEFORE the service member started active duty. The cap of APR will be at 6%
How to apply: Contact 1800-695-9478 and request the benefits you will then be emailed a form and you will need to fax it with your spouse's orders
What are the Best Credit Cards for Military Veterans? What Should I Look For in a Military Credit Card?
The best credit cards for veterans are going to depend quite a bit on your lifestyle as a military veteran. What makes the most sense for one vet may not make good sense for the next one.
Defining your priorities on how you're going to use a credit card can help steer you in the right direction. For example, do you know what expenses you want to use a credit card for? Are there certain benefits you think are more desirable than others? For example, how important are no annual fees, interest rates, or cash-back offers to you?
There are lots of cards out there with a variety of parameters attached to them, so you need to do a little homework before deciding which card or cards you'll want to use.
Here are some examples we found based on lifestyle options for you.
If you travel a lot, the American Express Platinum Card has a high annual fee, but you'll make up those fees through other card benefits. The Platinum Card has a large bonus offer (bonus_miles_full) and you'll earn more points after you reach spending levels. The card will more than pay for itself if you plan a major overseas vacation or take advantage of Uber discounts, airline fee discounts, aireport lounge acess, and Global Entry or TSA Precheck programs. (Enrollment Required for Select Benefits)
Veteran business owners should consider the American Express Business Gold Card. Cardholders You also get 4x points on two select categories (1x is earned for other purchases), meaning you get rewarded for where you spend most frequently which should more than offset the annual fee (applies to first $150,000 in combined purchases from the 2 categories). Another great benefit is the pay-over-time option for purchases over $100 that helps business owners manage cash flow.
The gives cardholders 6% cash-back at U.S. supermarkets (up to $6,000/year), 6% back on U.S. streaming subscriptions, 3% back at U.S. gas stations, and 1% for other purchases. That's a great deal for a card with a
A great all-around military friendly card is the USAA Rewards Visa Signature Card. You'll get 2,500 bonus points after your first purchase, travel protection in the form of secondary coverage for car rentals, trip cancellations or disruptions, and daily baggage reimbursement. It's also worth noting there is no annual fee or a foreign transaction fee if you travel overseas.
Also consider a Navy Federal Credit Union Visa Signature Flagship Rewards Credit Card. It offers banking services for veterans of all branches. Card benefits are slanted more toward travel benefits with 3x points for travel purchases and 2x points for all other purchases, and a free year of Amazon Prime, although there is a $49 fee which is waived the first year
Veterans with a bad credit score or no credit should consider rebuilding their profile with the use of a secured credit card. There are several to choose from and all will require you to put a cash deposit up for collateral for several months until you can demonstrate a successful track record of repayments.
Thanks for reading… If we're missing any credit card companies, feel free to leave the specifics in the comments!
The Military Wallet has partnered with CardRatings for our coverage of credit card products. The Military Wallet and CardRatings may receive a commission from card issuers. Some or all of the card offers that appear on The Military Wallet are from advertisers. Compensation may impact how and where card products appear, but does not affect our editors' opinions or evaluations. The Military Wallet does not include all card companies or all available card offers.
About Post Author