Traveling through airport security can be a hassle. Thankfully, military members are eligible to participate in TSA PreCheck for free. This allows them to bypass the normal security line and avoid the inconvenience of taking off your shoes, belt, and jacket. You can also leave your computer and your toiletries in your carry-on bag. This is a great program that will save you a ton of time and hassle when you travel by air!
The Transportation Security Agency (TSA) PreCheck passenger screening program was designed to allow certain individuals to bypass the normal security lines and go through the PreCheck security lines.
And if you are in the military, you should be eligible to participate in this program, free of charge. You may also be eligible to participate for free if you are a Wounded Warrior or a DoD civilian employee. Let's dive in and look at the TSA PreCheck passenger screening program, who it applies to, and how to use it.
What is TSA PreCheck?
TSA PreCheck offers expedited security screening at more than 120 participating U.S. airport checkpoints. Travelers can get through screening stations faster because the lines are typically shorter and move more quickly because travelers are not required to remove their:
Belt,
Shoes,
Light outerwear/jacket,
3-1-1 compliant bag (toiletries in a zip lock baggie),
or laptop from their carry-on.
Who is eligible for TSA PreCheck?
TSA PreCheck is available to some individuals that the TSA deems as low-risk travelers. TSA uses different systems to determine who they consider low-risk. This can include certain frequent flyers of participating airlines, members of the TSA PreCheck application program, or participants of a U.S. Customs and Border Protection (CBP) Trusted Traveler program (Global Entry, NEXUS, SENTRI). It is also open to military members, even when you are traveling for personal reasons.
Children under age 12, traveling with an eligible adult: Accompanying passengers 12 and younger are allowed through TSA PreCheck lanes when traveling with eligible passengers (parent or guardian).
Eligible Military Members / Wounded Warriors / DoD Civilians:
TSA offers expedited screening to all members of the U.S. Armed Forces, including those serving on active duty, and serving in the U.S. Coast Guard, Reserves, and National Guard. Members of the U.S. Armed Forces can participate by using their official Department of Defense (DoD) identification number when making flight reservations. Your 10-digit DoD ID number can be found on the back of your Combined Access Card (CAC) ID (Note: your DoD ID number is not your Social Security Number).
Eligible military travelers include:
This program is not free of charge for all veterans based on their military service, however, you may be eligible for the program through other means (listed below).
What about military retirees? I have heard different reports from veterans that they were able to get the TSA PreCheck as a retiree, while others were not able to do so. If you are a retiree, you should have a DoD ID number (this will be located in your MilConnect account, or on a CAC ID Card). Use the DoD ID number as your Known Traveler Number when purchasing airline tickets. I cannot guarantee it will work, but it is worth trying.
How to Use TSA PreCheck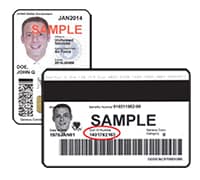 To use TSA PreCheck as a military member, you will need to have a CAC ID Card. You will need to use the DoD ID number on the back of your CAC Card and enter it as the "Known Traveler Number" when making official travel or leisure airline reservations.
Once you make your reservations and print your boarding pass, you will see a TSA PreCheck Notification on your boarding pass. It should have logo that displays any of the following: "TSA Pre?™," "TSA PRE" or "TSA PRECHK." It will look something like the image below (image courtesy of TSA).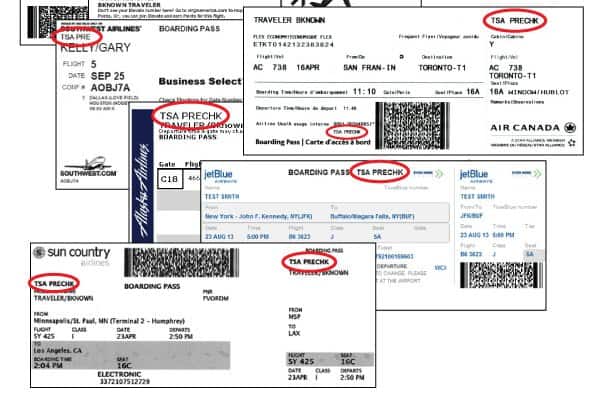 If your boarding pass has one of those images, then you can go straight to the TSA PreCheck line instead of waiting in the general line (unless TSA PreCheck isn't available at that specific airport, in which case you go to the general line).
Add your DoD ID Number to Your Travel Profiles
You can save your DoD ID Number in your DTS account and with your frequent flyer programs for participating airlines. This will make it easier to ensure your number is automatically added as your Known Traveler ID. You should only have to do this once for your DTS account, and once for each frequent flyer program in which you participate. Here is a list of participating airlines.
All current military members should have a standard CAC ID Card, so they should be able to get their DoD ID number from that. If you are a retiree and don't have a CAC Card, or if the number is not on your CAC, you may obtain it by logging on to milConnect. You will find your ID number under the "My Profile" tab (again, I don't know for certain this works for retirees). Here is more information from the Defense Travel Management Office.
What if You No Longer Have any Military Affiliation?
The TSA PreCheck program is open to:
U.S. citizens of frequent flyer programs who meet TSA-mandated criteria and who have been invited by a participating airline.
U.S. citizens and lawful permanent residents with a Known Traveler Number (KTN), sometimes referred to as a trusted traveler number.
U.S. citizens and lawful permanent residents who are members of the TSA Pre?® application program.
Members of the U.S. Armed Forces, including those serving in the U.S. Coast Guard, Reserves, and National Guard.
Department of Defense and U.S. Coast Guard civilian employees.
Members of the following U.S. Customs and Border Protection (CBP) trusted traveler programs:

All members of Global Entry.
U.S. citizens, lawful permanent residents, and Canadian citizens who are members of NEXUS.
U.S. citizens and lawful permanent residents who are members of SENTRI.
You can also apply through the TSA PreCheck application program. This has an $85 non-refundable fee, which is used to cover the cost of the associated background checks.
About Post Author