Editorial Note: We may earn a commission through links from our partners. American Express is an advertiser on The Military Wallet. Commissions do not affect our editors' opinions or evaluations. Terms Apply to American Express benefits and offers.
Military members travel frequently, and credit cards come in handy when you don't have access to an ATM or if you prefer to make one monthly payment to cover all your purchases over the course of a month – as long as you pay the balance in full, of course!
I recommend everyone have access to a credit card, especially those who are living overseas or far from home. You don't have to use your credit card, but it can come in handy and act as an emergency source of funds that can be used to pay for emergency travel, house repairs, car repairs, or other unexpected expenses.
Credit cards can even earn you nice rewards and cash back! That said, credit cards should not be abused and should only be used if you can afford to pay the balance in full or in the event of a true emergency.
There are many great credit cards out there, so we will try to break them down into different categories to help you choose which credit card is right for you. Since we only promote responsible credit card use, which includes paying the balance in full, the biggest category will be cash rewards credit cards, which will help put money back in your pocket.
How We Rate the Best Credit Cards for Military Members:
When creating this list we considered several factors, including the overall value of the card, including the company offering the card (many military banks and credit unions offer credit cards), cash back credit cards, points or rewards, other perks, annual fees, interest rates, lack of an annual fee, and other factors.
What we have listed are some of the best credit cards for military members. As always, research your options and choose the best credit cards for your specific needs.
Featured Credit Cards for Military Members
Cash rewards credit cards are my favorite category of credit cards. Many travel rewards or Points rewards programs can be very "rewarding." But they may take a little more time and effort to maximize your rewards. Cash back is usually very simple to understand and redeem.
When considering cash rewards credit cards programs, be sure to review whether or not the credit card has any limits, fees, maximum rewards levels, cash back tiers, rotating categories, or other limitations. These aren't necessarily deal-breakers, but they are good to understand before applying for a new card. Here are our favorite credit cards for military members.
The Blue Cash Preferred® Card from American Express
The Blue Cash Preferred Card from American Express is one of my favorite rewards credit cards, and one that I personally use. Although this card does have a $95 annual fee (there is a $0 introductory fee for the first year), American Express waives annual fees for active duty servicemembers through the SCRA program*. This fee is not waived for veterans, or traditional members of the Guard or Reserves. I currently serve in the Air National Guard, and I find this card is worth using, even with the $95 annual fee. It's an even better offer if you are able to have the annual fee waived!
*You will need to contact American Express for more information regarding waived fees.
Blue Cash Preferred Card from American Express rewards program:
6% cash back at U.S. supermarkets on up to $6,000 in purchases per year, then 1% cash back after that.
6% cash back on select U.S. streaming services
3% at US gas stations and on transit (taxis, rideshares, parking, tolls, trains, buses, & more)
1% cash back on all other eligible purchases.
Cash back is awarded in the form of Reward Dollars which can be redeemed for a statement credit, gift cards, or shopping through the American Express portal.
Again, there is a $95 annual fee, but it's easy to earn that back. If you spend just $500 a month on groceries, you would earn $265 per year in rewards, even after paying the $95 annual fee. And you would still earn additional rewards for spending in other categories. This card has more than paid for itself in every year I've used it.
Blue Cash Everyday® Card from American Express
The Blue Cash Everyday from American Express is similar to the Blue Cash Preferred Card from American Express, however, it offers a lower rewards tier in exchange for no annual fee. Which card is better for your situation will depend on your spending habits and whether or not you qualify to have the annual fee waived through active duty service.
There are no annual fees, no minimum spending requirements to earn the highest rewards, and no rotating rewards categories.
Blue Cash Everyday Card from American Express Rewards Program:
$200 statement credit after you spend $2,000 in purchases within the first 6 months.
3% Cash Back at US supermarkets, up to $6,000 per year in purchases (1% thereafter)
2% Cash Back at US gas stations & select department stores
1% Cash Back on all other purchases.
Cash Back is awarded as Reward Dollars which can be redeemed for a statement credit, gift cards, or shopping.
No Annual Fee
Navy Federal Visa cashRewards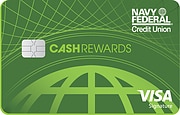 The Navy Federal Visa cashRewards card is one of the top credit cards on the market, offering up to 1.5% cashback on all purchases, without spending categories or other qualifiers. There are no caps on the amount of rewards you can earn, your cash rewards never expire, and you can redeem your rewards with as little as $20 cash back. The interest rates are also attractive. There is no annual fee for this card. Here is an in-depth Navy Federal cashRewards card review.
$150 cash back when you make $3,000 or more in eligible net purchases within 90 days of account opening.
Earn unlimited 1.5% cash back on all purchases
No rewards limit
Compare the Navy Federal Visa cashRewards and other cards at the Card Ratings website.
Other Great Credit Cards for Military Members (or Anyone Else!)
PenFed Power Cash Rewards Visa Signature® Card
PenFed recently launched the PenFed Power Cash Rewards Visa Signature® Card, which offers up to 2.0% cash back on all purchases. The standard cash back rate is 1.5%. However, PenFed members can receive a total of 2% cash back on all purchases if they have a PenFed Access America checking account or if they have served or are currently serving in the US military.
The additional rewards are available through PenFed's Honors Advantage Program. There are no cash back limits, spending caps, hidden fees, or revolving categories common with many other cash rewards cards. Please visit the PenFed website to view additional information, including balance transfer terms, statement credit bonus offers, interest rates, and other terms. Visit PenFed for additional information.

Fidelity Investment Rewards Signature Visa Card. Earn unlimited 2% cash-back on every net purchase, with no annual fee, no limits on reward points and no restrictive categories, and your points will never expire. You can have your rewards deposited into your Fidelity investment account, split it among several Fidelity accounts, or even have it deposited into a loved one's account. Your rewards can be deposited into a Fidelity brokerage account, retirement account, 529 plan account, or other options. Apply for the Fidelity Investment Rewards Signature Visa Card.
Best Credit Cards for Frequent Travelers
There are tons of great travel credit cards. We recommend starting your search by seeing if your preferred airline or hotel chain offers a branded credit card. This will allow you to accrue airline points, miles, and other rewards with the program you will use most frequently.
Best Travel Rewards Cards:
Other Great Military Credit Cards
Military Star® Card. The new Military Star Card is is a huge improvement over the previous version of the Military Star Card, which was only available for use on base. I opened a Military Star Card shortly after I enlisted and used it to help build my credit score. This card has unique offers for active duty, reserve, guards, retired-service members and their family's credit needs.
Promotional 0% interest offers
Exclusive savings just for cardholders
Free standard shipping on shopmyexchange.com and myNavyExchange.com
Five cents per gallon fuel discount every day‡
10% food court discount every day‡
Best Credit Cards for People with Bad Credit
If you don't have a good credit score, then you can still get a credit card to help you improve your credit score by making on-time payments and paying your balance in full. The best way to do this is to use a secured credit card, which requires you to keep a certain amount of money on deposit with the credit card holder to act as collateral on your charges. The good news is making continual on-time payments will help improve your credit score and you can eventually use this to get a traditional credit card.
Secured Credit Cards
If you have no credit or bad credit, you can apply for a secured credit card to help you establish or improve your credit score. These cards are virtually always approved upon application. To use them, you are required to keep a security deposit with the card issuer, which acts as collateral for your usage.
Many of these cards report to the three major credit bureaus each month, which will help build or improve your credit score as long as you use it responsibly. Because these cards are designed as a tool for people who do not have excellent credit, there is usually an annual fee. Once you get your credit established, it is a good idea to begin looking into credit cards which do not charge an annual fee.
Don't forget to check with your local credit union. There are many military and local credit unions which may offer a great credit card for your needs. We recommend any of the cards above, but as always, do your research and find the best card for your specific situation.
The Military Wallet has partnered with CardRatings for our coverage of credit card products. The Military Wallet and CardRatings may receive a commission from card issuers. Some or all of the card offers that appear on The Military Wallet are from advertisers. Compensation may impact how and where card products appear, but does not affect our editors' opinions or evaluations. The Military Wallet does not include all card companies or all available card offers.
About Post Author