Podcast: Play in new window | Download
Subscribe: Apple Podcasts | Google Podcasts | RSS
FTC Disclosure: This article was sponsored by USAA. Although this post is sponsored, all opinions are my own.
Table of Contents
Life insurance isn't the most glamorous topic to discuss. It forces us to face the inevitable fact that life on earth is not forever. But life insurance is one of the most important parts of our financial toolbox. September is Life Insurance Awareness Month, and today, we are bringing you this guide to help you understand more about life insurance, including why you need it, ways to determine how much life insurance you need, basic types of life insurance, where you can buy life insurance, and much more.
This guide is based on a conversation I had with Sean Scaturro, the Advice Director for Life Insurance at USAA. Sean is a Certified Financial Planner and life insurance expert. He was kind enough to share his wisdom which you can hear on the accompanying podcast.
Rather than simply type out a transcript of our conversation, I thought it more valuable to create this written guide which gives us the opportunity to expand upon certain sections and provide links to additional resources where applicable. Both this written article and the podcast offer a lot of valuable resources to help you better understand life insurance and make sure you get the coverage you need.
Why You Need Life Insurance
The largest asset most people have is their ability to earn income. So it makes sense to protect your survivors with life insurance. At its core, life insurance provides people with money when they need it the most. Life insurance provides income replacement, the funds necessary to cover your final expenses, the ability to eliminate debts or other liabilities, and it allows you to continue your standard of living as well as can be expected under the circumstances.
In other words, life insurance gives you or your survivors the ability to continue living your life without having to worry about the financial aspects.
How Much Life Insurance Do You Need?
Most people need life insurance, but life insurance needs are different for each person. Some people recommend having 5-10 times annual income. But that may or may not be enough, depending on your net worth, outstanding liabilities, anticipated living expenses, and your survivors' future needs.
Instead of looking for a one-size-fits-all approach for determining life insurance needs, USAA recommends estimating your life insurance needs using the acronym LIFE.
Liabilities
Income Replacement
Final Expenses
Education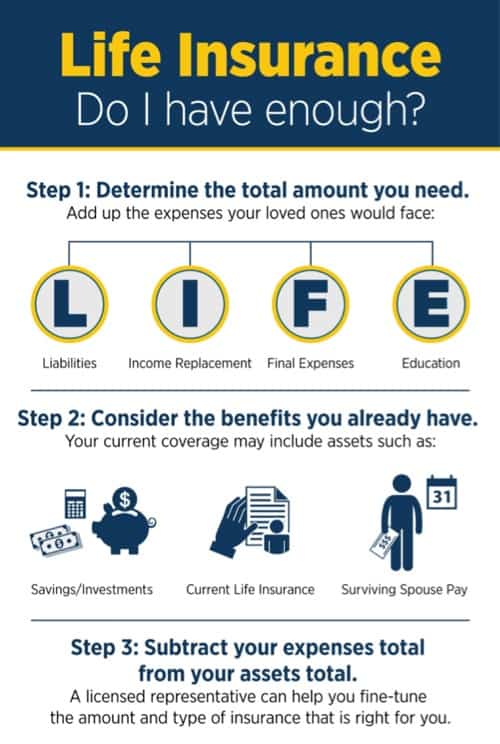 This acronym gives you the tools to quickly come up with a rough idea of what your specific life insurance needs are based on actual numbers, not a random rule of thumb. Let's dig a little deeper into each of these.
Liabilities
Liabilities should cover all of your outstanding liabilities. This should include enough money to pay off any outstanding loans, including your mortgage, cars, student loans, credit card debt, personal loans, or other consumer loans. Having the funds to become debt free gives the survivors a new lease on life and will help them move forward without having to worry about crushing debt at a time when they should be worry about putting their lives back together.
Income Replacement
Income Replacement – this should typically be enough to cover 5 or more years of income from the person you are covering with insurance. This will allow the survivors to continue their lifestyle without having to immediately worry about replacing the income of the deceased person. Keep in mind some people may contribute to the bottom line, even if they don't earn a salary. For example, a stay at home spouse may take care of the house, children, and support the household in other ways. So you want to insure that person for their contributions. To put this another way: what additional expenses might you have if one of the partners passes away?
Final Expenses
Final Expenses can be financially devastating. Long-term care or prolonged medical care can easily wipe out an individual's savings. Other final expenses could include funeral or burial expenses. So, it's a good idea to take these potential costs into consideration when determining your life insurance needs.
Education
Education – Education needs will vary for each family. The first thing that comes to mind for many would be college expenses. But this can also include day care or preschool for young children, after school care, or private school if you were already sending your children to private school. Again, consider the needs that would arise if your were to have to do everything yourself.
You can read more about determining your life insurance needs.
Do You Need to Insure a Non-Working Spouse?
This is generally a good idea, as we hinted at above. My wife helps me with my small business, but she has a much greater contribution to running our household. So we have a life insurance policy on her. Should the worst happen, those funds could be used to help cover expenses that we may not otherwise have. Consider how your spouse contributes to your household and determine how your expenses may change if your spouse were to pass away.
Should You Insure Your Children?
Insuring children can be a controversial topic. But in general, it can be a good idea to insure your children. My personal life insurance policy has a rider that allows me to insure my children at a very low monthly cost (I believe it is only $2 per month on top of my current life insurance policy). This would provide enough money to cover some final expenses and a funeral. But more importantly, many of these policy riders allow the insurance policy to be converted once the child reaches a majority age. This ensures their long-term insurability.
I'm not a believer in buying a large life insurance policy for a child, especially when it is marketed as an investment. But there are good reasons to buy a small policy for the child. Buying life insurance for children is a topic we cover on more detail in the podcast and is worth looking into in more detail.
Types of Life Insurance
There are many types of life insurance available to military members, but for the purpose of this podcast and life insurance guide, we focused on the two most common types of life insurance:
Term Life Insurance (or temporary life insurance) and Whole Life Insurance (or permanent life insurance). This article discusses other types of life insurance in more detail.
Let's break down the difference between Term Life and Whole Life Insurance, and discuss which may be the best option for your situation.
Term Life Insurance
Term life insurance is good for a set term, or period of time. For example, you could buy a 5, 10, 20, or 30-year life insurance policy. The premiums remain the same for the duration of the policy. While it may not seem as good of a deal to buy a temporary life insurance policy, it can actually be a better deal for many people because you can buy a greater amount of life insurance coverage for less than you could with a permanent policy. Buying a term life insurance policy allows you to cover your needs while they are the greatest.
Pros: More coverage for lower premiums.
Cons: No accrued cash value; policy has set expiration date.
Whole Life Insurance
Whole life policies are permanent – they last forever. These policies accrue cash value. However, the premiums are generally more expensive than term life insurance policies. If money is tight, you may find it better to buy a term life insurance policy to cover your needs while they are the greatest, in order to free up more money in your budget. Whole life insurance policies can have advantages, as their permanent nature makes them a good option for estate planning and other needs.
Pros: Permanent cash value.
Cons: Higher premiums.
Which is better, Term or Whole Life?
That's actually a trick question. There isn't a correct answer for everyone. There is only the correct answer for your situation. In general, you may wish to buy a term life insurance policy if you have a specific need that you will have for a set period of time (for example, a growing family, young children, a mortgage, etc).
You can read more on comparing term life and whole life insurance in this article.
Where to Buy a Military Life Insurance Policy
There are hundreds of life insurance providers in the US. We can't list them all. But we can give you the necessary tools to make an informed decision. We will start with the military and veterans group life insurance programs backed by the government, SGLI and VGLI, then give you some general tips that will allow you to compare other life insurance policies so you can make an informed decision based on your needs.
Servicemembers' Group Life Insurance (SGLI)
The Servicemembers' Group Life Insurance (SGLI) is a low-cost group life insurance program for military servicemembers. This includes active duty, Guard, Reserves, members of the Commissioned Corps of the National Oceanic and Atmospheric Administration, and Public Health Service. SGLI coverage is also available to cadets and midshipmen of the four service academies, and members of the Reserve Officer Training Corps.
Pros
SGLI Benefits:
Low Cost – ($3.50 per $50,000, or up to $400,000 coverage for $28 per month). See SGLI Rates.
All service members qualify. You don't need to go through additional applications or underwriting.
Traumatic Injury Protection through the TSGLI program provides up to $100,000 in the event of a traumatic injury that occurs while you are serving. There is a $1 per month charge for TSGLI.
Free extended coverage for 120 days after you leave the military.
Ability to convert to a commercial life insurance policy within 120 days of separation.
Family SGLI for Spouse, up to $100k
Cons
SGLI Disadvantages:
Policy amounts are capped at $400,000. This may or may not be sufficient for your needs.
You can't take it with you after the 120-day extension expires.
SGLI may be less than you need – if so, you should look into a life insurance policy through a third party.
Veterans' Group Life Insurance (VGLI)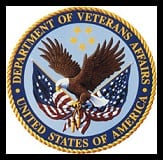 The Veterans Group Life Insurance (VGLI) policy is another group life insurance policy, meaning as a military veteran, it's generally easy to qualify for a VGLI policy. And as a group life insurance policy, the rates will be based on your age. VGLI rates increase in five-year increments, so it's important to review the premiums before signing up for this policy.
You may find it more affordable in the long run to purchase a term life or whole life insurance policy with fixed premiums, vs. relying on VGLI, which becomes more expensive as you age. On the flip side, VGLI may be more affordable if you have preexisting health conditions that could price you out of a commercial life insurance policy. It pays to shop around before buying the VGLI policy.
Pros
VGLI Benefits:
Easy to qualify for.
Premiums are based on your age, not your health.
Backed by the government, so you don't need to worry about default.
Cons
VGLI Disadvantages:
Premiums increase in five-year increments and can be costly as you age.
The limit is $400,000. This may or may not be sufficient for your needs.
VGLI Premiums: As you can see, we listed the premiums as both a Benefit and a Disadvantage. That's not a typo, as the cost of the premiums can work both ways, depending on your age, health, and other factors. You can see the rates on the VA website.
Buying a Life Insurance Policy from a Third Party
SGLI and VGLI are great options and will fit many needs. But you may find the need to obtain a life insurance policy through a commercial insurance provider, or through your employer.
Just keep in mind that a life insurance policy through your employer may not be portable if you change jobs or leave the organization. Some employers also tie the amount of life insurance as a multiple of your salary (for example, 2 times your annual salary). These policies may not cover your full needs and they are rarely portable. So buy the policy if it represents a good deal, but be prepared to buy additional coverage you can take with you.
There are benefits to having a life insurance policy that isn't attached to the military or your employer, because your policy is portable and you won't lose access to the coverage when your employment ends. You can usually obtain policies with larger payouts, which may better meet your needs. It's a good idea to have another plan in place before you leave the job, that way you won't be in a situation where you are not covered, or you find that life insurance becomes prohibitively expensive or not possible to obtain due to various reasons (age, change in health condition, etc.).
Life Insurance Premiums: In general, life insurance premiums are based on your age, health, type of life insurance (term, whole, etc.), lifestyle, and other factors. Premiums will likely vary from person to person, so it's always a good idea to get multiple quotes before deciding on an insurance provider.
Pros
Affordable if you are young and in good health;
Portable – you can take your policy with you, regardless of your employment
Ability to get coverage in excess of SGLI or VGLI maximums.
Cons
May be more expensive than SGLI or VGLI, depending on your risk profile.
Some commercial policies may not have war coverage, which you may wish to have if you are still serving in the military.
Whole life insurance premiums are often very expensive and should only be used when appropriate.
What Military Members Need to Look for When Buying a Life Insurance Policy
Military members often have different needs than those in the civilian sector. That's why it's a good idea to look into life insurance policies that are designed with military members in mind. The most important consideration is the war clause, as it is commonly referred to.
War Clause
Make sure the policy you buy does not have a War Clause that prohibits paying out if the policy holder dies in a war zone or through an act of war or terror. You won't find these kinds of clauses in SGLI, VGLI, or similar government backed policies. You also won't find these clauses in policies backed by USAA and many other organizations that serve the military community. But the may exist in other policies. So be sure you read the fine print before buying your policy. You don't want your survivors to find out you aren't covered when it's already too late.
Company Strength
It's also very important to consider the life insurance provider's financial solvency before you buy your policy. There are many organizations that rate life insurance providers financials, including A.M. Best, Standard & Poor's, Moody's, and Fitch Ratings. Use any of these rating systems to get a good idea of the financial footing offered by the company you are considering buying a life insurance policy from. It's not worth saving a couple dollars per month if the life insurance provider is on shaky financial ground.
Life Insurance Underwriting Process
You don't always have to go through as detailed of an underwriting process if you are buying a group life insurance policy, as the same terms are generally given to everyone that falls into your same group. But you may have to do a more formal underwriting process if you are buying your own health insurance policy. This frequently involves the life insurance company sending a nurse or medical technician to your home to give a light physical, which usually includes drawing blood and taking a urine sample. They will also take your height and weight and you will be required to fill out a health questionnaire. The results of your tests and questionnaire will determine your risk category.
Your premiums are primarily determined by your health and age. However, other factors, such as occupation, tobacco use, lifestyle, or high-risk hobbies, may cause your premiums to increase.
Additional Life Insurance Benefits
Some life insurance providers may offer additional benefits or reasons to use their company over another. For example, you may find it easier to bundle the majority of your financial and insurance products through one company because it's easier for bookkeeping, or because they offer you a discount.
As mentioned in the podcast, USAA offers a Military Protection Plus Benefit. This makes it easy for members to obtain a term life insurance policy after leaving the military without having to go through a medical exam. Listen to the podcast at 25:40 for more information. USAA also offers a $25,000 severe injury benefit at no additional cost. This covers injuries that occur during your military duties. This is similar to the TSGLI mentioned in the SGLI section above. Visit the USAA website for additional information on their life insurance policies.
When Should You Review Your Life Insurance Coverage?
There is never a bad time to review your personal finances. Most experts recommend doing a full financial review at least once a year. This should include all your financials, such as your investments and insurance policies (home, auto, life, etc.). When you do this is up to you, so long as you make sure you do it.
It's also a good idea to review your life insurance policy any time you have a major life change. Some examples are included below:
Change in military status / Changing jobs
Marriage or divorce (review beneficiary)
New child(ren)
Buying a home
Retirement
Supporting a parent
Starting a business
Anytime your financial needs have a major change.
No Obligation Life Insurance Quotes:
Current military members can get a life insurance policy through the SGLI, and veterans can get life insurance through the VGLI. If you are a current or former military member, you may also be eligible for a life insurance policy through USAA. You can get a free life insurance quote by visiting the USAA website.
About Post Author