Life insurance is an important part of financial planning, especially when your job often requires you to put your life on the line. Thankfully, military members have access to inexpensive life insurance through the Servicemembers Group Life Insurance program, or SGLI. The SGLI is a low-cost life insurance program available to military members. Family members are also eligible for coverage under the Family Servicemembers' Group Life Insurance (FSGLI), (rates vary by age for FSGLI participants).
Most Recent SGLI Rate Increase, July 2014: The SGLI rates slightly increased starting July 1, 2014. But even with the small rate increase, the rates are still very affordable compared to many private life insurance options.
The new cost for SGLI life insurance is 7 cents per $1,000 coverage, a slight increase from 6.5 cents per $1,000 coverage (This is also the previous rate charged prior to 2007 when rates were decreased). To put this in perspective, the cost increase for the maximum amount of life insurance coverage of $400,000 is only a $2 per month increase, or $24 per year.
Current SGLI Rates – 2018 Rates
Here are the Servicemembers' Group Life Insurance premiums: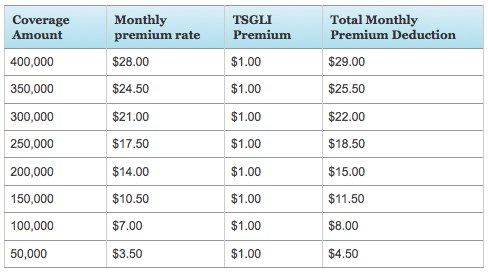 Coverage: You can elect to purchase coverage in $50,000 increments, up to a maximum of $400,000.
How SGLI Premiums Compare to Commercial life Insurance Policies
SGLI is a group life insurance policy. This means that if you are in the military, you should be eligible for the same SGLI rates as everyone else. Individual life insurance plans bought on the open market have individualized rates based on your age, health, whether or not you smoke, and many other factors. You often need to fill out a questionnaire and health assessment and undergo a full underwriting process before a company will issue you a life insurance policy.
This can make the SGLI insurance an excellent deal for those who are in an older age group, or who have health conditions or other high risk situations that might make life insurance more expensive to purchase on their own.
SGLI Eligibility:
You are automatically insured under full-time SGLI if you are one of the following:
Active duty member of the Army, Navy, Air Force, Marines, or Coast Guard
Commissioned member of the National Oceanic and Atmospheric Administration (NOAA) or the U.S. Public Health Service (USPHS)
Cadet or midshipman of the U.S. military academies
Member, cadet, or midshipman of the Reserve Officers Training Corps (ROTC) engaged in authorized training and practice cruises
Member of the Ready Reserve or National Guard and are scheduled to perform at least 12 periods of inactive training per year
Servicemember who volunteers for a mobilization category in the Individual Ready Reserve (IRR)
What Happens to your SGLI Policy After You Leave the Military?
Ready to leave the service, or have already transitioned? The SGLI policy provides 120 days of free coverage for those eligible for full-time SGLI from the date of separation from the military (or up to 2 years if the servicemember is totally disabled at separation).
You may also be able to convert your SGLI policy to a Veterans Life Group Policy. This can be a good deal for people with pre-exisiting health conditions, as a straight policy conversion does not require additional health exams (those who convert their policy after 240 days from separation are required to submit a statement of good health).
However, VGLI rates are based on age and do not feature the same flat premiums as the SGLI program. Some younger individuals, or those who are in good health, may find it less expensive to purchase a commercial term life insurance policy. It pays to shop around and examine your situation thoroughly before making the decision.
This articles covers more information about your SGLI after leaving the military.
Related Topic: How Much Life Insurance Do Military Members Need?
SGLI Traumatic Injury Protection Program (TSGLI) Rates Unchanged
Servicemembers covered under the full-time SGLI program are automatically covered for the TSGLI program. Servicemembers' Group Life Insurance Traumatic Injury Protection (TSGLI) provides financial assistance for servicemembers who experience a severe or traumatic injury. This includes combat injuries, as well as injuries that may occur on or off duty.
TSGLI coverage applies to active duty members, Reservists, members of the National Guard, those performing funeral duty honors, and one-day muster duty. The cost is $1 per month. You can read more about TSGLI benefits here.
Is SGLI Enough Life Insurance for You and Your Family?
SGLI is one of the best deals going in life insurance. It's an inexpensive, no-exam life insurance policy available to all military members. And family members can participate in the FSGLI plan. However, the limits are $400,000 for SGLI, and $100,000 for FSGLI. It's easy to make the argument that $400,000 coverage isn't enough for many military families if the servicemember is the primary income earner. It will also not replace a military pension, which is the role of the Survivor Benefit Plan.
On the same note, FSGLI only offers $100,000 of coverage for military spouses. While $100,000 seems like a lot of money at first glance, it may not be enough to replace the contributions your spouse makes to the household, whether that is in direct income, running the household, and other contributions. When taking all of this into account, it's easy to see that a $100,000 FSGLI policy may not be enough for your household.
What to Do if You Need More Life Insurance Coverage
SGLI and FSGLI are great policies. But you can't take them with you when you leave the military, and they may not be sufficient for your current needs. I recommend reading our Military Life Insurance Guide for more information on determining how much life insurance you need, and the best way to go about buying additional coverage if you decide your family needs it.