This is the second of a two-part article, designed to outline why SGLI isn't enough life insurance for most military families.  Part one discussed SGLI coverage on the servicemember.  This article discusses the reason why Family Servicemembers' Group Life Insurance (FSGLI) – Life Insurance is usually not enough to cover the death of a spouse.
Overview
Every successful military family succeeds not just because of the military career, but because of the spouse.  In this article, we're going to discuss three major factors that should be considered when insuring a supportive spouse.
Cost of replacing spouse's income.
Impact of potential limited future income.
Cost of replicating the intangible benefits from a two-parent household. This includes the cost of child care & maintaining a household.  It also acknowledges all the intangibles that you can't put a price on.  If you don't at least try, then the surviving servicemember could experience a shock when they realize the total value their spouse brought to the household.
Family Servicemembers' Group Life Insurance (FSGLI) – Life Insurance Benefits
Overall, FSGLI is often an affordable option for many military families. But as we'll show you, the $100,000 maximum coverage is probably not enough life insurance, even if you are insuring a stay-at-home spouse who doesn't earn a regular salary.
FSGLI Eligibility: Insuring Your Spouse & Children
Spouses and dependent children of the following servicemembers are eligible for FSGLI:
Active duty Servicemembers covered by full-time SGLI and
members of the National Guard or Ready Reserve of a uniformed service covered by full-time SGLI.
Family coverage under FSGLI is only available only to the family members of military service members who are participating in the SGLI program. FSGLI does not apply to veterans who buy life insurance through the VGLI program. If you are covered under full-time SGLI, you are eligible to insure your spouse, regardless of whether your spouse is on active duty, retired, or is a civilian.
Maximum FSGLI Coverage
FSGLI provides up to a maximum of $100,000 of insurance coverage for spouses, not to exceed the Servicemembers' SGLI coverage amount and $10,000 for dependent children.
FSGLI Premiums
FSGLI is available in $10,000 increments. Premiums are based on the amount of life insurance coverage and the insured member's age. Premiums are listed in the following chart: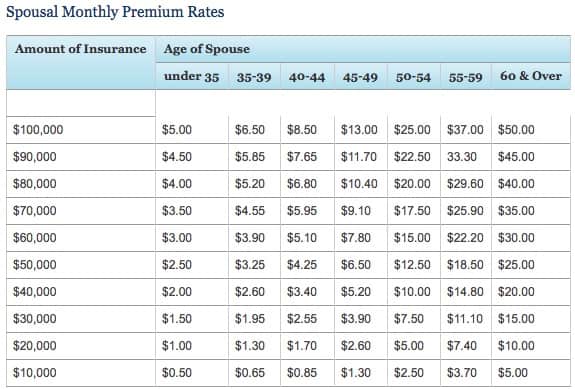 FSGLI premiums are automatically deducted from your pay if your spouse is registered in DEERS. If your spouse is not registered in DEERS, it would be a good idea to set up an appointment through the RAPIDS scheduler. This will enter your spouse and dependents into the military benefits system to help them get access to health care and other military benefits.
How Much Life Insurance Do You Need for Your Spouse
Answering this question is unique for each family, and can be even more difficult to answer than determining how much life insurance the servicemember needs. We look at a few examples and situations below. As you will see, in most cases, the $100,000 maximum available through FSGLI may not be enough for many military families.
Replacing a Spouse's Income
This is the simplest part of the calculation.  After all, over 74% of military spouses report having at least a part-time job or their own business.  You can follow one of the paradigms outlined in my previous article, or choose your own.  As a refresher, the three methods I previously outlined are:
Ten times income
Ten times income plus mortgage (or college expenses)
DIME: Debt, Income, Mortgage, Education.  In this formula, the income ratio is adjusted to a certain goal (i.e. the number of years until our youngest child turns 18).
Since most military families aren't dependent primarily on spousal income, the simplest option for buying life insurance for your spouse might be to replace a certain number of years of that income.  If the spouse owns a business or manages rental property, it also might be prudent to calculate the payoff for any related debt.  This warrants a further discussion on whether the surviving servicemember would be inclined (or be able to) carry on that business if the spouse were to die.
You may choose to purchase insurance to protect this income, or you might not.  Many families consider spousal income as optional, and not a true insurable need.  Conversely, I would advise each family to consider spousal income as part of the overall equation unless they explicitly decide they can live perfectly well without it.
I don't just mean "We can do without this money."  I mean, "We can do everything we currently do, without this money."  This includes enjoying the same quality of life while meeting their exact retirement savings goals.  My guess is that most families would experience a decrease in quality of life or a decrease in their savings rate without spousal income.  If that's the case, it would be prudent to factor this into insurance planning.
Impact of Reduced Future Income
Every retirement ceremony I've been to (including my own), has included the following words (or some variation):
"I could never have had a successful career without the support of my family, especially my spouse."
Let's take this at face value.  What would that military career look like if the surviving servicemember suddenly became a widow or widower?  For some people, there would be zero impact to their career.  In other instances, there might be some inconvenience, but little direct impact.  For others, there might be a limit to their ability to take on future assignments.
Think about your own situation.  What if you couldn't:
Be in a deployment status
Relocate to specific locations
Take an assignment with long work hours
In general, someone is promoted because their service has confidence that they can excel in a wide variety of future jobs.  Whether they're jobs that are in your career progression or unexpected opportunities, these future jobs are key to retention & future promotion.  Conversely, any time you limit your availability, whether it's by choice or not, there's a possible negative impact.
What negative impact could you face if you had to turn down a future assignment due to being a single parent servicemember?  Each family should sit down and seriously consider what jobs they would no longer be able to do under those circumstances.  If there is a possibility that turning down such a job could impact future promotion opportunities, you should account for that in your insurance planning.
Let's imagine Lieutenant Colonel and Mrs. Smith.  They've been married for 15 years, and have 3 children, ages 10,6, and 4.  Lieutenant Colonel Smith is in line to assume command of a battalion headed out for deployment.  If Mrs. Smith were to pass, Lieutenant Colonel Smith would face a significant challenge and threat to his promotion to O-6.  The difference between retiring at O-5 and O-6 can be hundreds of thousands of dollars over the course of a lifetime.
Replacing the Intangible
How can you put a price on all the things your supportive spouse does for you?  You can't.  Yet, you must.  If you don't, you can't attempt to insure it.
Every year, Salary.com updates a "Mom Salary."  This calculates the base & overtime salary for all the different functions that a mother performs.  In 2016, here are the 'salaries' of a stay-at-home and working mother:
Stay-at-home mom: $143,102
Working mother: $90,223
You can also find an infographic and breakdown of all the different functions that a mother performs at Salary.com.
Insure.com has a different take.  According to their Mother's Day Index, the value of all the functions that a mother performs is roughly $67,000 per year.
Of course, many supportive spouses are fathers.  To that end, Salary.com has put together infographics for the economic values of stay-at-home and working dads as well.  However, the last update I could find was from 2012, for what it's worth.
While you might not need to hire a chauffeur, CEO, interior designer, or facilities manager to replace all of these functions, you might need to hire help.  And whatever help you don't hire has to get done, somehow.
Is FSGLI Enough for Your Needs?
Only you can answer that question. While it may be an affordable option, it's not portable – you can't take it with you when you leave the military. You can convert it to a commercial life insurance policy at that point. But you will be under the gun to make the decision at a time when you may have other priorities. You may find it better to obtain an affordable term life insurance policy now and lock in premiums for the next 10, 20, or 30 years.
Buying a commercial term life insurance policy at a young age gives you cost certainty and the knowledge you will have a sufficient life insurance policy that will provide for your family in the event of an untimely death, and you will have a policy that you can keep after leaving the military.
FSGLI is a great program. But it might not be enough for your family.
Conclusion
This doesn't address every insurance detail.  However, it does cover one important fact:  FSGLI probably isn't enough insurance for many military families.  Once you factor in the economic impact of lost income, potentially lost future servicemember income, and the cost of replacing all the things a supportive spouse brings to the table, $100,000 doesn't go that far, does it?
Read our Military Life Insurance Guide for more information about life insurance policies for military members and their families.