Note: Can't Access the RAPIDS Website? Contact the DMDC Support Center (DSC) User Help Desk at 1-800-477-8227. They are open 24 hours a day, 7 days a week.
Table of Contents
Getting a new military ID card can be a simple process if you're on active duty. You can usually just go to your base personnel office or Pass & ID center during office hours, sign up on the waiting list, and get a new card issued within the hour. But you may need to schedule an appointment with the local military ID card issuing office if you aren't at your base, or if you are no longer serving on active duty. In that case, it's best to use the RAPIDS Appointment Scheduler to find the closest ID card office and to schedule an appointment.
Unfortunately, the RAPIDS website and RAPIDS Appointment Scheduler aren't the most user-friendly websites for first-time visitors to navigate. That's why we created this guide, complete with instructions and screenshots.
Use the RAPIDS Website to Schedule an Appointment for a New Military ID Card
Military members, retirees and their dependents can use the RAPIDS website to schedule, confirm, cancel or change an appointment to get a new military ID card. The RAPIDS site is helpful for locating a military ID card issuing office, verifying the office hours and local procedures and scheduling an appointment to get a new ID card. It's important to note that local procedures may vary, so pay close attention to the details so you don't have to come back.
The RAPIDS website features a search function that makes it easy to find a location based on your state, zip code, building or site name or country (there are RAPIDS locations in about two dozen overseas locations).
The search results provide the closest location to you and the address, contact information, office hours and which documents you will need to obtain your new military ID Card. You may also need to obtain a visitor's pass to get on base if you don't currently have a military ID. Be sure to get that information ironed out prior to arriving at the base. You don't want to miss your appointment because you were trying to get on base!
How To Use The RAPIDS Appointment Scheduler
The biggest issue most first-time visitors have is getting to the website. Many government websites have issues with their security certificates which cause browsers to give an error informing the visitor the site is not secure. Here is an example:
As you can see from the above image, the browser sends a message to the user that the site is insecure. You will need to click the "Advanced" link to see an additional message:
I'm not sure why many military websites have these errors, but they can be common. Clicking the link should take you to the RAPIDS website and the RAPIDS Appointment Scheduler. The message states that clicking the link is unsafe, but I haven't experienced that to be the case. Of course, make sure you are using safe computing practices.
Note: You may find it easier to access the site by using a different browser, such as FireFox, Chrome, or Internet Explorer. You may also need to make adjustments to your software.
Some anti-virus, firewall programs or other software programs may prevent you from visiting this site. Use your own judgment regarding whether or not you wish to temporarily disable the software.
Additional help can be found in the ID Card Office Locator & Appointments User Guide.
Once you click the link to proceed, you should be able to reach the ID Card Office Online home page. Select one of the options to update your CAC, manage sponsor or family member ID card information, or find a RAPIDS ID Card Office. You can also update your user profile including contact information, GAL information, and opt-in for TSA PreCheck for DoD Civilians.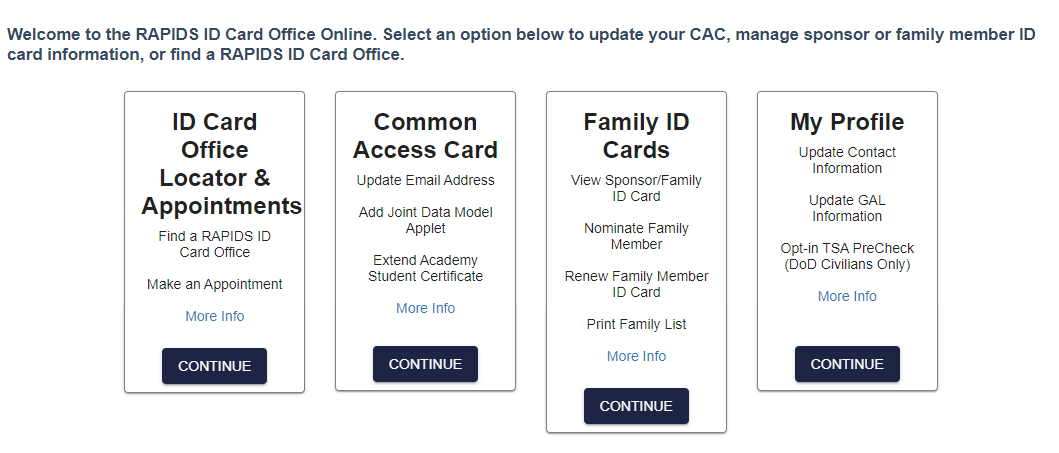 To find information for the military ID card issuing office closest to you, click "continue" under the ID Card Office Locator & Appointments section. This will take you to a page where you can search for the site by address, conduct alternative searches, or search for an existing appointment. The webpage should look similar to the following:
From here, you simply need to type in your city, state, or zip code location and click "Search."
I tried choosing my location based on the zip code, but I received a message stating there was no military identification card issuance office within 30 miles of my zip code. So I had to try again by expanding the search radius setting. This returned multiple ID card issuance offices. Choose the location that best meets your needs.
Schedule Your Appointment
Once you click on a location, you will be taken to the RAPIDS Site ID page, which has information for that ID Card Issuance Office (see next section for more info on this topic), and a calendar you can use to select the date for your appointment.
Choose your appointment date, then you will be taken to a page where you can choose an available time. Select your time, then enter your name, phone number, email, and military status, and click submit. You should receive a confirmation email. You can later use the website to confirm, cancel, or change your appointment.
Each ID Card Issuing Office Has Different Procedures
Pay attention to the procedures listed on the appointment scheduling page. Each office may have different procedures. For example, most offices only process military ID cards on certain days, or during certain hours. Many offices do not accept walk-in appointments. If they do accept walk-ins, be prepared to wait up to several hours, depending on availability.
It's usually required to schedule multiple appointments if you are obtaining multiple ID cards since it takes time to process each card. This is common if you have dependents who all need to renew their ID cards.
Here is an example notice from a Military Identification Card Issuance Office near me (notice the limited days/hours and no walk-in availability):
Monday/Tuesday/Wednesday/Thursday 0900-1130, 1230-1445 Please note 15 minutes per ID card/transaction, please make additional appointments for additional ID cards. We DO NOT accept walk-in appointments.
Additional instructions often include building location, how to access the building, whether or not you need a visitor's pass, which documents to bring, and related information. I took the time to compare the information from multiple offices, and some offer much more information than others, especially when it comes to required documents to get a new military ID card, as well as local procedures.
When in doubt, call and ask! The last thing you want to do is schedule an appointment, then find out you don't have all the required documents on hand when you arrive.
Required Documents for a New Military ID Card
You will be required to bring two current forms of identification that have been issued by your local, state, or federal government. These can include your driver's license, social security card, passport, certified copy of your birth certificate or a similar form of ID. Call to verify if you have any doubts regarding the form of ID you have.
If you have a spouse who needs to obtain a military ID card, then you will either need to be in attendance with him/her, or your spouse will need a special power of attorney to allow them to conduct business on their sponsor's behalf. You may also provide a signed and verified DD Form 1172, Application for Uniformed Services Identification Card DEERS Enrollment, which should allow them to obtain a military dependent ID card.
Your dependents will need to be enrolled in DEERS before they can be issued a military dependent ID card.
Who Can Use the RAPIDS Appointment Scheduler?
You can use the RAPIDS website to schedule an appointment for a new military services ID card if you are in any of the following branches of the Uniformed Services (this includes active duty, retirees, and dependents):
Air Force (including Guard and Reserves)
Army (including Guard and Reserves)
Marine Corps & Marine Corps Reserves
Navy & Navy Reserves
Coast Guard (and Reserves)
US Public Health Service
National Oceanic and Atmospheric Administration
Department of State members
Certain Contractors
Note about Military ID Card Eligibility: Military ID cards are only for current military members, retirees, and their qualified dependents. These cards are not issued to veterans who served, but did not retire. You will want to read more about the new veterans ID card issued by the VA, or the VA health care identification ID card.
Questions about qualifications or required documents? Unfortunately, we aren't able to answer specific questions regarding military ID card or dependent qualifications, which documents are required (beyond those listed above), or questions about specific locations or procedures. Contact your local military ID card issuance office through the contact information on the RAPIDS Appointment Scheduler with specific questions or comments.
About Post Author