Many military veterans are unaware that the VA offers veterans ID cards. The only current option is the Veteran Health Identification Card, formerly known as the Veterans Identification Card (VIC). This card is available to military veterans who are eligible for VA health care benefits. However, a new ID card may soon be available. In 2015, Congress passed the Veterans Identification Card Act which will make veterans ID Cards available to all veterans with an honorable discharge. The VA will begin issuing these new Veterans ID cards in November 2017.
In this article, we will discuss the Veterans Health Identification Card, which is designed to serve as an Identification card for the VA health care system. The official purpose is to check in to appointments for receiving VA health care benefits. However, many veterans also use this card to prove their military service. This can be helpful if you do not have a military ID card or your state doesn't offer a veterans designation on their drivers licenses (most states now offer this).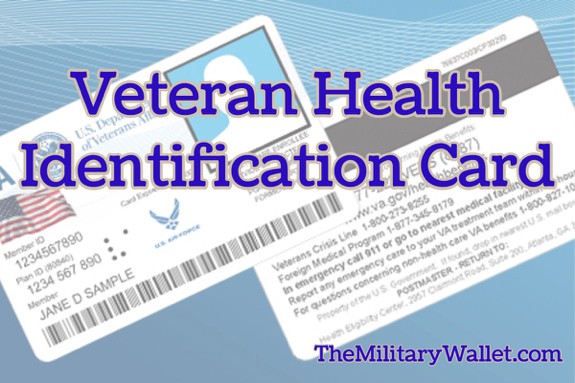 The good news is that all military veterans are potentially eligible to receive one of these VA Health ID cards. This card is the preferred form of ID when receiving VA health care, and can be a great way to prove your military service or help secure military discounts from companies that offer discounts to veterans. Let's take a look at the qualifications to receive a VA issued ID Card:
Veterans Health Identification Card Eligibility

The Veterans Identification Card (VIC) is only available to military veterans who are eligible to receive VA health care benefits. There are many misconceptions regarding VA health care eligibility, and there are thousands of veterans who are unaware they are eligible for VA medical benefits.
You don't need to have a service connected disability to be eligible to receive VA health care benefits. Eligibility is based on active duty service in the Air Force, Army, Coast Guard, Marines, Navy, or Merchant Marines (in WWII), who have an other than dishonorable discharge. Former members of the Reserves or National Guard may be eligible if they were activated under Federal Executive Orders (this generally excludes activation for training purposes).
Other eligibility factors include active duty service dates, deployments you may have served on, or other criteria, such as being discharged for medical reasons, serving in a war zone (Vietnam War veterans and Persian Gulf veterans who served in theater during certain dates are eligible for VA health care benefits), Former POWs, Purple Heart recipients, and veterans who meet certain household income requirements may be eligible for VA medical care benefits. Here is more information for determining VA health care eligibility.  You can also contact the VA to determine health care eligibility or use this eligibility questionnaire.
Apply for VA Health Care Benefits First
You must be enrolled in the VA health care system in order to receive a VIC. To do this, you must establish eligibility and fill out Form 10-10EZ or Form 10-10EZR (these are also the same forms used to update your personal information). You can fill out this form online, by phone (Call 1-877-222-8387, Mon-Fri, 8:00 am – 8:00 pm EST), by mail, or in person at any VA clinic or medical facility. Here is the VA Directory to find a location near you.
How to Apply for a VA Health ID Card
After you have enrolled in the VA health care system, you can visit your local VA clinic or medical facility to obtain an ID card. You will need to have your photo taken. The card will then be mailed to you within 7-10 business days. Be sure to verify all the information is correct on the VA ID Card when you receive it.
What you need to know about the VIC Card: The Veterans Identification Card only contains your name and any special benefits designations, such as a mark for a service-connected disability, POW status, or Purple Heart recipient. The cards no longer contain printed Social Security Numbers, date of birth, or other confidential personal information on the front of the card. However, the cards do contain a bar code that could be read by certain cell phone applications. These bar codes contain your name, DOB, SSN, and other personal information, so be sure to safeguard your ID card to reduce the risk identity theft if your card is lost or stolen.
If your Veterans Identification Card is lost or stolen, you should contact the medical facility that issued your card. Photos are maintained on file, so you won't need to have another photo taken. You will have to verify your personal information to prove your ID.
The VA ID Card is not an insurance card. The only authorized use of the Veterans Identification Card is for verifying ID at VA facilities. It is not an insurance card and cannot be used to pay for medical care at non-VA medical facilities. Though not an official use, many veterans use these cards to prove military service.
Photo source: image 1, VA, image 2, WikiMedia Commons