The military Exchange program offers tax-free shopping and discounts on goods and services. Every branch of the military offers its own exchange system – an Airforce Base Exchange (BX), an Army Post Exchange (PX), Marine Corps Exchange (MCX), Coast Guard Exchange (CGX), and the Navy has the NEX. All operate separately, but if you're eligible to shop at one, you can shop at all of them.
An exchange is a retail store set up like a department store or a strip mall with several small shops and service vendors selling a variety of goods. Some exchanges, especially those abroad (OCONUS), will have kiosks set up that offer several different items, ranging from locally produced garments and trinkets to alcohol and decorative items.
The majority of all installations have at least one exchange. Depending on the size of the installation, there may be several located on post or on base. Exchanges typically include a barbershop, coffee shop, food court, alterations shop, dry cleaning facilities, a gas station, and lawn and garden stores. Other amenity shops also include hair and nail salons, auto repair, car rental services, and banks. Sometimes these various amenities are spread across multiple locations.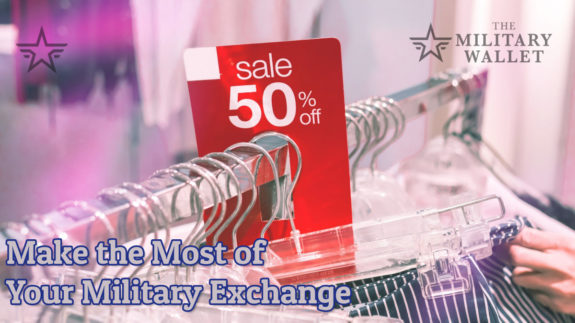 Who Is Eligible?
If you belong to one of the following groups, you can shop at an exchange:
Uniformed-service members (active, reserve or retired)
All honorably discharged veterans (at online exchanges) as of November 11, 2017
Department of Defense civilian employees stationed OCONUS
Military members of foreign nations
National Guard members not in a federal status
Surviving family members
Disabled veterans, Purple Heart recipients, former POWs, and eligible caregivers (see below for more info).
Additionally, Red Cross personnel and their dependents are authorized to use the exchange at OCONUS MCX locations.
Disabled Veteran Eligibility: Starting in 2020, Purple Heart recipients, former POWs, all service-connected disabled veterans and caregivers enrolled in the VA's Comprehensive Assistance for Family Caregivers program are eligible to shop at the Exchanges and Commissaries. Veterans must present their Veterans Health Identification Card to purchase the exchange.
Is Shopping at the Exchange Worth It?
For most shoppers, the number one benefit of shopping at the exchange is the money saved by shopping tax-free. Name brand items are often deeply discounted at exchanges, making it easier to keep more of your money in your pocket.
A large portion of the profit of exchange sales goes right back to your installation. And, since exchanges primarily employ military spouses and dependents, you can rest assured that your purchases on your installation directly benefit your community. MWR services and other installation-wide initiatives are funded, in part, by some of the proceeds of exchange sales.
You can even shop online. Free shipping is eligible when you use your MILITARY STAR credit card. Returns are simple and easy, with generous policies in place. Most exchanges will offer store credit if you need to return an item and don't have a receipt.
Exchanges also serve as your one-stop-shop for everything relating to your hectic military life, from standard uniform needs to regulation handbags, shoes, and more.
SOFA Limitations for Active Duty and Dependents
Status of Forces Agreements (SOFA) are unique to each region and country in which US forces are based. SOFAs help provide the basis for the legal status of military, US civilian employees, and dependents who are stationed abroad.
SOFAs affect military exchange and commissary privileges. When you purchase something from an overseas exchange, it's considered duty, customs, and tax-free when it crosses international borders.
However, some SOFAs don't allow you to buy certain items in bulk. For example, in Germany, you're allowed a preset limit of how much coffee, alcohol, and tobacco you can purchase in any given month. These limits are in place to prevent the reselling of items on illegal markets outside the installation. Some SOFAs impose monthly spending caps as well, depending on your installation and family size.
To find out specifics about your installation and current SOFAs, check with your military command.
SOFA Limitations for Retirees
Exchange privileges in overseas installations are at the discretion of the host country, so the local exchange can't determine shopping privileges and access to duty-free goods. In some instances, overseas commands, per the host country's SOFA, will work with local nationals to determine who can be extended shopping privileges. Check with your overseas command with specific questions.
For instance, retirees and dependents have limited authorization to shop in AAFES military exchanges. Countries in both Europe and Asia allow limited access to retirees, with more flexible options found in Japan, Korea, and Germany. But there are restrictions you should research before making the trip.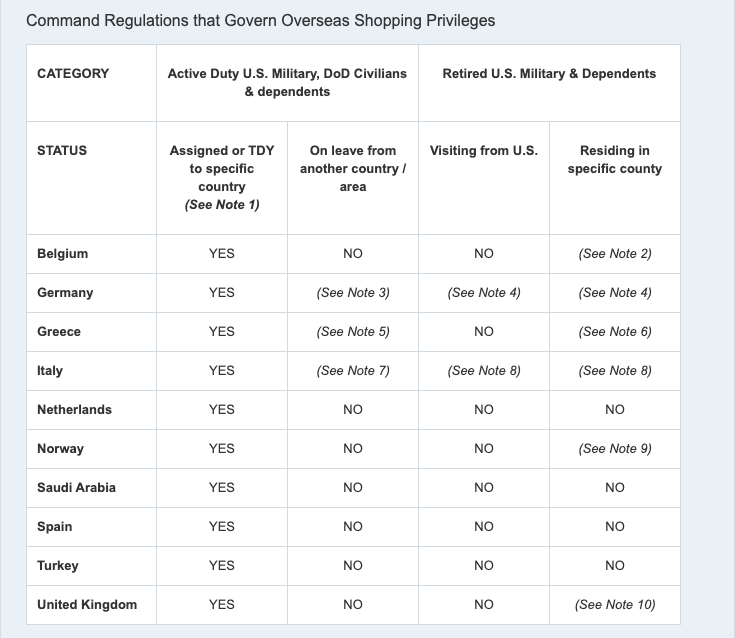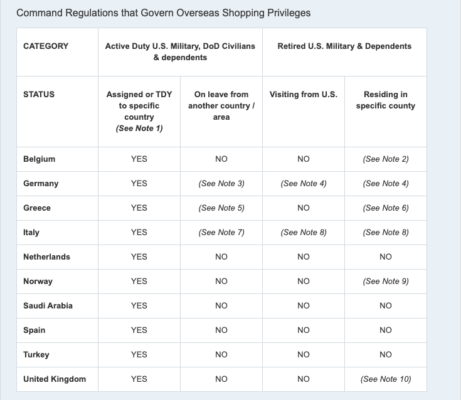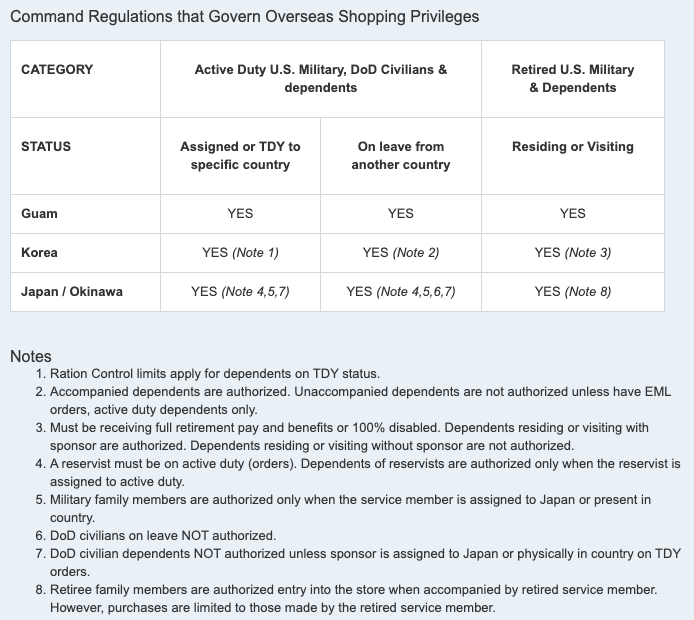 A complete list of current conditions for retirees wishing to shop at overseas locations can be found below:
Shop Your Military Exchange
Utilizing exchanges on your installations can help you save money by offering discounts on items you regularly purchase, and you'll be helping to support your local community in the process.
Army and Air Force Exchange Services (AAFES) locations: Shop My Exchange
Marine Corps Exchange (MCX) locations: My MCX
Navy Exchange Service Command (NEX) locations: My Navy Exchange
Coast Guard Exchange (CGX) locations: Shop My CGX
About Post Author