Did you know that August 7 is Purple Heart Day? To date, almost two million servicemembers have earned a Purple Heart. However, most people don't realize there's a day dedicated to honoring and commemorating the servicemembers who have been wounded or killed in service to the United States, Purple Heart Recipients.
The award is vital to Purple Heart Recipients and their families because it's the most recognized symbol of a combat injury. This award recognizes that wartime trauma and injury have a significant impact on the life of a servicemember and their family. For Purple Heart awardees, these benefits might help offset some of the challenges they face both during their time in service and while integrating into civilian life.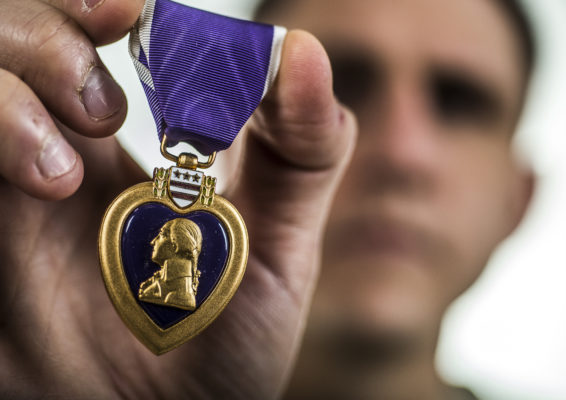 The original Purple Heart was designed by General Washington in 1782 in the shape of a heart and was known as the Badge of Military Merit. Washington initially intended to issue the medal after an act of bravery. Only three soldiers were issued the decoration in its original form.
Then in 1927, it was redesigned and renamed, and it's been known as the Purple Heart ever since. It's the military's oldest medal and is awarded for being wounded or killed in military action against the enemy. Like other combat-related military distinctions, recipients of the Purple Heart receive exclusive federal and state benefits.
VA Medical Group Priority
VA Health care availability is determined by the amount of money Congress issues the VA each year. This means that funds are limited. To address this issue, the VA has established Priority Groups to make sure certain veteran groups are eligible to enroll before others. Preferential treatment ensures those who have paid the highest price are able to receive the care they need. There are eight Priority Groups with specific criteria for edibility. Priority Groups 1 and 2 include veterans with service-connected disabilities ranging between 30 – 50 percent.
Purple Heart recipients are automatically assigned to Priority Group 3 at the VA, unless their service-connected disability rating grants them access to Priority Groups 1 or 2. Priority Group 3 means Purple Heart recipients have higher priority access to medical care through the VA and they're not responsible for paying copays for treatment or hospitalization.
GI Benefits
The Forever GI Bill, which expanded on the Post-9/11 GI Bill, revised the criteria a service member must meet in order to qualify for education benefits. Purple Heart recipients are granted full benefits regardless of the time they spent in service. This is a change from the Post-9/11 Bill, which mandated a service member have been in the military for a specific number of months. Additionally, Purple Heart recipients are eligible for 100 percent of their benefits for up to thirty-six months. This has been in effect since August 2018.
Some states offer tuition waivers for state colleges and universities for servicemembers who have been awarded a Purple Heart. Application requirements are different for each state. Servicemembers are encouraged to check with their educational institution to find out more.
The Military Order of the Purple Heart offers 80 scholarships to Purple Heart veterans and family members each year. The scholarship can be used to defray the costs of education.
Federal Hiring Preference
Purple Heart recipients are awarded 10 veteran preference points when applying for federal jobs. Veteran Preference points provide special consideration to qualified veterans who are seeking federal employment.
Veterans who have been awarded a Purple Heart will have 10 points added to their passing examination score (score of 70 or higher). These veterans examination scores and numerical evaluations are used to compare your application to other applications during the federal hiring process.
VA Home Loan Funding Fees Waived
Purple Heart awardees are exempt from the VA Loan funding fee.
VA funding fees exist to offset the costs that are incurred from the VA guaranteeing loans by default. Funding fees also help relieve taxpayers from backing the loans. Fees are adjusted according to several factors, which often include the details of a service member's military history and whether or not a down payment has been made.
Some Purple Heart Recipients May Be Eligible for CRSC
Some Purple Heart retirees may be entitled to Combat-Related Special Compensation (CRSC). CRSC is awarded to military retirees who have a combat-related injury that results in a VA service-connected disability rating of at least 10%. This award is not automatic and must be applied for directly through your branch of service. However, the benefit can result in a tax-free payment in addition to your military retirement pay.
State Benefits for Purple Heart Recipients
Some states offer benefits for Purple Heart recipients, including college scholarships for the veteran or his or her children. Many states also offer special license plates.
Purple Heart History & Qualifying for a Purple Heart
After the medal fell into disuse, Gen. Douglas MacArthur launched a campaign to commemorate bravery and recognize soldiers with wounds. During WWII, the medal was changed once again, this time to acknowledge combat injuries and deaths. The military continues to modify the award by adding different types of injuries and combat settings that are applicable. Now, servicemembers who are wounded in acts of terrorism qualify to be awarded a Purple Heart.
After a substantial loss of life at Pearl Harbor in 1941, the military allowed posthumous Purple Hearts to be awarded to servicemembers who have died for our country. This action was the precursor to the War Department's decision that the Purple Heart be used exclusively for wounds and combat deaths.
The Pentagon doesn't track the details of Purple Heart nominations. Therefore, it's not clear how many Purple Hearts have been awarded for specific types of injury, nor how many servicemembers have been nominated, awarded, or denied this medal.
What's unique about the Purple Heart versus other military accolades is that a service member isn't recommended for the decoration. Instead, s/he is entitled to it after meeting specific eligibility requirements. The military continues to refine the qualifying criteria to ensure that the current needs of today's wounded veterans are addressed and met.
Notably, an individual service member can apply for a Purple Heart, but this is a very unusual circumstance. Instead, command chains generally submit awards packets that illustrate the service member's bravery, and s/he has met all criteria to be eligible for the award. Denials can – and do – happen, but they usually require both a review and agreement by a high-level officer.
About Post Author