Table of Contents
If you feel like you're unable to keep up with the frequent changes to military benefits – especially the GI Bill – you're not alone. Modifications to eligibility requirements, military housing allowances, transfer policies, and time-in-service sometimes make education benefits for veterans seem incomprehensible, unattainable, or just plain confusing.
However, recently enacted changes to the GI Bill will have wide-sweeping effects that are likely to impact nearly all military stakeholders, whether active duty, Reservists, Guard members, or dependents. This article strives to break down the newly enacted 'Forever GI' Bill into several 'need-to-know' bits, allowing servicemembers and their families to feel more confident, educated, and empowered.
The primary intent of the 'Forever GI' bill is to expand eligibility of specific education benefits and replace the previous "use-it-or-lose-it" feature: instead of having a 15-year time limit imposed on servicemembers to use or lose their GI benefits, the 'Forever GI' Bill extends this time limit and allows certain beneficiaries (those who left active-duty service on or after Jan. 1, 2013) access to these benefits indefinitely. In addition to eliminating the 15-year time limit, the 'Forever GI' Bill includes 33 other provisions that will directly impact veterans, servicemembers, dependents, and surviving family members.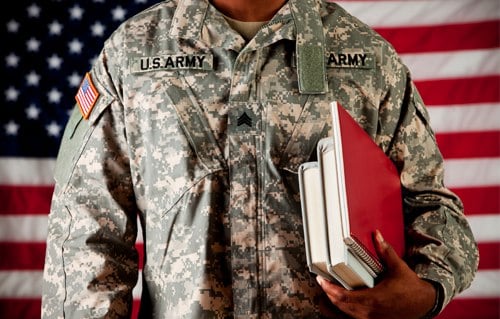 History of the 'Forever GI' Bill
The GI Bill, which originated in 1944 as a comprehensive benefits package for returning WWII veterans, has undergone countless revisions in its seven decades of existence. Its latest iteration, the Harry W. Colmery Veterans Educational Assistance Act – also known as the 'Forever GI' Bill – was signed into law on Aug. 16, 2017, by President Trump and incorporates multiple important changes to eligibility and benefits for veterans and their family members.
Who is Affected by Changes to the GI Bill?
The groups that will be most impacted by changes to the benefits program include:
Veterans who left active-duty service on or after Jan. 1, 2013
Veterans who served less than one year
Veterans whose colleges or schools closed or lost accreditation after Jan. 1, 2015
Purple Heart recipients
Veterans pursuing STEM or technology-related fields
Former Reservists and National Guard members
Dependents, including Fry Scholarship recipients as well as Dependents' Educational Assistance (DEA) beneficiaries
Revised Benefit Tiers
As with the Post-9/11 GI Bill, the amount of educational benefits received under the 'Forever GI' Bill depends on a servicemember's time-in-service. However, one important change under this latest legislation is increased benefits for veterans who served 90 days or more but less than one year. Veterans who served between 90 days and six months are eligible to receive 50% of the maximum GI benefits (previously they were eligible to only receive 40%). Similarly, veterans who served more than six months but less than a year are now eligible to receive 60% of the maximum GI benefits (previously, only 50%).
Expanded Benefits for Reservists, Guard Members, Dependents & Veterans
In general, the 'Forever GI' Bill seeks to expand certain educational benefits to previously ineligible groups, including to Reservists, Guard members, and dependents. Additionally, veterans will now be able to "earn and learn" through work-study programs and have greater choice when selecting their educational providers. For example, under the 'Forever GI' Bill, veterans are able to pursue independent study programs and apply their benefits towards programs at vocational and technical schools.
Reservists and National Guard Members
Reservists who previously availed of the Reserve Educational Assistance Program (REAP), which was phased out in 2015, have the option of transferring their lost benefits under the 'Forever GI' Bill.
Further, both Reservists and members of the National Guard (serving after 9/11) are now able to apply more of their overall service towards eligibility. Under the 'Forever GI' Bill, any time spent receiving medical care or recovering from injuries incurred while serving on active duty will count towards their eligibility.
Finally, under the 'Forever GI' Bill, Reservists who were mobilized to serve on active duty status under Sections 12304(a) and 12304(b) – in response to a natural disaster, for example, or to support a combatant command – are now eligible to receive benefits.
Purple Heart Recipients
While previous iterations of the GI Bill took into account time-in-service for Purple Heart recipients, the 'Forever GI' Bill awards full eligibility to all post-9/11 Purple Heart recipients regardless of the length of service.
Dependents
Children and spouses of veterans who utilize Dependents' Educational Assistance (DEA) funds will see monthly payments increase by up to 50% under the 'Forever GI' Bill; however, as an offset to pay for the expansion of benefits, the 45-month period during which dependents can receive these payments has been shortened to 36-months.
Veterans Pursuing STEM-related Fields
Veterans studying STEM (science, technology, engineering, and mathematics) fields are eligible to receive additional funding for up to nine months of GI benefits or a lump sum of $30,000 to fund their studies under the Edith Nourse Rogers Scholarship. This funding is also available to veterans who have already completed a STEM-related degree and are seeking further professional certifications.
Expansion of the Yellow Ribbon Program
The 'Forever GI' Bill also expands the Yellow Ribbon program – an existing initiative between schools and the federal government to pay for education expenses not presently covered by the Post-9/11 GI Bill – to Purple Heart recipients as well as recipients of the Fry Scholarship, which provides education benefits to eligible dependents of fallen servicemembers. Previously, Yellow Ribbon benefits were available only to veterans at the 100% eligibility tier. Additionally, the 15-year time period during which Fry Scholarship awardees can utilize their benefits has been dropped, meaning that these benefits can be used indefinitely.
Restoration of Benefits for Students of Shuttered Schools
One of the most significant provisions included in the 'Forever GI' Bill is the restoration of benefits to veterans affected by school closures or loss of accreditation. Veterans who lost credit for classes that they took at schools or colleges that either closed or lost accreditation after Jan. 1, 2015, will see their benefits restored.
More Flexibility in Transferring Benefits
In the event of death for the individual receiving GI benefits, the 'Forever GI' Bill offers more flexibility in transferring unused benefits to a living family member. This provision can be retroactively applied to all deaths from 2009 to present.
Reduced Monthly Housing Allowances to Offset Costs
In order to pay for the expansion of benefits under the 'Forever GI' bill, housing stipends will be reduced by 1 percent beginning Jan. 1, 2018, and will continue for a five-year period, keeping in line with the 5 percent reduction in active duty BAH. Monthly housing allowances will be roughly the same as an E-5 with dependent rate.
GI Bill Podcasts
The Military Wallet Podcast – Post-9/11 GI Bill Transfer
The Military Wallet Podcast – Using the Post-9/11 GI Bill