Do you want a college degree, but prefer to avoid student loan debt? Then consider using your GI Bill benefits. There's no question that student loan debt is crippling our country. Are you a veteran or active duty service member of the U.S. Armed Forces who has served at least 30 days or more since Sept 10, 2001? Then, under the Post 9/11 GI Bill you're eligible to receive education and training benefits to help you avoid that crippling student loan debt.
The Post-9/11 GI Bill is a fantastic yet, at times, confusing program which is available to the men and women of our country who stepped up to serve and protect.
Understanding Post 9/11 GI Bill benefits doesn't have to be confusing, though. When broken down, it's easy to know when, where, and how to start you'll be able to start receiving your GI Bill education and training benefits.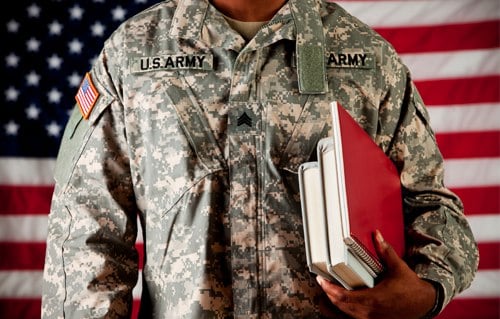 Post 9/11 GI Bill Basics
Any veteran who has served at least 90 days of active duty with the U.S. Armed Forces, starting after 9/10/01, and received an honorable discharge qualifies for Post 9/11 GI Bill benefits. To qualify for the maximum amount of benefits payable, you have to have served for at least 3 years on active duty.
Tiered Eligibility Percentage Payment Structure
The Post-9/11 GI Bill program has many different payments which are structured around an eligibility tier. Basically, all of the payments and maximum amounts you as a service member are eligible to receive are determined by your eligibility percentage, which is determined by your length of service.
For example, if you served on active duty for:
Member Serves
Percentage of Maximum Benefit Payable
At least 36 months
100%
At least 30 continuous days on active duty and
must be discharged due to service-connected disability
100%
At least 30 months, but less than 36 months
90%
At least 24 months, but less than 30 months
80%
At least 18 months, but less than 24 months
70%
At least 12 months, but less than 18 months
60%
At least 06 months, but less than 12 months
50%
At least 90 days, but less than 06 months
40%
It's important to note that any service members who qualify for the Active Duty GI Bill, the Reserve GI Bill, or the Reserve Educational Assistance Program (REAP) can choose which benefit best fits their education needs. However, the REAP program is being shut down soon because the Post-9/11 GI Bill benefits are generally much better than REAP.
What Are the Post 9/11 GI Bill Benefits?
Under the Post-9/11 GI Bill veterans are eligible to receive:
Tuition and Fee Payments
Students using the Post-9/11 GI Bill are eligible to receive All Tuition and Fee Payments for an in-State School. Students attending a private or foreign university can receive benefits not to exceed $25,162.14 during the academic year. Note, however, that under the Yellow Ribbon Program, if you are attending a public Institution of Higher Learning (IHL) as a non-resident student or a private IHL that is more expensive than the annual cap of $25,162.14, you may be eligible for extra payments. Also, you may qualify for in-state tuition rates if you live in the state where you're going to school, regardless of your former state of residence.
GI Bill Monthly Housing Allowance (MHA)
The GI Bill monthly housing allowance is generally the same as the military Basic Allowance for Housing (BAH) for an E-5 with dependents. However, your rate is based on your school's ZIP code, not your personal address, and it is paid at a percentage based on your actual training time.
This essentially means that full-time students will receive a higher MHA than part-time students. You can use the GI Bill Comparison Tool to research MHA for the school you're looking to attend.
There are some rules regarding Monthly Housing Allowance availability:
MHA is not available to active duty service members, spouses of active duty members using transferred benefits, and those taking courses at half-time load, or less.
MHA is available to veterans taking half-time load or greater, spouses of veterans using transferred benefits, and children using transferred benefits.
If your training is exclusively online, with no in-classroom hours or you are a veteran attending a Foreign School your housing rates are listed as TBD.
Additional Benefits:
A yearly books and Supplies Stipend of up to $1000.00 which is paid proportionately based on enrollment.
A one-time rural benefit payment of $500 may be payable to certain veterans who are relocating from highly rural areas.
What if I Don't Want to Earn a College Degree?
The benefits available to veterans are the same for those who wish to attend a non-college degree-granting institution as those in a traditional college setting. For example, all net costs for tuition and fees can't exceed $25,162.14, and you may still be eligible to receive MHA, the books and supplies stipend, and the one-time rural benefit.
The MHA rates differ for apprenticeship and on-the-job training, however. For example, Apprenticeship and On-the-Job Training Rates are as follows:
For the first six months of training, you can receive 100% of your applicable MHA.
For the second six months of training, you can receive 80% of your applicable MHA.
For the third six months of training, you can receive 60% of your applicable MHA.
For the fourth six months of training, you can receive 40% of your applicable MHA.
For the remainder of your pursuit of training, you can receive 20% of your applicable MHA.
Alternative Training Rates
You can also use your GI Bill benefits to pursue alternative training, such as:
Correspondence School:
The actual net costs cannot exceed $12,221.58 per academic year.
National Testing Programs/Licensing & Certification Tests:
You can use your GI Bill to be reimbursed up to $2,000 per test. Your entitlement will be charged one month for every $2,099.24 paid to you, rounded down to the nearest non-zero month. This basically means that you can charge even low-cost tests to your GI Bill benefits, but you'll be charged for an entire month of GI Bill benefits per test.
Vocational Flight School Training:
The actual net costs for your flight school training cannot exceed $14,378.35 academic year. This cap applies to all classes and enrollments that begin during that academic year, regardless of the year the class or enrollment is completed.
A Note on the Montgomery GI Bill
Many service members signed up for Montgomery GI Bill (MGIB) benefits when they joined the military, or are automatically eligible for the MGIB-SR when they join the Guard or Reserves. The MGIB is different than the Post-9/11 GI Bill. In general, the Post-9/11 GI Bill is a more valuable benefit, and most servicemembers are better off using the Post-9/11 GI Bill over the MGIB.
Comparing the Post-9/11 GI Bill and MGIB
The following table provides an overview of the benefits under both GI Bill programs.
Benefits
Post-9/11
MGIB
Buy-in Requirement
None
$1,200
Minimum Length of Service
to Qualify
90 days active aggregate service (after 9/10/01)
or 30 days continuous if discharged for disability
2 yr. continuous enlistment
(minimum duty varies by service date, branch, etc.)
Who receives payment?
Educational institution receives tuition
Veteran receives payment
Books & Supplies stipend
Yes - $1,000 per year;
Paid to student at the beginning of the term
None
Housing stipend
BAH at E-5 with Dependents Rate;
Paid monthly to student
None
Expanded educational benefits
Yes
No
Are benefits transferable?
Yes, under limited circumstances
No
Time limit to use
No expiration - veterans discharged on or after Jan. 1, 2013
15 years - veterans discharged Dec. 31, 2012, or prior
10 years
Yellow Ribbon Program
Yes
No
Montgomery GI Bill Refunds
Many servicemembers want to know if they are eligible for a refund for the $1,200 they paid into the Montgomery GI Bill. Montgomery GI Bill Refunds are only available to servicemembers who are eligible for both the MGIB and the Post-9/11 GI Bill, and who use their entire Post-9/11 GI Bill benefit. Once they deplete their Post-9/11 GI Bill benefits, they can request a refund for the amount of the MGIB they did not use (refunds are prorated based on the amount of the MGIB used).
Transferring Your GI Bill Benefits to a Family Member
Did you know that if you are an active duty service member, you have the ability to transfer benefits to family members? The Department of Defense (DoD) is, "authorized to allow individuals who, on or after August 1, 2009, have served at least 6 years in the Armed Forces and who agree to serve at least another 4 years in the Armed Forces to transfer unused entitlement to their Spouse." National Oceanographic and Atmospheric Administration (NOAA) and Public Health System (PHS) personnel can also transfer their benefits to eligible dependents.
Members who are considering transferring their benefits to their spouse or children should do so ASAP. Congress is considering making changes to the transfer rules that may affect the Military Housing Allowance for spouses and dependents. Those who transfer benefits now will be grandfathered into the current plan, which offers dependents the same MHA benefits as veterans.
Applying for GI Bill Benefits
If you meet the minimum service requirement for the Post-9/11 GI Bill, you are automatically eligible to receive benefits. All you have to do is use the Veterans Online Application (VONAPP) through the eBenefits portal to get the ball rolling on using your benefits.
What Are You Waiting For?
If you meet the criteria for the Post-9/11 GI Bill, find a VA approved program that you're interested in, and start using your benefits. You earned the opportunity to get free education and training, so take advantage of those benefits to improve your life without having to take on student loans.