The GI Bill has been called the most significant piece of legislation ever passed by Congress. The "Greatest Generation" – champions of the free world, found release from combat, harnessing post-war anxiety into academic success. And when President Franklin Delano Roosevelt signed into law the Servicemen's Readjustment Act on June 22, 1944, he guaranteed a myriad of benefits ranging from educational support, job training, loan assistance for homes, farms or businesses and unemployment pay, to veterans of the Second World War. This treatise of veterans' assistance came to be known as the GI Bill of Rights.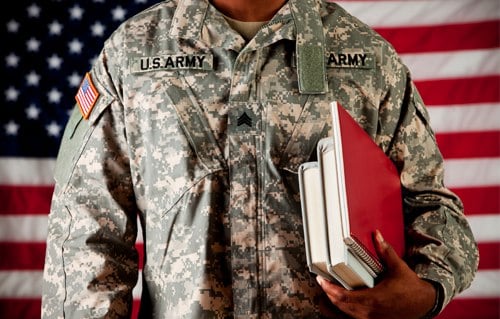 Reconstructed on several occasions in order to meet the needs and challenges of an ever-changing world, the GI Bill can seem like an uncharted battlefield to many service members returning home from far-flung climes. The Post 9/11 Veterans Educational Assistance Act (also known as GI Bill 2.0) is no different – altruistic, yet extremely convoluted. In order to fully digest the Post-9/11 GI Bill program, it's imperative to compare it with its predecessor: the Montgomery GI Bill.
Montgomery GI Bill Benefits
Many service members signed up for Montgomery GI Bill (MGIB) benefits when they joined the military, or are automatically eligible for the MGIB-SR when they join the Guard or Reserves. There are two main programs within the Montgomery GI Bill (MGIB), which are available to anyone who enlists in the U.S. Armed Forces.
Active duty members of the Armed Forces who enroll and pay $100 per month for 12 months will be eligible for Montgomery GI Bill Active Duty (MGIB-AD) monthly education benefits once they have completed a minimum service obligation.
The Montgomery GI Bill Selected Reserve (MGIB-SR) is available to actively drilling reservists who have a six-year obligation to the Armed Forces.
Veterans must be enrolled in an Institute of Higher Learning (IHL) in order to use the Montgomery GI Bill. Veterans send their certification of enrollment to the VA, which then directly pays the veteran according to their benefit rate (usually determined by the load they are taking – full time, ¾ time, ½ time, etc.). Students are required to pay the school their tuition and fees.
The MGIB can be used while on active duty. However, active duty members may be eligible for tuition assistance benefits, which may be a better option.
The Montgomery GI Bill can be worth over $71,700 and is based on the monthly full-time student payment rate of $1,994 multiplied by the 36-month limit. The MGIB does not offer any housing or book stipends.
The Montgomery GI Bill expires within 10 years of leaving military service.
Even though the Montgomery GI Bill is a voluntary program, there are no Montgomery GI Bill Refunds, except in limited circumstances. MGIB refunds are only available to servicemembers who are also eligible for the Post-9/11 GI Bill and who use their entire Post-9/11 GI Bill benefit. Veterans who have used their entire Post-9/11 GI Bill benefit are eligible to request a prorated portion of their unused MGIB benefit.
Post-9/11 GI Bill Eligibility & Benefits
The Post-9/11 GI Bill is different than the Montgomery GI Bill. Eligibility does now require one to buy into the program. Instead, servicemembers must earn it based on active duty service time.
The following chart shows the service requirements in order to qualify for the Post-9/11 GI Bill:
Member Serves
Percentage of maximum benefit payable
At least 36 months
100%
At least 30 continuous days on active duty and
must be discharged due to service-connected disability or received a Purple Heart
100%
At least 30 months, but less than 36 months
90%
At least 24 months, but less than 30 months
80%
At least 18 months, but less than 24 months
70%
At least 6 months, but less than 18 months
60%
At least 90 days, but less than 6 months
50%
Those eligible for the Post-9/11 GI Bill will be able to have their college tuition paid for, up to the amount of the highest in-state college where they are attending school. There are also stipends for books, and a monthly housing allowance based on the BAH Rates for an E-5 with dependents.
Comparing Post-9/11 GI Bill to the MGIB
In years past, service members enlisting in the military post-1985 were required to pay $1,200 towards their educational benefits. As of August 1, 2011, the Post 9/11 GI Bill came into being – allowing any service member serving 90 days of Active Duty since September 11, 2001, access to assistance – without any payment required. Only a few requirements exist for participating veterans: serving a total of 36 months of Active Duty or honorable discharge due to a service-related disability.
In a move to tackle current university fees, the Post-9/11 GI Bill no longer pays a flat rate directly to veterans – rather, the VA pays up to 100% of in-state public school tuition directly to the college. Private university tuition caps in at $21,084.89 per year – something unheard of under the Montgomery GI Bill. Also, eligible students can pull stipends for both books and living expenses. These so-called "living allowances," can range from around $700 to over $3,000 per month. Even veterans who are taking 100% of their courses online can earn up to $778 per month in a Military Housing Allowance.
Contingent upon agreement of re-enlistment, currently serving troops with six years of Active Duty have the ability to transfer their educational benefits. They must qualify for academic assistance themselves and have a spouse or dependent enrolled in the Defense Eligibility Enrollment Reporting System (DEERS). Whereas the Montgomery GI Bill's benefit period spanned ten years, GI Bill 2.0 pushes it to fifteen – another great update.
The VA recently passed the Forever GI Bill, which eliminates the expiration date for the GI Bill. This applies to eligible Post-9/11 GI Bill veterans who were discharged on or after Jan. 1, 2013.
The Post-9/11 GI Bill also expanded which programs veterans are eligible to use. Some educational programs include traditional college courses, including 2 and 4-year degrees, Master's programs, vocational/technical training, flight training, national testing, certifications, licensing, and more.
One of the more innovative attributes of GI Bill 2.0 is the "Yellow Ribbon GI Education Enhancement Program." Totally ignored in previous education bills, the "Yellow Ribbon Program," seeks to support veterans at the graduate school level. Private and public universities, who choose to participate in the syllabus, must offer scholarships of tuition forgiveness to veterans. Thereupon entering into an agreement with the Veterans Administration, the college will be compensated, dollar-for-dollar, with what they provided – up to the full cost of tuition.
Here is a brief recap of Post-9/11 GI Bill benefits compared to the MGIB:
Benefits and Costs
Post-9/11
MGIB
Buy-in requirement
None
$1,200
Minimum length of service
to qualify
90 days of active aggregate service (after Sept. 10, 2001) or 30 days continuous service if discharged due to a disability
Two years continuous enlistment (minimum duty varies by service date, branch, etc.)
Who receives payment?
Educational institution receives tuition
Veteran receives payment
Books and supplies stipend
$1,000 per year is paid to the student at the beginning of the term
None
Housing stipend
Basic Allowance for Housing (BAH) rate at "E-5 with Dependents;" paid monthly
None
Expanded educational benefits
Yes
No
Are benefits transferable?
Yes, under limited circumstances
No
Time limit to use
No expiration for veterans discharged on or after Jan. 1, 2013

15-year expiration for veterans discharged on or prior to Dec. 31, 2012
10 years
Yellow Ribbon Program
Yes
No
If you are currently eligible for the Montgomery GI Bill, but served at least 90 days of Active Duty after September 11, 2001, you may be able to transfer your benefits from the MGIB program to the GI Bill 2.0. In some cases, you may be able to add extra time to your GI Bill benefits if you have already used your MGIB benefits, and in limited cases, you can get a MGIB refund if you have exhausted your Post-9/11 GI Bill benefits.
The Serviceman's Readjustment Act of 1944 has certainly come a long way since its $500 allotments per school year to qualified veterans. Utilizing a broad spectrum of benefits, the Post-9/11 GI Bill tackles contemporary issues facing student veterans. It's definitely worth exploring if you are eligible. Standby for further information on military education benefits, including private military scholarships, and more. And if you are ready to explore your benefits further, then check out these GI Bill education programs for more information about which degree program might be the best for your career goals.