There is good news for those of you out there who are eligible for the Post-9/11 GI Bill — you may be eligible to transfer your GI Bill to a spouse or child if you meet the minimum service requirements and agree to extend your military service obligation.
Update: Changes may be coming soon to transferred GI Bill benefits. Recent legislation would cut the Monthly Housing Allowance in half if the benefit is transferred to children (those who have already made the transfer will be grandfathered into the current system with a 100% housing allowance for children). Those who are thinking about transferring this benefit should do so ASAP to avoid reduced benefits for their children. Read more about the GI Bill transfer changes.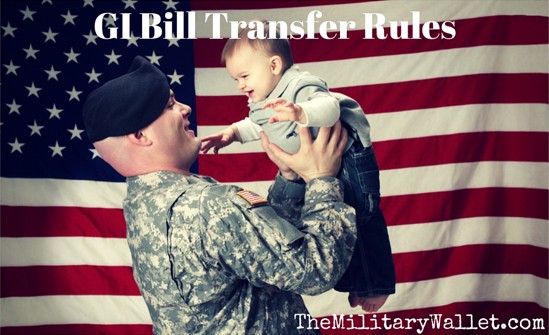 Who Can Transfer GI Bill Benefits
You can only transfer GI Bill benefits if you are eligible for the Post 9-11 GI Bill and you meet one of the following criteria:
Have at least 6 years of service on date of GI Bill transfer request, and you agree to serve 4 more years.
Have at least 10 years service and cannot serve 4 more years because of policy or law, but you agree to serve as long as you are able by law or policy (this can come into play for high year tenure rules).
Are retirement eligible from August 1, 2009 through August 1, 2012. (Member must sign up for one more year of service starting from the date the GI Bill benefits are transferred).
Who Can Receive Transferred GI Bill Benefits
GI Bill benefits can only be transferred to eligible spouses or children, who must be enrolled in the Defense Eligibility Enrollment Reporting System (DEERS).
Spouses.
Can receive benefits immediately (starting August 1, 2009).
Can use benefits for up to 15 years after the service member separates from active duty.
May still use the benefits after a divorce if the military member agrees.
Spouses will not receive a monthly housing or book stipend while member is on active duty.
Children.
Can use benefits after the service member completes at least 10 years of service.
Can use the benefits while the service member remains on active duty or after the member separates.
Is eligible to receive a monthly housing or book stipend while member is on active duty.
May receive benefits after marriage.
Cannot use benefits unless they have a high school diploma or equivalent, or reach age 18.
Cannot receive benefits after age 26.
Other Important GI Bill Transfer Notes
This only applies to the Post-9/11 GI Bill. This does not apply to the Montgomery GI Bill program.
Transfers must be made while the member is still serving. Members are not eligible to transfer benefits once they have already retired or separated from the military.
The military member can transfer up to 36 months of GI Bill benefits and can allocate them among eligible recipients at any time (but only once per month). The service member may also cancel a family member's use of the benefits at any time. The benefits belong to the service member, and the intent of the GI Bill transfer program is not to change that.
Transfers are revocable and allocations can be changed at any time. Members are encouraged to transfer benefits if they are eligible to do so because they can always change their mind. The minimum transfer is one month of benefits. For example, I am eligible for the Post-9/11 GI Bill. I have 36 months of benefits. I am married with two children. I can transfer 1 month worth of benefits to each of my dependents, and still have 33 months to use for myself. I can change this allocation of benefits at any time.
To make changes, log into your MilConnect account and update the number of months you are transferring to each individual (up to the maximum allowed). This can be found under:
MilConnect Home –> Benefits –> Transfer of Education Benefits
Remember, there is no downside to transferring your benefits because you can always go back and change how the transferred benefits are allocated.
The Purpose of the GI Bill Transfer Program
The goal of the GI Bill transfer program is to keep mid-career military members in uniform, which is why there are minimum service requirements and why the GI Bill transfer program requires military members to incur more service time. This will not apply military members who are eligible for the Post 9-11 GI Bill, but who have already separated or retired from active duty – all transfers must be made while the member is still in military service.