Podcast: Play in new window | Download
Subscribe: Apple Podcasts | Google Podcasts | RSS
Are you familiar with the Post-9/11 GI Bill? Many veterans who served after September, 2001 are eligible for the Post-9/11 GI Bill, but don't know much about the benefits, whether they are eligible, or how to use this benefit. In this podcast, we discuss we walk you through the process of qualifying for the Post-9/11 GI Bill and what the benefit covers, including how to determine the maximum tuition rates, and your BAH or housing allowance.
We also discuss how to actually use the Post-9/11 GI Bill (hint: all you need to do is qualify for the benefit, be accepted to your school, and your school should do virtually everything else!).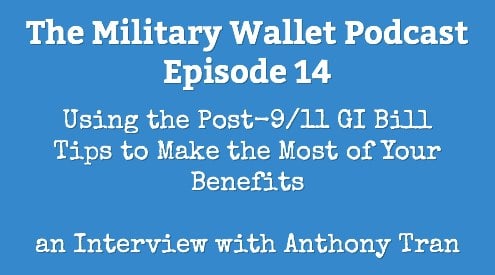 About our guest: Our guest for this podcast is Anthony Tran, a USAF veteran who successfully used the Post-9/11 GI Bill to complete 3 Master's Degree programs. Talk about getting maximum value from a benefit! Anthony was able to use the Post-9/11 GI Bill to make him more marketable in the work force, and to help him switch from the automotive industry to the aerospace industry. Today, he is a successful entrepreneur who runs the website and podcast, Marketing Access Pass, where he provides Internet Marketing Training and Services to help other entrepreneurs successfully launch their own business.
About the Post-9/11 GI Bill
The Post-9/11 GI Bill is an improvement over previous versions of the GI Bill, which hadn't kept pace with the rate of college tuition increases. It was created to help the large number of veterans returning from the Afghanistan and Iraqi campaigns. Many of them were facing unemployment and having a hard time transitioning back into the civilian sector. The Post-9/11 GI Bill goes a long way toward making it easier for veterans to achieve their degree without taking on debt.
Why the Post-9/11 GI Bill is Better than the MGIB
The Montgomery GI Bill is the GI Bill program most veterans are familiar with. This is the program servicemember scan buy into when they join the military. It pays the veteran a flat rate of $1,717 per month (see current MGIB rates). The veteran is then required to use those funds to pay for their tuition. Anything extra can be kept; but any shortfalls come out of the veteran's pocket.
The Post-9/11 GI Bill, on the other hand, is free to veterans who qualify. Tuition is paid directly to the school at the rate of most expensive state college in-state tuition rate in the state where the school is located. Veterans also receive an annual book stipend and a monthly housing allowance equivalent to the E-5 with dependents BAH rate.
The Post-9/11 GI Bill is better 99% of the time. The only time the MGIB is better is when the veteran has a full-scholarship or tuition assistance through their employer and can pocket the entire MGIB (I have a friend who did this).
Using the Post-9/11 GI Bill
Using the Post-9/11 GI Bill is very easy. You need to qualify, obtain a letter of verification from the VA, then get accepted to your school. From there, the education institution will take care of all the paperwork.
Qualifying for the Post-9/11 GI Bill:
To qualify for thePost-9/11 GI Bill, veterans must serve at least 90 days after Sept 10, 2001. Veterans must serve 3 full years to qualify for the full benefit, unless they are discharged due to a service-connected disability. Here are the percentages for the partial benefit:
at least 90 days = 40%
at least 6 months, but less than 12 months = 50%
at least 12 months, but less than 18 months = 60%
at least 18 months, but less than 24 months = 70%
at least 24 months, but less than 30 months = 80%
at least 30 months, but less than 36 months = 90%
36 months or more = 100%
Also 100% if discharged with service-connected disability and minimum of 30 days service.
Members of the National Guard and Reserves are also eligible to qualify for the Post-9/11 GI Bill, depending on how many days they served on active duty. Basically, all active duty service under Title 10 & 32 orders qualifies for the Post-9/11 GI Bill. Service that doesn't qualify for the benefit, includes Inactive Duty Training (IDT) (Drill training), Annual Training, and active duty for medical care or evaluation.
Eligibility Verification Process:
To verify your eligibility, simply contact the VA. They will verify your service dates and your discharge rating and determine if you are eligible to receive the Post-9/11 GI Bill. You will then receive a benefits verification letter in the mail stating your eligibility for the Post-9/11 GI Bill. You can then take that letter to your school and they will handle the paperwork with the VA.
Attending School Under the Post-9/11 GI Bill
After you qualify for the Post-9/11 GI Bill and give your school the letter of verification, they take care of all the admin work. You don't have to worry about the tuition, and you should start receiving BAH the next month. That means all you need to do is focus on completing your coursework. The good news is you don't have a required minimum GPA to use the Post-9/11 GI Bill, other than passing your classes. Just focus on passing your classes, and everything should work out fine.
Use the Post-9/11 GI Bill to Improve Your Career Opportunities
In the podcast, Anthony discussed how he used the Post-9/11 GI Bill to help him move from the automotive industry into the aerospace industry. Even though there were some similarities between the two industries, he needed something else to make his resume more attractive when changing industries. Obtaining another Master's Degree helped pave the way to a successful career change.
You can do the same thing. Education by itself isn't a magic bullet that will get you hired immediately. But it does help make your total package more attractive. As a general rule of thumb, the more relevant education and training you have on your resume, the more attractive you will be to a hiring manager, or company.
Your military experience, coupled with certifications and formal education will go a long way toward getting you hired when you leave the military. I encourage you to start while you are still in the military, if possible. That can include using the Tuition Assistance Program or obtaining licenses or certifications. If you have already separated from the military, then I encourage you to look into using the Post-9/11 GI Bill. It's an amazing benefit that will pay for most, if not all of your college degree.
Getting ready to buy a home? Find a trusted VA lender in just a few minutes.
Some VA lenders are tailored for borrowers with weaker credit, while others offer a larger variety of VA loan types. The best way to determine if you are eligible is to start by connecting with a lender. Lenders can pull your Certificate of Eligibility in minutes to see if you meet the basic service requirements and have VA loan entitlement. Additionally, a lender can review your financial information to determine if you meet credit and income guidelines.