The GI Bill is one of the most valuable benefits veterans have available to them when the separate from the military. The GI Bill can go a long way toward helping veterans earn their degree, and with that, the opportunity to increase your income potential. But the GI Bill doesn't always offer enough benefits to complete a college degree. The high cost of college can be a contributing factor. But that isn't the only reason, especially for veterans who are eligible for the Post-9/11 GI Bill, which covers tuition up to the cost of the most expensive state school. The biggest limitation with the GI Bill is the amount of benefits, which are capped at 36 months. It is possible to complete a college degree before you run out of GI Bill benefits, but sometimes it can be incredibly difficult, especially for those working on more advanced degrees.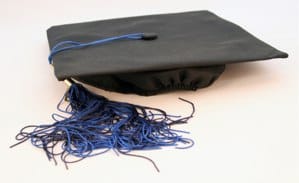 Before we start: there are two primary versions of the GI Bill available to active duty veterans and some Guard/Reserve members: the Montgomery GI Bill (MGIB) and the Post-9/11 GI Bill, or GI Bill 2.0. (Some Guard and Reserve members are eligible for these programs based on their service record, while other Guard and Reserve members may be eligible for different GI Bill programs). It's important to note the difference in these benefits to understand how to use them to your advantage.
The Montgomery GI Bill offers veterans a flat monthly stipend that is paid directly to them each month based on the number of hours of school they are attending. That is not the case for veterans using the Post-9/11 GI Bill. The payment for classes goes directly to the  university, with a housing and book stipend going to the student. This difference is important when paying for and completing your degree.
Tips to Complete Your Degree with the GI Bill
The goal, of course, is to complete your degree while you still have GI Bill benefits available. Doing so will minimize your out of pocket expenses and help you get back into the work force in a minimal amount of time. Completing your degree within the benefits period requires a plan and hard work. But it can be accomplished. Here are some tips:
Load up on classes each term. The more classes you take each term, the more quickly you will complete your degree. The downside on loading up on classes with the MGIB is that the monthly benefit is capped for full-time students. Students are required to pay for their classes out of their own pockets, and if their classes are more expensive than their MGIB benefits, they are forced to pay on their own. The Post-9/11 GI Bill works differently because payments are sent directly to the school. In this case, students can load up on classes and the courses will be paid for with the Post-9/11 GI Bill. 12 hours is considered a full time course load at most universities. Students can complete their degree more quickly if they take 15, or even 18 hours per term. This requires more work and balance, but it can save students a lot of time and money in the long run.
Use both the MGIB and Post-9/11. Many veterans bought into the Montgomery GI Bill when they were in the military. If you are also eligible for the Post-9/11 GI Bill based on your service dates, you can use this to your advantage. You can use all of your MGIB benefits, then apply to transfer to the Post-9/11 GI Bill. You won't be able to use all 36 months of the MGIB, then all 36 months of the Post-9/11 GI Bill. Instead, you can use the entire MGIB, then get up to one year of the Post-9/11 GI Bill. In a way, it's a loophole, but it's one that you can use to your advantage.
Test out of classes. Many colleges give students credit for life experience, military experience, or for testing out of courses. I highly recommend researching these options and taking advantage of them whenever possible. I tested out of a year of school when I completed my degree. It saved me a ton of time and money and enabled me to complete my degree while on active duty. Not all schools accept these tests or credits, so be sure to plan your path with a guidance counselor before spending too much time testing out of classes.
Use tuition assistance. The more classes you take while on active duty, the fewer classes you have to take after you separate from the military. If you have the ability, try to take some classes while you are still serving. Each branch of the service offers their troops a tuition assistance program. Start with the basic courses such as English Comp, history, economics, and other courses which are a part of almost every degree plan. It's possible that not all classes will be transferable, but the odds of them being transferable are much higher if you complete at least an Associate's Degree. These will reduce the time you need to complete your degree, and reduce your reliance upon the GI Bill.
Paying for College When You Run Out of GI Bill Benefits
All of the above tips are nice, but they aren't always realistic for every student. Difficulty of courses, scheduling, family requirements, and other factors may make it difficult to load up on classes each term. Some colleges don't accept many transfer courses or won't allow you to test out of courses, and many military members aren't able to take classes while on active duty. To top it off, many people change their degree program a year or more into school. Whatever the reason, there are some options to pay for your school when you run out of GI Bill benefits. But it will take a little creativity.
Understand how long your benefits are good for. GI Bill benefits are typically good for 36 months worth of classes. The MGIB is good for 10 years after separating from the military, and the Post-9/11 GI Bill doesn't expire until you have been out of the service for 15 years. If you are running upon your time limit for the MGIB, you may be able to transfer your benefits to the Post-9/11 GI Bill and extend the amount of time you have to use your education benefits.
Seek out other scholarships, financial aid, and veterans educational benefits. The first step is to see if you are eligible for any scholarships or financial aid, including grants such as the Pell Grant. The next option is to look at state benefits. Many states offer education benefits for veterans. For example, Texas has the Hazelwood Act which extends educational benefits at state colleges to veterans who enlisted in the state of Texas. Illinois, and several other states have similar programs.
Get a MGIB Refund. The Montgomery GI Bill requires eligible veterans to buy into the program at a cost of $1,200. The Post-9/11 GI Bill doesn't have a buy-in requirement. If you are eligible for the program, you can use the benefits without paying anything into the program. If you use your entire Post-9/11 GI Bill, you can apply for a refund for the MGIB, which will be paid to you in a prorated amount based on the amount of MGIB benefits you used. For example, if you bought into the MGIB, didn't use any of it, then you used your entire Post-9/11 GI Bill benefits, you would receive the full $1,200 refund. To qualify, you must use your entire Post-9/11 GI Bill benefits. More info about GI Bill refunds.
Guard and Reserve educational benefits may be worth researching. Another option would be to look into serving an additional term in the Guard or Reserve, which might help pay for college. Some states offer free state college courses when you serve in the National Guard or Air National Guard. Some states also only require a minimal commitment, depending on their needs, your career field and rank, and other factors.
Look into placement programs or government reimbursements. Troops to Teachers is a program that will help military veterans earn a teaching degree in exchange for agreeing to teach classes in a low income area for a certain period of time. There are also government grants and opportunities that will help pay students for their college courses. In return, you usually need to commit to working for a set time period.
Other tips to pay for school. You may be able to defray college expenses by working as a Resident Advisor. Many schools provide free room and board for RAs. Work study programs are another way you can earn money while attending school.
Student loans. The last option that I can think of is to take out student loans. I know most people want to avoid student loans, and that is recommended whenever possible but sometimes that is the best option you may have available to you.
It takes creativity, but you can pay for college when you run out of GI Bill benefits. Do you have any other tips?
About Post Author