Did you know that as a military veteran, you may be eligible for VA medical care? This article serves as an overview of VA medical benefits. It also serves to dispel the common myths that many veterans have about VA medical benefits. For example, did you know that you do not need to be a combat veteran or have a service-connected disability rating in order to receive VA medical care?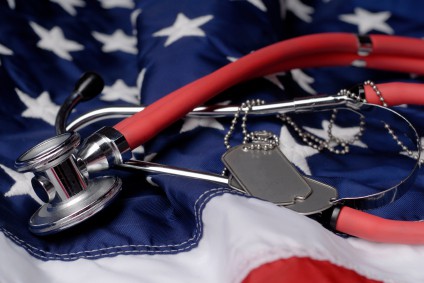 Why You Should Look Into VA Medical Care Eligibility
We get old. Our bodies age, joints tighten, hair grays, unsightly growths erupt where we least expect unsightly growths to erupt, and many veterans find themselves dealing with wounds and battle scars from military service of years past.
As an Active Duty service member in the military health care system, we're taught to "suck it up" – take a knee, pop a Motrin, and drink water. But the reality of a severely disabled veteran can't be "sucked up." Rather, many former service members need intensive – and sometimes expensive, healthcare.
Fortunately, health care from the Veterans Administration is available to qualified veterans, at little-to-no cost.
World-Class Healthcare for Qualified Veterans
According to the Department of Veteran Affairs, "The United States has the most comprehensive system of assistance for veterans of any nation in the world. This benefits system traces its roots back to 1636, when the Pilgrims of Plymouth Colony were at war with the Pequot Indians." World War I instigated drastic changes in veteran benefits, including disability compensation, advanced healthcare and vocational rehabilitation. In 1930, President Hoover signed the executive order establishing the VA, as we know it today.
To qualify for VA health care benefits, one must have served on active duty in the Armed Forces and meet certain criteria. All military veterans are potentially eligible to receive VA medical care, depending on when and where they served, if they have been wounded, injured, or became ill while on Active Duty, based on income levels, or several other factors. Contrary to popular rumors, you do not need a service-connected disability to receive VA health care benefits, nor do you need to have served in combat, have been wounded, etc.
If any of the following are true, then you most likely qualify for VA health care benefits:
You were discharged or separated for medical reasons, early out, or hardship
You served in theater of combat operations within the past 5 years
You were discharged from the military because of a disability (not preexisting)
You are a Medal of Honor Recipient
You are a former Prisoner of War
You received a Purple Heart Medal
You receive VA pension or disability benefits
You receive state Medicaid benefits
Served in the Republic of Vietnam from January 9, 1962 to May 7, 1975
Served in the Persian Gulf from August 2, 1990 to November 11, 1998
These are not the only qualifiers for VA medical benefits. All veterans are encouraged to apply for VA medical care coverage to see if they are eligible for care. Despite the fact many injuries do not manifest themselves until years later, they are still capable of garnering VA assistance.
One final note: Qualifying for VA health care benefits does not mean all health care coverage is free. There may be limitations based on your Priority Group, or individual circumstances. Some veterans may also be required to pay a co-pay on their medical treatments. It is recommended that you learn your specific coverage and ask questions about coverage before receiving treatment.
Applying for VA Benefits Online
The Veterans Administration has undergone numerous changes in order to keep with the times. In days of old, an individual needed to visit their VA Regional Office, wait in line with dozens of other veterans, and fill out an overwhelming amount of paperwork.
Well, once again, things have changed. It's the digital age, and as such, the VA has adapted. The VA now makes it easy to apply online at the VA.gov website. This is the current manifestation of veteran healthcare appeal.
The VA.gov website is "an official U.S. Department of Veterans Affairs (VA) website that enables service members, veterans and their beneficiaries, and other designated individuals to apply for benefits using the Internet."
A virtual assistance portal, a veteran can apply for VA compensation, education, vocational rehab, employment, pension, and burial benefits.
As with older applications, you can—and should, include documentation authenticating your claims. The VA also accepts documentation via snail mail and fax – contact your VA Regional Office for contact info. Nevertheless, if already receiving VA Disability Compensation, and would like an upgrade, you can request a Statement in Support Claim (VA Form 21-4138).
This article covers the VA Medical Care Enrollment Process in more depth.
VA Disability Compensation Benefits
In addition to outstanding healthcare, the VA also dispenses monetary compensation to qualified veterans (see current service-connected disability rates). Disability compensation varies from year-to-year, reflecting the cost of living.
The amount of funds an individual receives depends on the severity of the disability. Rated and denoted as a percentage, a veteran can receive between $123 to over $3,100 per month from the VA. That's some pretty good income supplementation, especially during this sagging economy.
Additional amounts are granted to veterans with dependent spouses, children, and parents. In addition, if a veteran dies as a result of a service-connected disability, surviving family members may also be eligible for compensation. Finally, it should be noted, Federal or State governments do not tax these benefits.
For more information regarding the Veterans Administration, VA Disability, and how it applies to you, visit www.vba.va.gov and www.vba.va.gov/bln/21/rates/comp01.htm.
About Post Author