The Medal of Honor (MoH) has a history that stretches back to the Civil War. It's the oldest continuously issued combat decoration of the military. Since its inception, in 1861, more than three thousand members of all Department of Defense branches have been awarded this prestigious honor. And in addition to being recognized for bravery, Medal of Honor benefits offer a 'thank you' for their service.
The MoH is awarded to those who show staunch bravery in the face of severe adversity. It's often awarded posthumously due to the nature of the award. Officially, it recognizes and rewards US servicemembers for "conspicuous gallantry and intrepidity at the risk of life."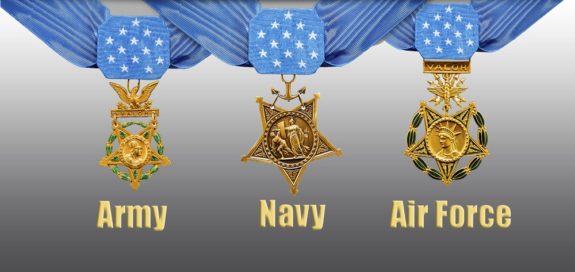 There's a military tradition that indicates all uniformed servicemembers salute a MoH awardee regardless of rank. Even the most senior servicemembers participate in this tradition as a way to show respect for the sacrifices the recipient has made. This includes the president as well. All recipients are automatically invited to attend presidential inaugurations and other high-level state and local celebrations.
In addition to the honor and status that comes with being a MoH recipient, there are other tangible benefits as well. Here are several ways the US government and DoD continue to pay homage to the servicemembers who risk their lives for the lives of others.
MoH Benefits – Medical & VA Priority
Claims are given Priority Level One at the VA, the top level of consideration. This means that MoH awardees are guaranteed enrollment for VA healthcare benefits. Additionally, MoH awardees are exempt from their copayments for medical care.
Installation Access
MoH recipients are provided special accommodations at all installations. This includes access to on-base shopping, MoH specific ID cards, and allocated parking spaces.
These servicemembers also receive access to all installation facilities, including gyms, pools, and other recreational areas.
Travel (Commercial and Space-A)
Lifelong air travel privileges covered under DoD regulation 4515.13-R allow MoH recipients to travel on Space-A flights free of charge, including both domestic and international travel. Family members are eligible for these benefits as well, provided the MoH recipient accompanies them on their trip. Additionally, Medal of Honor benefits include getting to skip the line on Space-A flights because they receive preferred access.
Pay Stipend
Medal of Honor benefits include an additional award-specific pension and an increase in their base-retirement pay. In 1916, this monthly stipend was just $10, but over the years has risen to match the cost of living increases. Currently, it's just under $1400.
Supplemental Uniform Allowance
An additional uniform allowance of almost one thousand dollars ensures that MoH recipients always have a fresh dress uniform on the ready. Additionally, awardees are allowed to wear their uniform anytime they see fit, as long as it's not worn for political, commercial, or extremist purposes.
Automatic Appointment at Military Academies
Children of servicemembers who have been awarded a Meda o Honor are offered automatic admission to military service academies, provided they meet the admission requirements. This avoids the need for congressional nomination and bypasses any quota regulations that might be in place at the time of applying.
Non-Military Medal of Honor Benefits
MoH-distinction license plates are offered at low or no cost in 41 states
Some companies offer incentive programs or access to exclusive groups, but these vary based on location and industry. The prevailing recommendation is to inquire at a specific business about potential MoH incentives.
Medal of Honor Trivia
To date, there has only been one female MoH recipient. Dr. Mary Edwards Walker served temporarily as a nurse in the Union Army before becoming the first female surgeon in the Army. In 1917, her MoH status was revoked because she was a civilian at the time of receiving the award and the updated criteria specifically focused on combat service. Five decades later, her MoH was restored.
The MoH can be awarded to non-citizens. To date, 65 Canadian citizens who have served with the US military have been awarded the MoH. More than 800 non-citizens have been decorated with this award. To be eligible, foreign servicemembers need to serve with the US military.
The youngest recipient was a mere 13-years-old when he received his recognition for valor in combat. Drummer Willie Johnston was awarded the MoH for his efforts during the Civil War, even though Johnston was never officially a soldier.
The MoH is undoubtedly the most distinguished military decoration. To date, only 3,522 people have earned a MoH. This is a small percentage compared to the millions of individuals who have answered the nation's call to serve. Of course, this award and subsequent benefits do nothing to replace the sacrifices of the servicemembers who earn the MoH. It doesn't have the power to restore lives lost in battle. But it is a small way to say thank you to these servicemembers and let them know that America will forever remain grateful.
About Post Author