My grandfather passed away a few months ago, and even though it is a difficult time for our family, one thing made it easier for us. My grandfather served in the US Navy during WWII and as a veteran of the US military, he was eligible for a free burial with full military honors.
Funerals are expensive, with the average funeral costing between $5,000-10,000. Military Funeral Honors send the veteran off in style and save the family a lot of money at a time when they are already stressed with the passing of their loved one.
Honoring Those Who Served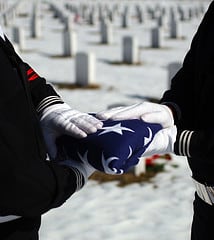 Veterans of the US military are eligible for Military Funeral Honors if they served in the active military and were discharged under conditions other than dishonorable, or if they were a member or former member of the selected reserve.
The military will provide the Military Funeral Honors to the eligible beneficiary, which consists of the ceremonial folding and presentation of the American flag and the sounding of Taps.
The ceremony is normally provided by a military funeral honors detail of two or more uniformed military personnel, with at least one being a member of the veteran's parent service.
Let your family know if you desire Military Funeral Honors
Public Law 106-65 requires that every eligible veteran receive a military funeral honors ceremony, but the government doesn't have the resources to track down each veteran at the time of death. It is your duty to let your family know your desires so they can make your funeral arrangements after you pass.
You should also let your family know the location of your DD Form 214 (verification of military service) or other discharge documents, which they will need in order for you to receive Military Funeral Honors. You may also wish to request a full copy of your military service records as having this documentation on hand will expedite the process.
How to Arrange Military Funeral Honors
To arrange Military Funeral Honors, contact your local funeral home. Upon request of the next of kin or authorized representative, the funeral director requests the honors from the Military Service in which the veteran served. The Department of Veterans Affairs (VA) National Cemetery Administration cemetery staff can also assist with arranging Military Funeral Honors at VA national cemeteries. When military funeral honors at a national cemetery are desired, they are arranged prior to the committal service by the funeral home.
Headstones and Markers
Military Funeral Honors also includes a headstone and marker for the veteran and eligible dependents. Styles include flat bronze, flat granite, flat marble, and upright marble. Again, the funeral director can provide more information.
Free Burial at Sea for Veterans
Burial at sea was a Navy tradition of yore, but it is still available for veterans who wish for it. Burial at sea services are performed while the vessel is on official duty, so it is impossible for family members to be present. Following the burial at sea, the ship's commanding officer will notify the surviving family members of the date, time, latitude, and longitude at which the burial took place.
Here is more information regarding military burials:
Photo credit: Beverly & Pack