Many military veterans qualify for Veterans Preference Points which are helpful when applying for a job with the federal government. Civil service jobs are often very competitive, and Veterans Preference Points can give you an advantage in the hiring process. While Veterans Preference Points alone won't be enough to secure the job—you still must qualify, apply, and interview for the position—they may be enough to get you an advantage when the position is filled. Let's take a look at Veterans Preference Points, what they are, how the process works, and how they can help you get a civil service job.
Veterans Preference Points Overview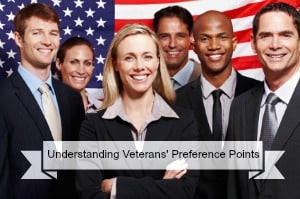 Here it is in the government's words: "By law (Title 5 USC, Section 2108), veterans who are disabled or who serve on active duty in the Armed Forces during certain specified time periods or in military campaigns are entitled to preference over non-veterans both in Federal hiring practices and in retention during reductions in force (RIF).
… Preference does not have as its goal the placement of a veteran in every vacant Federal job; this would be incompatible with the merit principle of public employment. Nor does it apply to promotions or other in-service actions. However, preference does provide a uniform method by which special consideration is given to qualified veterans seeking Federal employment." (source).
Now let's break it down: Veterans Preference Points exist to help veterans find work with the federal government. But it's not possible to place a veteran in every job for a variety of reasons. But it is possible to apply a uniform standard to help give veterans an advantage in the hiring process. This is where the Veterans Preference Points come in.
Veterans who qualify for Veterans Preference Points based on their service will receive either 5 or 10 points on their civil service examination or experience and education evaluation. These points can place you higher on the list than other applicants. Many veterans who qualify for Veterans Preference Points also have Protected Veterans Status, which can be helpful in certain hiring situations.
Veterans Preference Points Eligibility Requirements
Here are the general requirements for Veterans Preference Points:
You must have an Honorable or General Discharge
Military Retirees in the ranks of Major, Lieutenant Commander, or higher, are ineligible unless they have a service-connected disability.
Guard or Reserve active duty service for training purposes does not qualify.
Veterans should claim preference on their federal job application or resume. Veterans claiming a 10 point preference should complete form SF-15, Application for 10-Point Veteran Preference.
Veterans who meet the above general requirements will be able to earn either 5 or 10 Preference points, based on their service and other standards, listed below.
Types of Veterans Preference
Veterans Preference Points can be broken down into two classes: 5-Point Preference, and 10-Point Preference. These points are added to the passing examination score or rating of the qualified veteran. What follows is an excerpt of the ratings qualifications based on those listed on the Office of Personnel Management website.
5-Point Preference Qualifications – Eligible veterans include veterans who served:
During a war; or
During the period April 28, 1952, through July 1, 1955; or
For more than 180 consecutive days, other than for training, any part of which occurred after January 31, 1955, and before October 15, 1976; or
During the Gulf War from August 2, 1990, through January 2, 1992; or
For more than 180 consecutive days, other than for training, any part of which occurred during the period beginning September 11, 2001, and ending on the date prescribed by Presidential proclamation or by law as the last day of Operation Iraqi Freedom; or
In a campaign or expedition for which a campaign medal has been authorized. Any Armed Forces Expeditionary medal or campaign badge, including El Salvador, Lebanon, Grenada, Panama, Southwest Asia, Somalia, and Haiti, qualifies for preference.
A campaign medal holder or Gulf War veteran who originally enlisted after September 7, 1980, (or began active duty on or after October 14, 1982, and has not previously completed 24 months of continuous active duty) must have served continuously for 24 months or the full period called or ordered to active duty. The 24-month service requirement does not apply to 10-point preference eligibles separated for disability incurred or aggravated in the line of duty, or to veterans separated for hardship or other reasons under 10 U.S.C. 1171 or 1173. The OPM page lists an FAQ section for Gulf War vets.
10-Point Preference Qualifications – Eligible veterans include veterans who served:
A veteran who served at any time and (1) has a present service-connected disability or (2) is receiving compensation, disability retirement benefits, or pension from the military or the Department of Veterans Affairs; or (3) a veteran who received a Purple Heart.
An unmarried spouse of certain deceased veterans, a spouse of a veteran unable to work because of a service-connected disability, and
A mother of a veteran who died in service or who is permanently and totally disabled.
A note about qualifications for mothers or unmarried spouses: These are an abbreviated version of the requirements. See the OPM guide for more information.
How to Calculate your Veterans Preference Points: Use the Veterans' Preference Advisor tool to determine your eligibility and number of points.

How Veterans Preference Points Work
If you meet the criteria as described above, you will be eligible to have either 5 or 10 points added to your passing examination score (score of 70 or higher), or have 5 or 10 points added to the numerical evaluation of your experience and education. These examination scores and numerical evaluations are used to compare your application to other applications during the hiring process.
The highest possible score is 110 points: 100 on the exam or numerical evaluation of experience and education, plus the 10 point Veterans Preference rating.
During the application process, eligible applicants are listed on a roster in the order of their ratings. For scientific and professional positions in grade General Schedule GS-9 or higher, names of all qualified applicants are listed on competitor inventories in order of their ratings, augmented by veteran preference, if any.
For all other positions, the names of 10-point preference eligibles who have a compensable, service-connected disability of 10 percent or more are listed at the top of the register in the order of their ratings ahead of the names of all other eligibles. The names of other 10-point preference eligibles, 5-point preference eligibles, and other applicants are listed in order of their numerical ratings.
I'm a Qualified Veteran, Why Didn't I get the Job?
Having Veterans Preference Points doesn't guarantee you a job. But it does increase your scoring, and in some cases, places your application higher on the list. But it's important to understand that the government has multiple ways to fill positions and there can be many reasons why one applicant is be hired over another applicant.
Veterans Preference Points also don't give veterans a preference for internal agency actions such as promotions, transfers,reassignments, or reinstatement. Your Veterans Preference Points may, however, help your job status during a Reduction in Force (RIF).
For more detailed information about your eligibility and other benefits, visit the Veterans' Preference Advisor tool, or contact the HR department at your local civil service office.
About Post Author