Many military veterans struggle to find work after they separate from the military. There are many reasons for this. The economy is still in recovery mode, there may be a mismatch of skills between the veteran and the available jobs he or she is applying to, and sometimes employers don't understand the skills veterans bring to the table.
Unfortunately, there can also be a stigma against veterans, especially those who have served in combat. A recent article on CNN Money stated that even though overall unemployment rates for veterans has dropped in recent months, some veterans are struggling to find work because some employers avoid hiring vets with PTSD because the employers fear there will be an "episode" in the workplace. A similar story was reported on MilitaryTimes.com. These fears and misconceptions are often unspoken, but they can be very real. Not only is this line of thinking wrong, but it is potentially illegal. Many military veterans qualify for Protected Veteran Status, which offers anti-discrimination protections.

I recently received a question from a reader who is struggling to find work. He asked:
Are certain industries opposed to hiring retired middle aged vets with service-connected disabilities?
This is a great question, and one that deserves a very careful answer. Employers have a lot of leeway regarding who they hire, and right now, there are often dozens, if not hundreds, or applicants for every job opening. With so many applicants, employers have an easy time of choosing who they feel is the best person for the job. But discrimination against veterans is a very important topic, and one that veterans need to be aware of.
I will do my best to cover a few relevant topics related to this question, primarily Equal Employment Opportunity laws and discrimination. Please keep in mind, I am not a lawyer, and this article is based on my understanding of the laws and how they work. While the law is very clear in defining certain "protected classes" of workers, companies are not obligated to offer a job to all qualified applicants, or to someone who meets one of the qualifications of a protected class.
Let's take a look at what these protected classes are, and see how this relates to veterans, both with and without service-connected disabilities.
Anti-Discrimination Laws in Hiring
In the US, employers are prohibited from discriminating against certain classes of people with regard to employment. This includes hiring, firing, pay and benefits, retirement plans, compensation, promotions, assignments, transfers, layoffs, and other conditions of employment.
It is illegal to discriminate against people based on their race, color, religion, gender, national origin, age, disabilities, genetic makeup and family status. Here is a sampling some relevant national laws (please keep in mind some states have additional laws):
Civil Rights Act of 1964
Age Discrimination in Employment Act (ADEA) of 1967
Americans with Disabilities Act (ADA) and Rehabilitation Act of 1973 (amended in 2008)
(Please see the EEO FAQ page for more info).
Protected Veteran Status Rights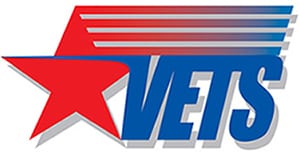 Certain military veterans qualify for Protected Veteran Status under The Vietnam Era Veterans' Readjustment Assistance Act of 1974 (VEVRAA). This law gives certain veterans some similar protections as the classes listed above, and also requires employers working with the federal government to proactively recruit, hire, and promote certain classes of veterans including: disabled veterans (determined as those who receive disability compensation from the VA, or would be eligible, but for retired military pay), veterans who served on active duty during a war or campaign when a badge was authorized, recently separated veterans, and veterans who participated in a U.S. military operation that received an Armed Forces service medal.
Rights under the Protected Veterans Status: "As a protected veteran under Section 4212, you have the right to work in an environment free of discrimination. You cannot be denied employment, harassed, demoted, terminated, paid less or treated less favorably because of your veteran status. If you are an employee and a disabled veteran you can request, and your employer must provide you, "reasonable accommodation," to allow you to perform your job, unless doing so would cause the employer significant difficulty or expense."
This law does two things: VEVRAA requires certain employers to proactively recruit, hire, and promote protected veterans, and it includes anti-discrimination laws.
Sources: Protected Veterans Rights fact sheet, Dept of Labor, Veterans' Employment and Training Service (VETS) program.
Employment Rights for Reservists and Guard Members
Military members who serve in the Reserves or National or Air National Guard also have special rights under the Uniformed Services Employment and Reemployment Rights Act (USERRA). This law prohibits discrimination based on service in the Reserve Corps and requires civilian employers to keep jobs open for Reserve Corps members who are called to duty. Employers are required to leave the job open for them when they return or provide them with a similar job when they come back. There are more details to this law, so if you are in the Guard or Reserves, you should familiarize yourself with it in more detail.
Source: USERRA fact sheet.
What Does this Mean for Veterans?
OK, now that we have the technical stuff out of the way, let's take some time to distill this into terms we can understand and see if we can answer our reader's question: "Are certain industries opposed to hiring retired middle aged vets with service-connected disabilities?"
Our reader is asking about three protected classes of workers, all wrapped into one: age, veteran, and disability.
Does discrimination happen? I'm sure it does on many levels. Outright discrimination against someone based on race, color, religion, gender, national origin, age, disabilities, genetic makeup, family status, prior military service, or any other condition is wrong. No excuses.
But before we assign blame, we should first realize that employers have a lot of flexibility when making hiring decisions. Employers have the right to hire the best person for the job. The only thing they cannot do is discriminate against any of the protected classes during the hiring process or when making employment decisions. When there are dozens or hundreds of people applying for the job, they can make hiring decisions that may seem unfair in the surface. But the hiring decision may be 100% reasonable when all applicants and additional information is taken into consideration. In other words, being a member of a protected class doesn't guarantee you a job—you still have to be the best person for the job.
How to Increase Your Odds of Being Hired
My recommendation is to take a step back and look at each job application from the hiring manager's and company's perspective. What job are they trying to fill? What concerns may they have about potential employees?
Your role as a job seeker is to do everything in your power to show an employer you are the best person for the job. This means:
Interview well
Minimize potentially unfavorable items on your resume*
* I don't advocate lying on resumes or during job interviews. But that doesn't mean you should volunteer information that may be unfavorable, or may sway an employer's opinion. For example, there is no reason you should mention you have a service-connected disability in your resume or in an interview unless the disability would prevent you from completing assigned job requirements.
Recognize and understand how to answer illegal interview questions. Some questions are illegal for interviewers to ask during interviews. These include questions about the protected items listed above: race, religion, age, ethnicity, disability, etc. However, there are related questions employers can legally ask. For example, an employer cannot ask you if you are disabled, but they can ask you if you are physically able to perform all related job requirements.
As a job seeker, it's important to recognize these questions, and how to answer them. Here are some tips for recognizing and answering illegal interview questions:
Take some time to review these questions and answers, and make sure your resume doesn't include anything that could give an employer second thoughts about hiring you.
What to Do if You Have Been Discriminated Against
This is a tough situation to deal with. It is unfair, unjust, and illegal. If you believe a company has broken the law, then you have options. The Department of Labor lists a few steps you can take in their FAQ page. You may also consider seeking legal counsel (try finding a lawyer who specializes in employment or labor law).
Keep in mind it is often up to the employee to prove discrimination occurred. This may be difficult to do unless it is in writing or you can prove your employer took action against you based on your status. (Then you would have to ask yourself if you want to work for a company that would discriminate against you).
The best course of action is to keep detailed notes of your interactions with the employer and try to work things out on your own first. If that doesn't work, then contact the Department of Labor or a lawyer who specializes in labor law for further guidance.
Image credit: Brett Jordan
About Post Author