Update: Veterans can now verify their online shopping eligibility at VetVerify.org. The Exchanges are also accepting some veterans as beta testers before opening the doors to all veterans. See updates below for more information.
Would you like to be able to shop on the online military exchanges and enjoy tax free shopping, military discount pricing, and other benefits? Then read on. Your wish is about to come true!
Like all retailers, the Army and Air Force Exchange (AAFES) and the Navy Exchange (NEX) are looking for ways to improve their business model. But unlike many other retailers, better business for AAFES and NEX means better quality of life for military members, as some of the profits are distributed back to the military community—to the tune of around $300 million annually.
Due to the changing environment and force reductions, the Defense Department's Executive Resale Board voted to allow online access to honorably-discharged military veterans. The Exchanges opened their virtual doors on Veterans Day 2017. Officials estimate the new customer base could return upwards of an additional $100 million to the military communities.
Currently, only active duty service members, members of the Guard and Reserves, military retirees, 100-percent disabled veterans, Medal of Honor recipients, and the families of these groups are eligible to shop at AAFES locations, either online or on-base.
Note that this new benefit only includes allowing veterans to shop online, not at the physical stores located on bases. There is no current proposal to allow veterans to shop at on-base locations.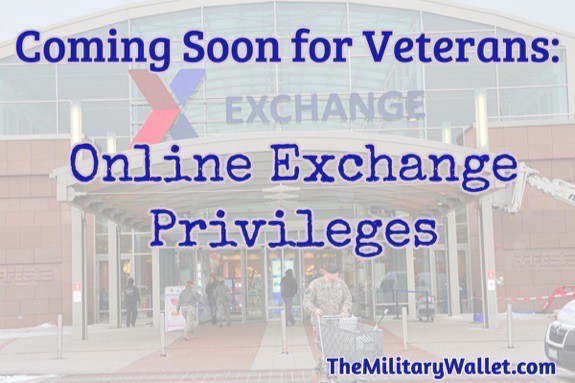 Impact of Allowing Veterans to Shop at AAFES Online Stores
AAFES officials estimate there are approximately 13 million veterans with an Honorable Discharge who would be allowed to shop at AAFES online stores under this new rule. Allowing these veterans to shop at AAFES online stores would give these veterans access to savings on a variety of products and could provide an additional $100 million for base Morale, Welfare, and Recreation (MWR) programs and other quality of life programs. Increased sales could also allow AAFES to negotiate discounts on larger, bulk orders of goods.
This new benefit could an important part of supporting the military community. AAFES distributes dividends to the MWR programs and other military activities. Over the last few years, AAFES sales have decreased substantially as military members and their families shop at other locations, and as the size of the military continues to decrease. The continued drawdown will have a dramatic impact on AAFES sales and how much money they can give back to the military community.
AAFES officials estimate their sales could drop to one-third of their current levels within the next few years. Extending the privilege of online shopping to qualified veterans would be a good way to thank veterans for their service, increase sales for AAFES, and increase distributions to base programs.
Exchange Online Shopping for Veterans FAQ's
Who will have access to the online shopping portal?
Online shopping access will be available to all honorably discharged veterans of the United States Armed Forces (honorable or general under honorable conditions).
This includes veterans of the United States Air Force, Army, Navy, Marines and Coast Guard as well as the Air Force Reserve, Army Reserve, Navy Reserve, Marine Corps Reserve, Coast Guard Reserve, and National Guard.
The VetVerify.org website provides this resource for additional information on discharge types.
How do I get started?
Veterans can now verify online shopping eligibility at VetVerify.org. This website has been set up to verify veterans eligibility by matching the veteran's service records with the DoD's Defense Manpower Data Center's records. More on this below.
The Exchanges are also giving some eligible veterans early access to the online Exchange shopping privileges so they can act as beta testers.
How will AAFES check IDs or proof of service?
The Exchange services developed a verification process with the VA and the DoD personnel centers to verify military service and eligibility by matching the veteran's service records with the DoD's Defense Manpower Data Center's records.
Veterans will be required to provide personal information in order to match their records with the Defense Manpower database. This information includes their last four digits of their social security number, date of birth, and last name.
Most records have been digitized, so the verification process should be quick and easy. However, there may be delays if the veteran's records have not yet been transferred to a digital format. In the event a veteran's records are not matched right away, the veteran may need to supply discharge paperwork, such as a DD Form 214, DD Form 256, or other military records. Here is more info about replacing a lost DD Form 214.
The VA is also currently developing a Veterans ID Card. It's possible there will be a unique Veteran Identification Number on these cards, once issued (pure speculation on my part, but current service members have a unique DoD Identification Number on their CAC Cards).
When should I apply for online shopping privileges?
It's recommended to start the verification process now, as not all veterans will be automatically verified. It could take some additional time to verify some veterans. And some veterans may be required to submit additional documents or other information.
And the best part—you may get early access. The Exchanges need shoppers to help them test the platform. Thousands of veterans have already been granted access to the online shopping platform.
How will the Exchange profits be shared to local MWR units?

Base Exchanges share a portion of their profits with the local MWR units. That keeps the money "in the family" so to speak (local purchases support local MWR units). As of right now, the proposal is to allocate spending and profits based on the zip code of where the veteran who made the purchase lives. That is the easiest and most effective way to keep profits in the area where the purchases are made.
Will on-base Exchange access be offered to all veterans?
No. That was not included in the proposal, and I don't see that happening anytime soon, if ever. There are approximately 19 million military veterans in the US. It would be impossible to open the doors to that many military veterans. Military bases function to serve one need: support military operations.
The support structures simply aren't in place to support that many more people coming onto military installations. Just think of the lines at the gates, increased need for security guards, checking ID's, parking problems, infrastructure problems, the hassle of preventing unauthorized access from restricted areas, etc. It would be a nightmare! Good question though.
Will Commissary privileges be open to all veterans?
No, unfortunately not. The Commissary is run by a different organization and only offers brick and mortar stores. They do not offer online shopping. There would be no effective method for providing Commissary access to all veterans at this time (see above).
Why do you continue to write "Base" Exchange when there are also the Post Exchanges, Marine Corps Exchanges, and the Navy Exchange Service Command? Who is asking these questions anyway?
Another great question from the peanut gallery. I'm using the term "Exchange" interchangeably for all services. The Marine Corps Exchange actually funnels all online shoppers through the Army and Air Force Exchange Service (see, it even says so here!). But this benefit will allow veterans to shop online at the Air Force, Army, Coast Guard, Marine Corps, and Navy Exchange websites at shopmyexchange.com, shopcgx.com, mymcx.com, and mynavyexchange.com for tax-free shopping.
But to answer your questions, I primarily reference AAFES because it is the largest of the Exchanges, and being an Air Force veteran and current member of the Air National Guard, it makes it easier to reference that with which I am most familiar. Thus "AAFES" and the use of the term "Base." But you can print this article out and redline the word Base and replace it with Post, Station, NAS, FOB, or anything that floats your boat (drives your tank? flies your plane? OK, I'm going now…).
Photo credit: U.S. Air Force photo by Airman 1st Class Desiree Whitney Esposito

About Post Author