The Army Air Force Exchange Service (AAFES) offers eligible shoppers tax free shopping opportunities. Shopping at the Base Exchange is a great way to save money on a variety of everyday items, big ticket items, and other purchases.
The PX and BX can also be a life-saver when you are stationed overseas. I remember frequenting the BX when I was station in the UK. Shopping out on the economy was fun, but it was also expensive! Having the Base Exchange nearby made it easy to stay within my means.
A good way to save even more money is with coupons. I've always been a fan of using my resources the best way possible, and coupons are an excellent way to do that. Here are a few tips for maximizing your coupons when shopping at AAFES.
AAFES Coupon Guide

As you would expect, there are some rules and limitations to the types of coupons AAFES accepts. Thankfully, the AAFES website breaks it down for us. In general, AAFES has a fairly liberal coupon acceptance policy compared to many US companies. In general, the following types of coupons are accepted:
Manufacturer's Coupons: Must state "Manufacturer's coupon", "Military Coupon", or "Military Store Coupon" (no "Commissary Only" coupons accepted); item must be identical to coupon description; must have a scannable bar code, expiration date, and valid address for redemption; Can be combined with a price match and one Exchange coupon (unless either coupon states otherwise); cannot exceed value of item purchased; must be an original coupon (no photocopies); can be accepted up to 6 months past expiration date at OCONUS locations
Internet (print-at-home) Manufacturer Coupons: Same rules as above, plus: No coupons for free items with no purchase requirements (BOGO coupons are accepted); can be color or black and white; One Internet coupon per purchase; Can be combined with Exchange coupon unless prohibited by either coupon; cannot be combined with other coupons.
Exchange FaceBook Coupons: These coupons are only valid at Exchanges – they are not manufacturer coupons. Selection varies by location and sales are limited to stock on hand. Limit one per purchase. May be combined with manufacturer's coupons unless either coupon prohibits this. Valid at all Exchange locations; however the expiration date is finite, including for overseas locations.
Buy One Get One Free Coupons (BOGO): Manufacturer's BOGO coupons cannot be stacked with another manufacturer's coupon (multiple coupons for the same purchase; for example, you save a dollar on a purchase with one coupon, then also use a BOGO coupon on the same purchase).
Manufacturer's BOGO coupons can be stacked with a cents off Exchange coupon unless prohibited by either coupon, and vice versa – Exchange BOGO coupons can be stacked with a cents off Manufacturer's coupon unless prohibited by either coupon. You can use multiple BOGO coupons if you purchase multiple items (unless prohibited – some coupons limit one BOGO per customer).
Local Competitor's Coupons: Local Competitor's Coupons are part of the We Price Match policy. Coupons must include a specific price and an expiration date to verify it is a current promotion. One manufacturer's and one Exchange coupon may be applied after the final sales price is determined unless either coupon prohibits.
Combining Coupons with the We Price Match Policy: The price adjustment through the We Price Match policy will be the first discount applied. You can then apply one manufacturer and one Exchange coupon (unless prohibited by either coupon). You can a use manufacturer's coupon that states, "cannot be combined with any other offer," in conjunction with a price match, but not with any other coupons.
Verdict – AAFES has a generous coupon policy
Most of these rules are common sense and are actually quite generous. You won't find many other stores or organizations allowing you to use more than one coupon on a purchase, or that will price match a competitor and still allow you to apply two more coupons to your purchase. About the only thing you won't find price matching for is online only deals. You won't be able to price match with Amazon.com, or other stores that are only available online.
AAEFES Downloadable and Printable Coupons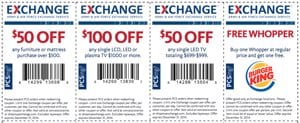 Following the Exchange FaceBook page is a great way to find coupons only available at the Exchange. They regularly publish fliers and coupons you can print from your computer. They also have exclusive giveaways for merchandise and gift cards, and announcements for special events, grand openings, and other news.
Another great place to find downloadable coupons is the Exchange PCS center, where you can find a new set of coupons each month. I remember receiving a coupon book when I PCS'd when I was on active duty. These were typically given to us when we in-processed the base. Now you can download them directly from the AAFES website, print them from home, and use them when you are ready. (Note: Some of the coupons state you must present your PCS orders when you redeem the coupon, however, not all of these coupons have this requirement).
AAFES Mobile Savings
You can save money by signing up for text messages from AAFES. To do this, you should text "Exchange" to 95613. You will receive a welcome message, then begin receiving text messages with coupons. You may receive up to one text per day, so keep this in mind when signing up for this service. Reply "Stop" to the same number to stop receiving these messages.
AAFES Exclusive Savings Notifications – Exchange Buddy List
The Exchange just released a new service called the Exchange Buddy List, which is a weekly email that delivers the latest news for deals and savings. This weekly email includes savings, promos, events, and other offers at your local Exchange. This list is now available worldwide. To sign up, simply visit the link above, select your location, and sign up for the weekly newsletter. This is a great way to keep up to date with the events at your local BX/PX!
Keep an Eye Out for Other Coupons
AAFES often advertises in base newspapers and newspapers like Stars and Stripes. You can often find fliers and printed coupons in these periodicals. Be sure to keep an eye out for these coupons because the savings can be helpful.
Not for the Faint of Heart: The Military Star Card
Finally, I would be remiss if I didn't mention the savings you can get for opening a Military Star Card. I opened a Military Star Card when I was in the Air Force and saved an immediate 10% off my first purchase. I was also smart enough to pay it off in full and only use it when I could do that every month.
The Military Star Card often gives users other savings, depending on current promotions. I only recommend the Military Star Card, or any other credit card as an option if you have the discipline to pay it off in full each month. You aren't saving any money if you are paying finance charges!
If you have the discipline to pay your balance in full each month, then the Military Star Card or other cash back credit cards can be a great way to save more money on your everyday purchases.
About Post Author