On Veterans Day, veterans and active-duty military members are eligible for a free entree at participating California Pizza Kitchen locations. You can choose from a select menu that includes pizza, salads and pasta.
Additionally, all veterans who dine at California Pizza Kitchen can pick up a buy-one-get-one-free voucher for any pizza, pasta or salad between Nov. 12 and 21, according to an email from Tara Woodall, a spokesperson representing CPK.
Call your local California Pizza Kitchen ahead of time to ensure it is participating.
Disabled American Veterans Fundraiser
In addition, for the fourth consecutive year, California Pizza Kitchen will donate 20% of sales from Nov. 7-9 to Disabled American Veterans, a non-profit dedicated to supporting veterans. Tell staff you are there to support DAV if you're dining in person or enter the promo code "DAV" at checkout when you order online.
What You Need to Take With You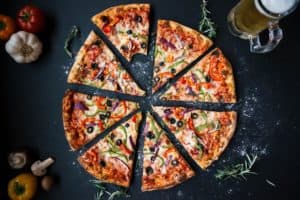 To quickly and easily prove your status as a veteran or active-duty service member at a participating California Pizza Kitchen location on Veterans Day, you can wear your uniform or bring one of the following to prove your military service:
D.D. Form 2765 (for Medal of Honor recipients and retired veterans with a 100% disability rating)
Uniformed services identification card
D.D. Form 2 (for retired members who are entitled to pay and members of the temporary and permanent disability lists)
D.D. Form 2 (for members of Inactive National Guard and Individual Ready Reserves)
This offer is only available on Veterans Day, Nov. 11. Please call ahead to verify participation.
California Pizza Kitchen Military Discount Eligibility
Current and former military members, including members of the National Guard and reserves, can enjoy a free entree. However, family members and other guests in your party must pay full price for their meal.
California Pizza Kitchen Veterans Day Deal Exclusions
The offer only applies to customers who are dining in the restaurant. You can't use it to get a free takeout order.
Finally, be sure to call first to find out about participation. Some locations may not be participating.
What to Expect from the Veterans Day Menu
Veterans and active-duty service members can choose from a select California Pizza Kitchen menu, which includes pizzas, salads and pasta dishes, plus a complimentary beverage.
Free Pizza Options:
The Original BBQ Chicken Pizza
Hawaiian
Mushroom pepperoni sausage
Pepperoni
Five cheese + fresh tomato
Traditional cheese
Full-Size Salads:
The Original BBQ Chicken Chopped Salad
Thai crunch
Classic Caesar
Italian chopped
Pasta:
Garlic cream fettuccine with chicken
Kung pao spaghetti with chicken
Bolognese spaghetti
More Veterans Day Deals and Discounts
The California Pizza Kitchen offers a lot of variety, but if you aren't in the mood for pizza or pasta, you're in luck. Many restaurants will offer free or discounted meals this Veterans Day.
You can also find plenty of Veterans Day retail deals and discounts on attractions and events. Don't miss out on these great opportunities to save this year.
About Post Author