If you live in one of the 32 states where California Pizza Kitchen serves customers, you already know about the restaurant's West Coast approach to pizza making.
If you're a veteran or an active duty member of the armed services, you're eligible for a free entree at a participating California Pizza Kitchen locations on Veterans Day, Nov. 11. Veterans will be able to choose from a select menu that includes pizza, salads, and pastas.
While not all locations are required to participate, your local California Piza Kitchen is likely to take part. Call ahead to be sure!
What You Need to Take with You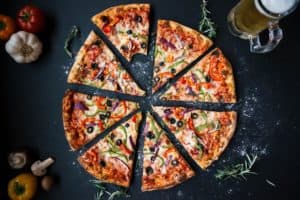 To quickly and easily prove your status as a veteran or active duty service member at a participating California Pizza Kitchen location on Veterans Day, which falls on Nov. 11, make sure to bring one of the following proofs of military service:
DD Form 2765 (100% disabled retired veterans, Medal of Honor recipients)
Uniformed Services Identity Card
DD Form 2 (for retired members who are entitled to pay and members of the temporary and permanent disability lists)
DD Form 2 (for members of Inactive National Guard and Individual Ready Reserves)
This offer is only available on Veterans Day, Nov. 11. Please call ahead to verify participation.
Veterans Day: Saying Thanks with Pizza
Each year the number of restaurants offering free or discounted meals to veterans and active duty military members grows. Companies nationwide offer military discounts as a way of thanking and honoring veterans' service.
On November 11, veterans can choose options from casual dining staples like Applebee's, wing joints like Buffalo Wild Wings, or a variety of fast food places. Now you can add pizza to the list, and not just any pizza. California Pizza Kitchen has a unique approach to one of the most popular meals in America.
Innovation seems to be built into the ranks at the Los Angeles-based chain that has locations in 32 states and in countries such as Australia and Mexico (note: the Veterans Day offer is generally only available for U.S. military members and veterans at U.S. locations).
The company pioneered flavors such as Barbeque Chicken Pizza, Jamaican Jerk Chicken Pizza, and a BLT Pizza. Most locations also serve salads, soups, and sandwiches, but the restaurant's name is not misleading: Most people show up for the pizza, which includes hand-tossed, thin, and even Gluten-free options.
Of course, you'll also want to call the location nearest you to make sure they're participating. Some locations have franchising agreements allowing them to opt out of corporate promotions. Be sure to check hours of operation, too.
Even Free Pizza Has Its Limits: Who Is Eligible?
California Pizza Kitchen seeks to thank veterans and current military members for their service, but like other restaurants, it sets up limitations.
While current and former military members, including members of the National Guard and Reserves, are invited to enjoy a free entree, the offer does not extend to family members or friends in your party.
People who have not served in the military should expect to pay full price. Also, the offer extends only to customers who are dining in. Finally, be sure to call first to find out out participation. Some locations may not be participating, including franchise locations in Guam, stadiums, universities, airports, international locations, the Mirage Hotel in Las Vegas, or the Grand Sierra Resort in Reno.
What to Expect from the Veterans Day Menu
California Pizza Kitchen offers a limited but varied menu on Veterans Day, with veterans being offered their choice from a special menu that includes pizzas, salads, and pasta dishes.
Some of the pizza options on this year's menu might include:
The Original BBQ Chicken Pizza: CPK's legendary BBQ sauce, smoked Gouda, red onions, and fresh cilantro come together to transform this original to iconic
Hawaiian: Fresh pineapple, applewood smoked ham and slivered scallions
Mushroom Pepperoni Sausage: Cremini mushrooms, rustic pepperoni, spicy Italian sausage, fresh torn basil, Mozzarella and wild Greek oregano
Pepperoni: A combination of rustic and spicy pepperoni with fresh Mozzarella and wild Greek oregano
Five Cheese + Fresh Tomato: Fresh and traditional Mozzarella, Monterey Jack, smoked Gouda and Romano with fresh tomato and basil
Traditional Cheese: Made with classic tomato sauce and Mozzarella
Salads (Full Size):
The Original BBQ Chicken Chopped Salad: Black beans, sweet corn, jicama, fresh cilantro & basil, crispy corn tortilla strips, Monterey Jack, and CPK's housemade herb ranch, topped with BBQ chicken, tomatoes and scallions
Thai Crunch: Crisp veggies and fresh cilantro with chicken and the crunch of peanuts, wontons, and rice sticks, tossed in Thai peanut dressing
Classic Caesar: Crisp Romaine with shaved Parmesan and housemade garlic butter croutons
Italian Chopped: Roasted turkey breast, julienned salami, garbanzo beans, tomatoes, Mozzarella and fresh basil tossed in housemade mustard herb vinaigrette
Pastas:
Garlic Cream Fettuccine with Chicken: CPK's garlic Parmesan cream sauce with chicken and fresh Italian parsley
Kung Pao Spaghetti with Chicken: CPK's twist on a Chinese classic with garlic, scallions, peanuts and hot red chilies
Bolognese Spaghetti: Slowly simmered rustic meat sauce with Cremini mushrooms, sprinkled with scallions
As you can see, you can find a variety of flavors at California Pizza Kitchen. If you're more of a pepperoni-pizza-delivered-to-your-front-door kind of person, you may want to spend your time on Veterans Day somewhere else.
Then again, if you'd like to try something new, doing so when it's free makes a lot of sense. After all, as a veteran you've sacrificed for the freedom of all Americans, including the freedom to take new approaches to making pizza!
What Else to Expect if You're New to CPK
Don't get me wrong. The franchise has its fans, and you may be one of them if you give California Pizza Kitchen a try on Veterans Day.
If you're not as familiar with this chain, here's what you can expect:
Clean, well-lit, and modern locations.
Consistent quality at locations in the U.S. and abroad.
An expanding menu that also features salads, salmon, soup, desserts, and a kids menu. (Only items on the Veterans Day menu will be free, but this can be helpful to paying members of your party.)
Table service at most locations. (Bring money to tip your wait staff since gratuity typically isn't included in special offers.)
A pretty standard cocktail menu at most locations. (Your state or municipal laws may affect service since Veterans Day is on a Sunday this year.)
Pizza that's better than the California Pizza Kitchen-brand frozen pizzas available in supermarket freezer cases. (Those are manufactured and distributed by a different company.)
Enjoy Your Veterans Day Discounts
You'll have a lot of dining choices on Veterans Day. In fact, you'll have so many choices it can be hard to decide.
If you're already a fan of California Pizza Kitchen, you know what you'll be getting. If not, Veterans Day would be a great time to try something new.
But if you aren't in the mood for pizza, you're in luck. With plenty of restaurants offering free or discounted meals this Veterans Day, you should be able to find a meal or two that you'll enjoy.
You can also find plenty of Veterans Day retail deals and discounts on attractions and events. Don't miss out on these great opportunities to save this year. Happy Veterans Day!