Olive Garden is a well-known Italian-style restaurant chain, with more than 850 locations across the U.S.
This Veterans Day, Olive Garden will offer veterans one free meal from a special Veterans Day menu, according to Lauren Bowes, a spokesperson for Darden Restaurants, which owns the Olive Garden chain. This offer is only available for dine-in.
Olive Garden Free Meal on Veterans Day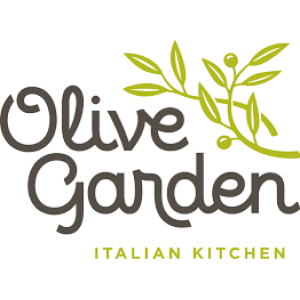 Offer Type
Participating Locations
Requirements
Valid Military ID
Who Qualifies?
Active-Duty, Veterans
Olive Garden, the nationwide Italian restaurant chain, offers a complimentary entree from a special Veterans Day menu to veterans and active-duty members who dine-in and show valid military ID. The offer is exclusively available on Veterans Day.
Here is a list of over 100 restaurants celebrating Veterans Day with free or discounted meals for veterans and active-duty military members who have sacrificed to guard our nation's freedom.
Olive Garden's Veterans Day Deal
On Nov. 11, 2023, Olive Garden will offer a free entree from their special Veterans Day menu for all dine-in veteran and active-duty members.
The Veterans Day menu includes five of the Olive Garden's most popular dishes:
Never-ending soup, salad and breadsticks
Cheese ravioli
Spaghetti and meatballs
Fettuccine Alfredo
Chicken parmigiana
NEW!

Military Discount Finder
Gain Access to Hundreds of Verified Military Discounts!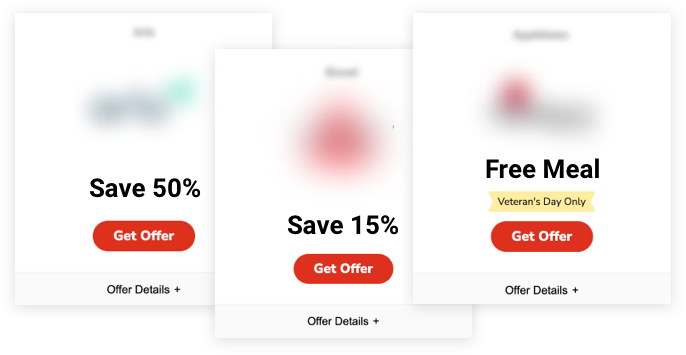 Find Military Discounts →
What to Bring With You
When you head to your local Olive Garden to enjoy your free meal, don't forget to bring proof that you're a veteran or a current member of the U.S. Armed Forces.
Some of the most common documents to prove your status include:
Membership card from a veterans service organization
You may also be able to bring a citation or commendation that includes your name or a photograph of yourself in uniform.
If you are not sure whether your proof of service will work, call ahead. You can search for your local Olive Garden location here.
Olive Garden Veterans Day Deal Details
Most Olive Garden restaurants are open from 11 a.m. until 11 p.m., though your local restaurant may have different hours. Call ahead or check online before going.
Olive Garden's website now allows you to join a waitlist and lets you know how long you'll need to wait before you're seated.
Olive Garden Veterans Day Meal Limitations
Most restaurants offering free meals to veterans and active-duty military members on Veterans Day do not extend special offers to family members or friends of veterans. This is the case with Olive Garden.
Also, the free Veterans Day deal does not include drinks or gratuity, so be sure to plan ahead. It's always a good idea to tip based on the full cost of the meal. Remember, the waitstaff is working hard for you.
Olive Garden also restricts its Veterans Day promotion to dine-in customers. You won't be able to order your free meal as takeout.
More Ways to Save at Olive Garden
In addition to their Veterans Day deal, Olive Garden often runs promotions through third-party websites such as Groupon, Grubhub, and Doordash.
More About Olive Garden
Since its founding in the early 1980s, Olive Garden has grown into a mainstay of the casual dining industry.
Along with its annual Veterans Day promotion, Olive Garden, gives back to the community through its Harvest Program, donating food to local nonprofit partners. Darden Restaurants, which owns Olive Garde, also partners with Feeding America.
Enjoy Your Veterans Day Discounts
If you're in the mood for a hearty, Italian meal on Veterans Day, head to the local Olive Garden with your proof of military service.
Olive Garden is just one restaurant that offers military discounts. In addition to restaurants, several businesses open their doors to veterans with retail discounts on Veterans Day.
If you're in the mood to explore museums and other attractions or events this Veterans Day, we've compiled a list of attractions and events offering discounted prices as well.
About Post Author