Podcast: Play in new window | Download
Subscribe: Apple Podcasts | Google Podcasts | RSS
Table of Contents
Several years ago, my family and I had an amazing vacation on the Hawaiian island of Oahu. We stayed at the Hale Koa, an Armed Forces Recreation Center (AFRC) located in the Waikiki Beach area of Honolulu.
The Hale Koa is one of four Armed Forces Recreation Centers around the world run by the Army. These resorts were built for the military and are exclusively for use by military members, retirees, Department of Defense civilians and authorized guests.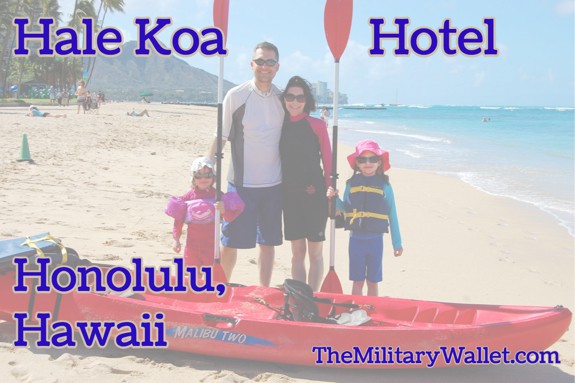 Hale Koa Hotel – An Affordable Resort in Paradise
The Hale Koa resort is located on 72 acres on Waikiki Beach in downtown Honolulu. It boasts a gorgeous beachfront location, so you can walk from your room to the sand in just a few minutes. If you get tired of the mesmerizing brilliant blue water, you can take your pick of four swimming pools. Hungry? There are eight eateries, ranging from fine dining to beach bars. You'll also find an Exchange, a fitness center, walking and jogging trails, laundry facilities and parking.
A beachfront rental shop makes it easy to snag umbrellas, chairs, snorkel gear, kayaks and longboards – all at reasonable prices.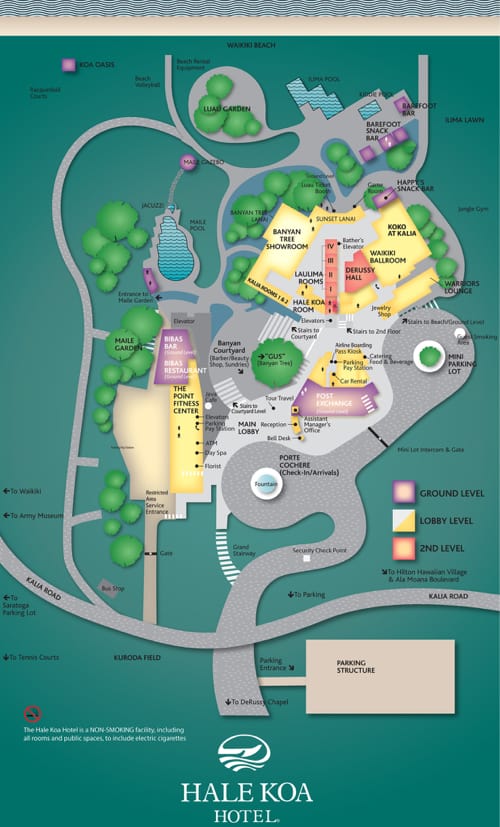 Hale Koa Eligibility
The Hale Koa is for military members and their families, so there are some eligibility restrictions regarding who can use the resort.
Armed forces and their families, including active duty, Guard, reserves and cadets at the service academies. Use your Common Access Card as identification.
Other uniformed services, including Public Health Service and National Oceanic and Atmospheric Administration Commissioned Corps. Use DD Form 2, PHS 1866-1 or 1866-3 for identification.
Military retirees, including gray area retirees of the Guard or reserves. Use DD Form 2, 1173 or 1173-1.
Select separated service members, including those with a 100% disability rating (use DD Form 1173 or DD Form 2765), those who were involuntarily separated and are eligible for TAMP (use DD Form 2) and personnel separated under the Voluntary Separation Incentive and Special Separation Benefit (use DD Form 2).
Former and/or surviving spouses and family members (use DD Form 1173 or 1173-1).
Select DOD civilians, foreign military and others who are working on joint military projects or are otherwise authorized. Use DD Form 1173 or 2765.
DOD civilians and family members, current and retired. Use DOD or CG ID card, retired identification card or a current leave and earnings statement along with photo ID.
Eligible members can also sponsor additional rooms for guests.
How Much Does It Cost?
Room rates at the Hale Koa range from $165-$399 per night (current rates valid till Sept. 30, 2023) and are based on two factors: the location of the room in the resort and the member's rank or status.
As you might expect, the better the view, the more expensive the room. There are five room levels: standard, garden view, partial ocean view, ocean view and deluxe ocean front. My family and I stayed in a garden view room, and the views were beautiful.
The second pricing factor is the visitor's rank or status. Pricing is based on the highest-ranking occupant of the room. There are four rate bands, Rate 1 through Rate IV, based on rank or other eligibility factors. Room rates are affordable, especially for the Waikiki area.
Here are the rate bands:
Ratel I: E1–E-6
Rate II: E-7–E-9, WO1–CW3, O1–O3, widows, veterans with a 100% disability rating
Rate III: CW4–CW5, O4–O10, DOD civilians, veterans with a 0-99% service-connected disability rating, Purple Heart recipients, former prisoners of war, caregivers of disabled veterans
Rate IV: Official travel – all grades TDY/PCS/TLA, eligible foreign military
Room Rates
(effective Oct. 1, 2022-Sept. 30, 2023)
I
II
III
IV
Standard
$165
$195
$210
$210
Garden View
$175
$210
$225
$230
Partial Ocean View
$200
$245
$260
$265
Ocean View
$210
$255
$270
$275
Deluxe Ocean Front
$375
$375
$375
$399
You can book rooms up to a year in advance. The Hale Koa fills up fast, so book as soon as you know your travel plans — at least six months in advance to ensure you get your room choice. If the hotel is full during your vacation dates, don't despair. The reservation staff can help, according to the website: "Check back periodically. We can also help connect you to nearby hotels with special rates available for our guests, based on their availability. Remember, even if you stay at a different property, the Hale Koa Hotel's restaurants and events are still benefits available to you as an eligible guest."
Rooms
The room we stayed in was on par with what you would expect for military lodging — not quite as fancy as what you might find in a high-priced resort. It was the perfect base of operations while we enjoyed all Hawaii has to offer.
The tower we stayed in was built in the 1970s. The rooms are somewhat smaller than you might find in a more recently built hotel (roughly 300 sq. feet), but space was adequate. Our room featured two queen-sized beds, a bedside table, a small table or desk area with two chairs, a very small closet area and a single sink.
All rooms have a coffee maker and mini fridge, but no microwave. In the Maile Tower, microwaves are available at one end of each hallway, where there is also an ice machine and a vending machine. The other end of the hallway features a washer and dryer. In the Ilima Tower, you'll find a microwave on every floor from the fourth floor and above. WiFi is free.
Hale Koa Restaurants and Bars
As mentioned earlier, the Hale Koa features eight restaurants and bars. We enjoyed the breakfast buffet at Koko at Kalia. There were a variety of dishes and desserts, including an ice cream bar. The menu changes, so you should plan accordingly.
Bibas Courtyard Grill is only open for lunch and dinner service. We ate there once but were less impressed with the food. It was good, but not great. The Bar at Bibas also offers a take-out option, and they feature a happy hour.
The Barefoot Bar is located next to the pool and the beach. It features live island music every night. The music, the view and the cold drinks created the perfect ambiance. The bar is open to the public, as it's right next to the beach.
Activities
The Hale Koa offers a number of activities to connect you with the island spirit, including a luau with fire dancing, a garden tour every Thursday, hula dancing lessons, and magic and comedy shows.
The main pool includes water slides, splash pads, a kids' play area, play pirate ship and other family-friendly features. Adults 18 years old and older can relax in the adult infinity pool. You can also rent a cabana, which includes two lounge chairs, two armchairs and a table.
Get Out and About
Waikiki is great. We loved the beach and were able to go snorkeling and kayaking right in front of the hotel. We saw a variety of fish and even several sea turtles. But Oahu has so much more to offer than just Waikiki Beach and Honolulu. We traveled to Hanauma Bay, Makapu'u Point Lookout, Waikiki Aquarium, the North Shore, the central part of Oahu near Schofield Barracks, Wheeler Airfield, and much more.
Other popular attractions include Pearl Harbor-Hickam, various hiking trails, botanical gardens and waterfalls. Hawaii Navy Family and Morale, Welfare and Recreation (MWR) runs a website called Great Life Hawaii, where you can learn more about travel and tour opportunities and discounts.
Getting There
The Hale Koa doesn't have an airport shuttle or a shuttle to Joint Base Pearl Habor-Hickam (JBPHH), so you will need to make your own travel arrangements to and from the resort. Options include taxi, ride share (Uber and Lyft) and the city bus service, or you can arrange an airport shuttle (approximately $30 per person). Plan for it to take 20-30 minutes to get to and from the airport.
About Post Author