Information about this product has been collected independently by the author. The issuer did not provide the details, nor is it responsible for their accuracy.
Table of Contents
Serving in the military often means frequently relocating to a new duty station. In my six years on active duty, I spent extensive time on 5 bases and traveled to dozens of other bases across the US and throughout the world. This frequent travel makes it important to have excellent banking options. That is why we have a list of the top banks for the military community. One of those top banks happens to be Chase Bank.
Chase offers a banking option specifically for military members and supports the military and veteran community. Chase co-founded the Veteran Jobs Mission in 2011. This coalition of more than 235 companies has committed to hiring one million veterans. Chase has hired more than 11,000 veterans since the inception of this program. You can learn more here.
On top of having an excellent suite of financial products (including banking, credit card products, mortgages, and investment services), Chase Bank features a network of over 16,000 ATMs and over 4,700 physical branches. Their large network makes it easy to find a location near you, even if you happen to PCS to a new location. Having continuity with your local banking needs makes your PCS move go much more smoothly!
Chase Bank Features – Everything You Need from Your Bank
I have been a happy Chase customer for several years. I have a personal checking and savings account and I have both personal and business credit cards with Chase. In my opinion, Chase has some of the best credit card offers around.
That said, I do have two banks – one with Chase Bank, and an online bank where I keep my emergency fund. I use Chase Bank because I find it helpful to have a bank where I can visit a physical branch when I need to deposit a check, make a large cash withdrawal, or for other in-person needs.
Chase Bank has a variety of features including:
Personal Checking and Savings Accounts
An excellent variety of credit cards (both personal and business)
Chase Debit Card
Online Banking and Online Bill Pay
Chase Mobile® Banking, including Mobile Deposits (remote check deposit)
Account Alerts
Access to over 16,000 Chase ATMs and more than 4,700 branches
Chase also offers mortgages, loans, Certificates of Deposit, and investment services. They offer enough different financial services to cover just about all your financial needs in one place.
I'll leave it to you to dive into their suite of financial products and services. There are many, and it's worth seeing if their services are a match for your needs.
Chase Checking Account Sign up Bonuses
Now might be a good time to open a new Chase Checking or Savings Account if you are looking for a new bank. Chase is currently offering a few signup bonuses that can give you access to a solid banking product, and net you several hundred dollars.
I'll give a quick overview of these bonus offers and I'll also recommend reading the fine print. Most bank sign up bonuses require customers to set up direct deposit or maintain a certain balance to avoid monthly fees. So the largest bonus may not be the best option if it incurs monthly fees.
These offers are available online nationwide except in Alaska, Hawaii, and Puerto Rico. For branch locations, visit locator.chase.com.
Here are the account and bonus details:
Chase Total Checking® – $200 Sign Up Bonus
New customers can earn a $200 sign up bonus when they open a Chase Total Checking® account and set up direct deposit within 90 days. Here are more details:
New Chase checking customers enjoy a $200 bonus when you open a Chase Total Checking® account and set up direct deposit
Access to 16,000 Chase ATMs and more than 4,700 branches
Chase Mobile® app – Manage your accounts, deposit checks, transfer money and more — all from your device.
Available online nationwide except in Alaska, Hawaii and Puerto Rico. For branch locations, visit locator.chase.com.
Overdraft Services – no fee if you're overdrawn by $50 or less at the end of the business day*
Open your Chase Total Checking® online now.
Chase College CheckingSM – $100 Sign Up Bonus
New customers can receive a $100 sign up bonus when they open a new Chase College Checking account with qualifying activities.
Chase College Checking is a simple checking account with no paper checks, no overdraft fees and no minimum balance to open.
New Chase checking customers enjoy $100 when you open a Chase College Checking account with qualifying activities.
No minimum deposit to open, no fees for Chase OnlineSM Bill Pay, money orders, cashier's checks or to send money
No paper checks to track
Use the Chase debit card to help you spend only the money you have available, without worrying about overdraft fees.
Bank with the Chase Mobile® app and Chase OnlineSM
Get helpful account alerts so you can monitor your balance and more.
No need to worry about unauthorized card transactions when reported promptly with Zero Liability Protection.
Open your Chase Secure BankingSM account online now.
Chase Premier Plus Checking (Great Account for Military)
Best Offer – Monthly Fees Waived for Military & Veterans: The Chase Premier Plus Checking account offers one of the largest individual sign up bonuses around. And this is an especially great deal for military members and veterans.
Eligible military members and veterans who open a Chase Premier Plus Checking account with Chase Military Banking benefits do not have a minimum balance requirement and there is no monthly service fee.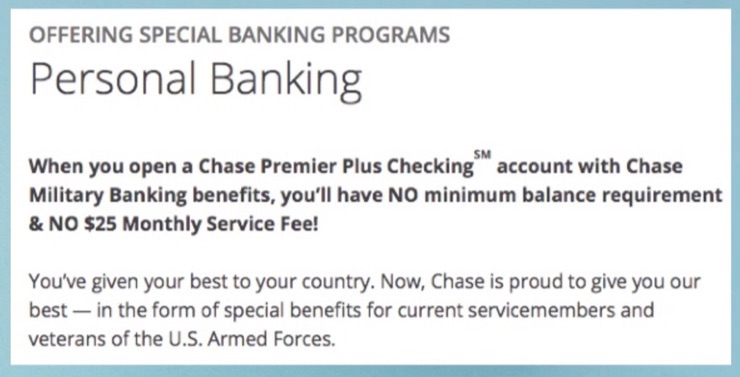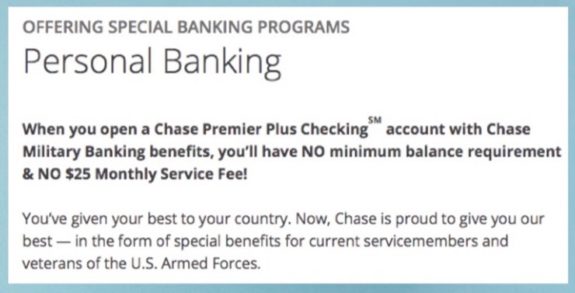 Other Chase Military Banking features include:
No $25 Monthly Service Fee
No annual rent for 3″ x 5″ Safe Deposit Box or smaller (subject to availability, 20% discount on larger sizes)
No Chase fee on the first four non-Chase ATM transactions each statement period. Fees from the ATM owner still apply. A Foreign Exchange Rate Adjustment Fee from Chase may apply for ATM withdrawals in a currency other than U.S. dollars.
No fee for Counter Checks, Money Orders and Cashier's Checks
Military ID or proof of service is required to qualify for the Chase Military Banking features.
New customers with no military service history would have a $25 monthly fee unless they maintain an average daily balance of $15,000 or more, OR they set up automatic payments linked to a qualifying linked Chase first mortgage.
Open your Chase Bank account online now.
Read the Fine Print Before Applying for Sign Up Bonuses
It's important to read the fine print when you are opening a new account for a sign up bonus. Most of these offers have requirements to earn the bonus offer. In general, you may be required to make a minimum initial deposit, maintain a minimum balance for a set period, set up direct deposit, or keep the account open for a certain amount of time. These types of offers generally aren't open to current customers or people who have earned a similar bonus within a certain time frame.
Bonuses are also reported to the IRS as interest earnings and are taxable at your normal income tax rate. You should receive an IRS Form 1099-INT at the end of the tax year.
How long does it take to receive the bonus? I signed up for a Chase account a few years ago and received a bonus. It took about 10 days to show up in my account. Your situation may be different, so be sure to contact the Chase customer service department if you have specific questions.
Open your Chase Bank account online now.
About Post Author