Podcast: Play in new window | Download
Subscribe: Apple Podcasts | Google Podcasts | RSS
Retirement. It means many different things to different people. To some, it means working until you are 65, then hoping you have enough money put away to live the rest of your life in relative comfort. Others are able to retire at an earlier age. How do they do it? How can they afford to retire after working a 20- or 30-year career? It's easy to say some people just make a lot of money, so they can retire early. But there is a lot more to it than just earning money.
Yes, you need to earn money. But you also need to save and invest that money wisely. You also need to account for things like inflation and escalating health care costs, supporting your family, and outliving your nest egg.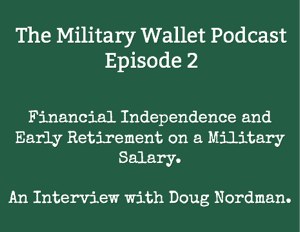 In today's podcast, I want to introduce you to my friend, and early-retiree, Doug Nordman. Doug is a retired Naval officer. He was able to retire at age 41 and never work again. But don't let that fool you – Doug remains just as busy today as he was when he was in the service. The difference is he is doing the things he loves, not what he has to do.
Doug structures his day around his passions – surfing, writing, and helping others. In fact, Doug's book, The Military Guide to Financial Independence and Retirement, had a large influence on me, as you will hear in this podcast. Doug also runs a blog called The Military Guide, where he writes about a variety of topics related to military benefits, veterans topics, retirement, and personal finance.
About the Book: The Military Guide to Financial Independence and Retirement explains how one can retire on a military salary and related retirement benefits, without having to work again. But it also explains how those who don't serve a full 20-year career in the military can save for early retirement and reach their goals at their own pace.
Chapter 5 in his book had a big influence on me, as it covers serving in the Guard or Reserves, something I had thought little about until a few years ago. If you have separated from the military and haven't considered joining the Guard or Reserves, then it might be something worth exploring. The personal, professional, and financial benefits can have a lasting impact on your life.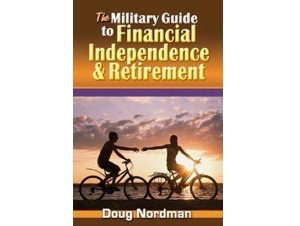 View on Amazon
Military Guide to Financial Independence
This book provides servicemembers, veterans, and their families with a critical roadmap for becoming financially independent. Topics include:
Military pension
TSP
Tricare Health System
& More
What You Will Learn in This Podcast
In this podcast, we cover the following topics:
Doug's story about how he and his wife were able to engineer their lives to meet their personal and financial goals, allowing Doug to retire for good at age 41.
An overview of Doug's book, and some of the personal stories that went into it.
Why Doug donates all his book's royalties to military charities, including the Wounded Warrior Project and the Fisher House Foundation.
The definition of Financial Independence, and how you can achieve it.
The difference between being Financially Responsible, and Financially Independent.
How to live a balanced life while pursuing your values and goals.
Where to find additional resources for reaching Financial Independence.
The under-appreciated value of serving in the National Guard or Reserves, and the true value of the retirement benefits from the Guard or Reserves (most people vastly underestimate the value of a Guard or Reserve retirement!).
Doug's current project, with the current working title of, "The Military Guide to Making Good Insurance Decisions." Doug wants to help people understand which types of insurance they need, which they can skip, and why.
You Don't Want to Miss This Episode
If retirement is on your mind, you need to listen to this episode. Whether you will have a military pension and the related benefits, or whether you are going it alone with your own investments, you will want to hear the information in this podcast. You will learn a lot about how to approach financial independence and retirement.
I highly recommend his book. The Military Guide to Financial Independence and Retirement is the best book I have read about military finance. And I don't make this statement lightly. This book is also not just for current servicemembers. It can be an excellent resource for anyone who has served. I have read it cover to cover twice, and I have read certain sections multiple times. This book opened my eyes to many aspects of my own finances and has shaped my view of working and saving for retirement. As you will hear in the podcast, Doug recommends you see if your library has a copy you can borrow. He also recommends seeing if your unit can purchase copies for people on base. If those avenues don't work, then you can find it on Amazon in paperback or Kindle format. It can also be found at several other online retailers. You can also read much of the content from the book in the archives on his site.
Where to Find Doug Online:
You can leave comments here on our site, or if you want to reach Doug, you can find him at the following locations:
About Post Author