As a veteran returning home from some far-off clime, a shaky job market can make you feel as if you're doomed to tough times. But that's entirely up to you. One tactic in that battle lies with self-employment and, more specifically, franchising.
Make no mistake. Running a franchise is hard work. But it can also be rewarding. Buying into a veteran-friendly franchise can be a great career and investment opportunity if you are willing to work long hours, follow a system, afford to buy and operate a business, manage people, and are passionate about achieving success.
5 Things to Consider Before Buying a Franchise
The franchise itself
Many types of franchises are available for sale – restaurants, bars, auto repair shops, convenience stores, tax preparation, and many other stores that provide goods or other services. When deciding which franchise you want to buy into you should consider these important things:
Name recognition: How well known is the company you wish to buy into? Is it a national, regional, or local company? Are you trying to expand a regional franchise into an area where it is not very familiar?
Demand: Is this service needed in your area? Can your area support another restaurant, service station, etc.?
Competition: If you want to open a new McDonald's franchise, are there similar franchises such as Wendy's, Burger King, or Hardee's nearby?
Growth: Has this company been experiencing growth? This will not guarantee your success, but it is a good idea to understand how this particular business has been growing in similar areas.
Training/Support: How much help will you get from your parent company? Training and other support goes a long way in helping your franchise be a success.
The cost of the franchise
There are many costs associated with owning a franchise. If you don't have a good idea of your expenses, you are doomed to fail even before you begin.
Franchise costs: Typical franchise start-up fees can run from a few thousand dollars to several hundred thousand dollars, depending on the company you are buying into. Often, these fees only include the right to use and sell the product or services under that name. Other costs, such as the building and equipment, are separate.
Ongoing fees: Many franchises require franchisees to pay a certain amount or a percentage of sales annually to continue using the brand name. Royalties can be a hidden cost that many people do not consider. Some of these costs are used for national and local advertising, and other portions of the fees are absorbed into the corporate coffers.
Real estate/utilities: Rent or mortgage is an ongoing cost, and can be the largest recurring payment a franchise owner will face. Utilities are another large expense and can run into thousands of dollars per month depending on the type of franchise.
Equipment/Inventory: Few businesses can get by without owning equipment, tools, computers, and an inventory of goods to sell. Like franchise fees, equipment and inventory start-up costs can run from several thousand to several hundred thousand dollars, depending on your company's needs.
Payroll: Unless you are the sole worker for your franchise, you will have to pay your employees' salary and benefits package.
The franchise's location
This is one of the most important aspects of any business as a great location can make or break a company.
Site Approval: Some franchises approve every site considered for a franchise. This is important if you own your prospective building or have a site in mind. There are also non-compete restrictions preventing franchises from competing with the same franchise within certain proximity to each other. (e.g. McDonald's will not allow another McDonald's to within a certain distance of another McDonald's to prevent them from "stealing" each other's business. So far as I can tell, Starbuck's has no such restriction. I have seen a Starbucks on 3 corners of an intersection!)
Design: Many companies require their franchises to maintain a certain appearance or another set of standards. This can include exterior building design, interior design, fixtures, etc.
Built-in clientele: Is the location near a university or a large business? How about near a major intersection or highway? Having a large group of people who can easily patronize your business is a great benefit, and will be helpful in your company's success.
How much control will you have?
When you buy into the franchise, how much control will you have?
Company standards: Your franchise may be required to conform to certain company requirements such as hours of operation, uniform standards, products/services offered, advertisements, and more.
Company-supplied products: Some franchises require the franchise owner to purchase products and goods from the parent corporation. Have you ever gone into McDonald's and noticed the Ketchup packets they use? They all have the McDonald's logo on the packet. The Franchise owner can't go to Costco to pick up bulk ketchup packets. He has to buy them directly from McDonald's – at the corporate price.
Do you have what it takes to operate a franchise?
This is the most important element of them all. Do you have what it takes to own your own business?
Skills, abilities, and interests: Do you have any experience in this particular industry? Do you plan on running the business yourself, or hiring a manager or group of people to run operations? Are you interested in this industry, and will you enjoy what you are doing? Understanding your own abilities will go a long way toward helping you know if you will be capable of running your own business.
Goals: Where do you plan on taking this franchise? Do you require a certain annual income? How many hours do you wish to work? How long do you plan on owning and running this operation, and do you have plans to expand beyond one franchise? A clear set of goals will help you understand what you need to do to be successful, and help you develop a plan of action to get there.
Investment: How much can you invest in a franchise, and, if things go badly, how much can you afford to lose? Do you have a sufficient credit rating to secure the proper loans? Can you afford to forgo income during the first year or two, when business may be slow and expenses may be high?
Adaptation: How well can you adjust to difficult situations? The survival of your business may depend on your ability to deal with a similar franchise moving in nearby, economic changes in your community, increases in the costs of labor or inventory, etc.
As mentioned earlier, this is not an exhaustive list of everything one needs to do before buying a franchise. This list should just help you determine whether or not a franchise might be the right opportunity for you.
Before buying a franchise, you should investigate the particular company and industry as much as possible. In addition, you should hire an accountant and lawyer to help you understand your projected costs and legal obligations. *In addition, a lawyer can help you understand the Uniform Franchise Offering Circular (UFOC), which details important legal and financial information regarding the franchise.*
There are many other things to consider as well. The Federal Trade Commission has set up a Consumer Guide to Buying a Franchise, which served as a basis and resource for some of this information. If you plan on buying a franchise, do your research, then make an informed decision. Good luck!
Military Mind-Set Leads to Success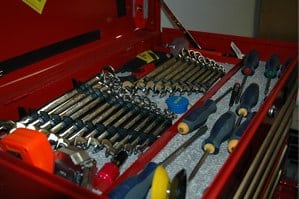 In the military, service members are taught to follow orders. With time, good conduct and expertise, those receiving orders will soon transition into giving orders. It's the soldierly way – and it works.
The U.S. Military has honed a sharp troop management system through trial and error. As such, the progenitors of this system – veterans – have been imbued with these qualities. For many searching for purpose in their post-military career, it would behoove them to capitalize on their unique skill set. Helming your own business can be an especially satisfying career move.
Use the Small Business Administration
The Small Business Administration (www.sba.gov) operates a helpful website for those interested in self-employment. Everything you need to know about owning and operating a small business or franchise can be located via the SBA. From writing a business plan, getting that first loan, registering your business and even establishing a health care program for your employees, the SBA provides an invaluable service.
Patriot Express Pilot Loan Initiative
Recently, the Small Business Administration established the Patriot Express Pilot Loan Initiative. As per the SBA's website, this program "offer[s] streamlined and expedited loan procedures for particular groups of borrowers, notably active-duty military personnel, veterans, and borrowers from distressed communities." Military members currently in the Transition Assistance Program, Reservists, National Guard members, and widowed spouses of the groups mentioned above also qualify for this new SBA initiative.
Shouldering startup costs, the Express program also covers inventory, equipment, infusion of working capital, and a myriad of other essential expenditures required for the operation of a small business. Interest rates vary from 2.25% to 4.75% over prime, featuring some of the SBA's lowest interest rates.
Veteran-Friendly Franchises
Among the many self-employment incentives for current/prior service members are several top-rated veteran-friendly franchises. According to the International Franchise Association's "VetFran" program, some of these franchise opportunities in 2019 included:
Snap-on Incorporated: The leading global innovator, manufacturer and marketer of tools, diagnostics, equipment and service solutions for professionals. They offer honorably discharged veterans a $20,000 discount on the initial inventory purchase for their franchise.
Liberty Tax Service: A low-cost tax preparation service. They offer a 10% discount on the franchise fee to military veterans.
7-Eleven Incorporated: The world's largest convenience store retailer and the number-one franchise opportunity in the U.S. They provide a 10% discount off franchise fees for all honorably discharged veterans.
Interim HealthCare, Incorporated: Provider of full continuum home care and health care for the past 45 years. They offer a 10% discount on franchise fees.
ACFN Franchised, Incorporated: The premier provider of ATMs in hotels and other travel- and entertainment-based businesses since 1996. They offer a discount on the franchise fee for veterans.
CruiseOne: One of the nation's largest cruise retailers and a part of World Travel Holdings. They offer retired and active-duty military members 20% off initial franchise fees.
GoWaiter, Incorporated: The industry leader in restaurant marketing, food delivery and catering. Franchise fees are reduced from $19,500 to $17,500 for veterans.
Huddle House Incorporated: For over 47 years, Huddle House has been serving communities "any meal, any time." Veteran incentives include a reduction in the initial franchise fee.
Rise Above
Starting your own business, whether an independent venture or an established veteran-friendly franchise, requires hard work and determination. For veterans and active-duty military, the Small Business Administration and the VetFran program are there to assist you.
Photo credit: TOMTEC
About Post Author