The 2020 Presidential Election is fast approaching – with the U.S. General Election voting scheduled for Tuesday, November 3, 2020. Most people vote in their state of residency. However, military members and their dependents don't always have that luxury, as their duty assignment may take them far from home. If you are unable to vote in your state of residency due to a PCS, Deployment, TDY, or other reasons, then it's a good idea to register to vote by absentee ballot. And if you have not registered to vote by absentee ballot, now is the time to do it—particularly if you are deployed or stationed overseas.
Military members and their dependents ages 18 and up who are U.S. citizens are eligible to vote in the general election. You can still vote even if you cannot do so in person. There are two easy ways to do this: visit your unit or installation voting assistance officer, or go to the Federal Assistance Voting Program home page.
How to Register for an Absentee Ballot
To register and request an absentee ballot, simply fill out the Voter Registration/Ballot Request Form (Federal Post Card Application, FPCA, SF 76) and mail it to your local election office. You can fill it out online, or you can obtain a copy from your installation voting assistance officer.
You can also obtain a Voter Registration/Ballot Request Form from the nearest US Consulate or Embassy, or the Voters Assistance Office if your base has one. Most units are also assigned a Unit Voting Assistance Officer who should be able to assist you with this information.
Filling out the Federal Post Card Application
Start by visiting the FCPA page. You will need to agree to the privacy terms. Then you will need to fill out the required information, verify it is correct, print it out, sign it, then mail it to your respective voting office (this is generally the county in which you are a resident).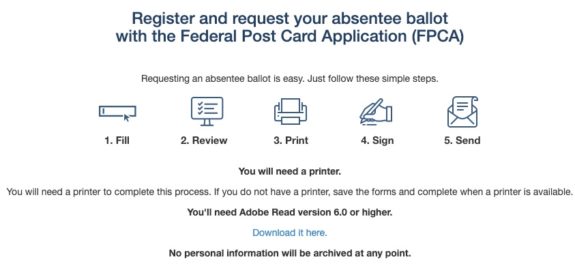 Information Required to Register for Absentee Ballot
You will be required to provide the following information:
State
Jurisdiction (county, parish, etc.)
Your classification as a voter (are you serving in the military, are you living overseas, etc.)
Personal information, including your name, DOB, SSN, and contact information.
Your current residence and mailing address
The method you would like to receive your ballot
Which election(s) you wish to receive a ballot for
Once you provide the required information, you can review your ballot request then print your document. Then sign it and mail it to your election office.
After your registration has been approved, your local Election Official will mail your ballot. Complete the absentee ballot and return it to your Election Official and your vote will be counted.
Presidential Election Voting Deadlines
U.S. General Election Voting Deadlines: While the majority of US Citizens on the US Mainland will vote on November 3rd, absentee ballots need to be sent in earlier in order to be processed and to have your vote count.
The Federal Voting Assistance Program recommends mailing your absentee ballot by the following dates:
October 5th if you are on a ship at sea
October 13th if you are located overseas
October 27th if you are located in the U.S.
Remember, you can send in your vote earlier than these dates. So it's best to act immediately if you are serving overseas.
Mailing Your Absentee Ballot
Be sure to follow your state's voting guidelines before mailing in your ballot. Some states require you to mail your ballot inside two envelopes, while other states may require you to have a witness sign your ballot. Failing to follow all the rules for your state may result in your ballot being tossed.
Mail your absentee ballot via US mail or another mail service. If mailing from outside the U.S., ensure there is proper postage if using a foreign mail service. As always, you can contact your election office to ensure they received your information by sending them an email or giving them a call!
Track Your Ballot. The Military Postal Service Agency (MPSA) provides free expedited ballot delivery and ballot tracking for overseas military members. They will place the Label 11- DOD on your ballot envelope, which allows you to track your ballot en route to your election office at www.usps.com. Many states also make it easy to track the status of your vote.
For more information: If you'd like more information on the Federal Voting Assistance Program or need help with the absentee voting process please visit FVAP.gov for live chat assistance, call FVAP at 1-800-438-VOTE or DSN 425-1584 (CONUS)/312-425-1584 (OCONUS), or email [email protected]
What if Your Absentee Ballot Doesn't Arrive in Time?
You can still vote in the General Election. However, you will need to use the Federal Write-In Absentee Ballot (FWAB). You will be required to provide the same information you have to provide when registering for an absentee ballot. However, you will also use this form to vote for the candidates of your choice when you fill out this form.
Note: there are no names on this form, so you will be required to write them in manually. So be sure to have the names of the individuals you wish to vote for prior to starting this process. You can vote for the President/Vice President, U.S. Senate, U.S. Representative, and local candidates.
Where can I get more information about absentee voting?
The FVAP website is the official government voting website. They have an absentee voting guide with a lot of great information on how to register to vote, start the process, how to contact your voting agency, and more. The Voting Assistance Guide (pdf) has more specific information regarding state voting guidelines, cutoff dates, and much more.
Be sure to vote this year!
About Post Author