Is your loved one deployed for the holidays this year? Will you spend more or less on holiday traditions while they are deployed?
It is too easy to loosen the purse strings during the holidays, especially if you have little ones at home who miss their deployed mom or dad. It can be tempting to make up for your loved one's absence by spending more to make the holiday feel special.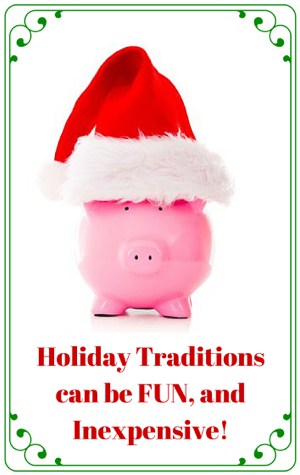 Do not succumb to marketing tactics and the belief that buying one more gift will make the holidays better. No amount of money spent will bring your service member home faster. The average American spends $830 on gifts and traditions during the holiday season. According to a 2015 debt study, "the average U.S. household with debt carries $15,355 in credit card debt and $129,579 in total debt." That seems a bit outrageous for the average family.
That being said, do not put your life and the holidays on hold while they are deployed either. You can stay away from overspending and credit card debt while still finding ways to celebrate your family's holiday traditions.
You don't have to spend a lot of money to have a nice holiday while your loved one is on deployment. Here are a few wallet- and deployment-friendly ideas to help you keep your holiday traditions going while your loved one is overseas.
"Celebrate" with Your Deployed Service Member
Even though your loved one is deployed for the holidays this year, it does not mean you cannot celebrate with them. You can print out a picture of them on solid card stock and glue the picture to a Popsicle stick. Hold your Popsicle stick service member up to include them in your family's holiday pictures and festivities.
Holding a Popsicle stick version of your loved one may be a woefully inadequate substitute for the real thing, but it's a light-hearted way to have your loved one present when you decorate the tree, make cookies or eat your holiday meal. Make sure to email any photos you take to your them. Most service members look forward to the ridiculous pictures to see what their families and friends have been up to back at home.
Holiday Book Recordings
Does your family have a holiday tradition of reading "The Night Before Christmas" together? You still can. United Through Reading is a website that connects children with their deployed family members through book voice recordings. All you have to do to get started recording is sign up through the form on their website. Once you verify your email, you can start recording your book reading.
They have several holiday books available, as well as other genres. You can keep the tradition going, even through deployment. Service members can still read to their children on Christmas Eve.
Sing Christmas Carols
Use a free download program like Audacity to record yourself (and the rest of your family) singing Christmas carols. Once you are finished recording, save your recording as a .wav file, and you can upload the file into Google drive. Your loved one can access it whenever they have computer and internet access. They might not be able to stand by the piano to contribute to the off-key singing, but they can enjoy the delightful squawking of their family and feel like they're home for the holidays.
Support Toys for Tots
When your loved one is on deployment over the holidays, it can feel impossible to get into the holiday spirit. Giving back to the community is one way that always helps boost your holiday spirit. The United States Marine Corps Toys for Tots program is a top-rated charity and one of the best ways to give back this holiday season. You can ask your service member to add items to your Amazon cart or email you a list of items they think you should donate this year.
Print out the list and pick one or two of the toys to donate to Toys for Tots this year. With your team effort, they will feel like they are home taking part in the holiday tradition of giving back to the community.
Open Gifts Over Video Chat
If your deployed service member has access to a computer and the internet, try to schedule a time to open presents together. You can use a free video chat service like Oovoo, Google Hangout or Skype, just to name a few. If your service member is not able to make it to a computer on the actual holiday, save one or two presents to open the next time they can jump on to a video chat with you. They will love seeing the faces of their friends and family, and it will help them feel just a little bit closer to home for the holidays.
Follow Your Kids' Lead or Follow Your Heart
You do not have to spend a lot of money to enjoy the holidays. Use these creative tips to keep traditions alive while your service member is deployed. If you have children together, follow their lead while your spouse is deployed over the holidays. If they are excited about the holidays, get excited with them. If they are not feeling the holiday spirit this year with their mom or dad deployed, do not try to drown them in holiday cheer. Do not go overboard on spending trying to lift their spirits over the holidays. It is perfectly normal for them to want to spend the holiday with both parents.
Help your loved one get through the holiday deployment by taking part in holiday activities and doing everything you can to help them feel involved. It will make the deployment much more enjoyable for both of you.
What holiday traditions do you keep while your loved one is on deployment?
About Post Author