Are you aware the military has a scholarship program for military spouses? Some refer to it as the Spouse Tuition Assistance Program, but it is officially known as the My Career Advancement Account Scholarship or MyCAA. The program is run through the Department of Defense. It is designed to help military spouses have better opportunities for employment – which can be difficult when dealing with frequent deployments and relocations.
MyCAA Eligibility & Benefits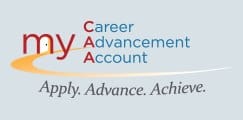 Unfortunately, the MyCAA program is not open to every military spouse. It is only open to spouses of active-duty service members who are in the pay grades of E-1 through E-5, W-1 and W-2, and O-1 and O-2. Spouses of activated National Guard members and reservists are also eligible for the program, provided the service member is on Title 10 orders. The sponsored spouse must finish their courses before the service member is off Title 10 military orders.
Note: The FY2020 National Defense Authorization Act (NDAA) extended eligibility to include Coast Guard spouses (this is a DoD program; the Coast Guard is covered under the Department of Homeland Security).
Here are some key points to the program:
$4,000 maximum benefit: MyCAA participants are eligible to receive up to $4,000 in tuition assistance benefits, with a maximum of $2,000 per fiscal year.
Eligible programs for study: Previously, participants were eligible to receive benefits for associate degrees, certifications and licensures. While the 2020 NDAA eliminated restrictions on which fields and career types are eligible, the benefits can not be applied to advanced degrees or the completion of a bachelor's degree.
Time limits: The student must complete their associate degree program within one year from the start date and certificate programs within 18 months. Extensions are possible, and it is recommended to contact your MyCAA POC with questions.
What is Covered Under the MyCAA Program
The MyCAA benefits can be used for tuition for education and training courses and licensing fees. It can also cover certifications for teachers, medical professionals and other professional certifications; licensing exams and degree programs.
What is Not Covered Under the MyCAA Program
MyCAA cannot be used for GED tests, English as a Second Language courses, continuing education units through professional associations or preparatory courses. The MyCAA program does not cover application or enrollment fees, lab fees, student ID cards, computer and technology fees and many other associated education fees commonly found on college campuses.
Reimbursement for courses is not offered. Ensure you have your MyCAA Financial Assistance (FA) document before enrolling in any courses.
A complete list of what is and is not covered can be found here.
Purpose of These Limitations
The program is limited to spouses of enlisted members through E-5 and junior officers. They are generally younger and more likely to need a dual-income household.
The goal is to help make military spouses more employable. This is accomplished by limiting the tuition assistance benefits to programs that will result in an associate degree, certification or an accredited license. Many licenses qualify; check with your education office for more information about available programs.
MyCAA Application Process
Eligible military spouses can begin the application process at the official MyCAA website. Spouses will need to create a profile and check their eligibility by linking their account with DEERS.  Once eligibility is established, the spouse can create a Career and Training Plan, which will need approval. The student can then request their financial assistance document within 30 days of the first class date. Spouses must apply to the school and enroll in the courses on their own.
You can also contact your school academic advisor for assistance. If they are unfamiliar with the MyCAA program or you need additional assistance, contact a Career and Education Consultant at Military OneSource. They can be reached at 1-800-342-9647. The consultant can assist with finding a career field that interests you and help you navigate through the process.
Overall, this is a good plan to help spouses of junior military members get started on their degree plan or to obtain a license that can be used to help further their careers.
About Post Author