A veteran who recently separated from the military sent me an e-mail asking about home based business opportunities. The veteran wrote that, "I just got out of the navy and have no desire to clock a 9 to 5. I want to start my own home based business and I wanted to ask if you have any ideas on want to get involved in."
As a self-employed veteran, I understand the desire to work from home. Many military members come from varied backgrounds and work in a variety of jobs and locations over the course of their career. Military veterans are often self-motivated and driven by internal forces and have the ability to adapt to stressful situations. Because of this, many vets have a skill set and drive that is a better match for entrepreneurship than working in a standard office environment.
What Are the Best Home Based Business Opportunities?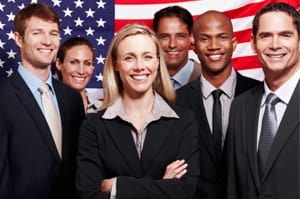 Working from home is such a broad topic, that it would be difficult to cover in one article. There are literally thousands of ways to work from home, but most of them take time to set up. In fact, most entrepreneurs I know started their home based business in their off time and grew their businesses slowly while they worked a steady job during the week. This gave them the time and opportunity to learn from their mistakes, and helped them have a steady income to provide for their families while they grew their business.
This is how I grew my home based business (I run several websites, do internet consulting, and freelance writing). I originally started a blog, then grew my business into several sites. After I had made a name for myself in my niche, I began freelance writing for several other Internet publications. I then branched out into consulting as I became more of an expert in the space. But all of this took time – it was three years from the time I started my blog until I went full time. Running websites takes time to learn and it isn't a guaranteed way to generate income quickly. In fact, you should expect it to take awhile to generate profits.
Consider a Franchise
Franchises offer an easier way for many people to get into business ownership. The benefit of buying into a franchise is that you don't need to recreate the wheel and build a business from scratch. When you buy into a franchise, you are buying a business model and everything that goes with it. In a way, it's a shortcut to owning a small business. You get the blueprint, the branding, and the corporate knowledge to get started. But you do need to bring hard work and some money to the table (small business loans and grants can help with this). Here is some more information about franchise opportunities for veterans.
Beware Multi-level Marketing Scams
The best thing I can do is recommend that you fully research any business opportunities before buying into anything. There are many scams out there, including multi-level marketing scams which sell the dream of owning a business, but often end up costing participants hundreds or even thousands of dollars to be  a member. A popular scam is money merge accounts, which sell expensive software to help people more quickly repay their mortgage (in most cases, these programs aren't good for the  people they are marketed to).
Other Scams Abound
Multi-level Marketing scams aren't the only bad deals around. There are thousands of creeps out there trying to separate you from your money. In general, it is a good idea to avoid any advertisement which claims you can make "$$$$ dollars in X Days, Guaranteed!"
Most of those advertisements are scams which sell expensive digital products and charge your credit card on a continuing basis. They can also be difficult to cancel, and you may be left with several hundred or thousands of dollars in charges on your credit cards, and nothing of value in return.
Where to Start
All of these caveats aside, there are many great work from home opportunities. If you are looking for a way to get started in something, I recommend speaking with local entrepreneurs and businessmen and asking how they got started and if there are any opportunities they are aware of.
Give Yourself Time
One last note: Most home based businesses take time before you can start generating sustainable income. I recommend having a fall back plan, or starting yoru business in the evenings and weekends until you can generate enough income to go full-time. In the mean time, I recommend looking into unemployment benefits, which are available to those who separate from the military.
Best of luck, and thanks for your service.