A veteran who recently separated from the military sent me an e-mail asking about home-based business opportunities. The veteran wrote, "I just got out of the navy and have no desire to clock a 9 to 5. I want to start my own home-based business, and I wanted to ask if you have any ideas on where to start."
As a self-employed veteran, I understand the desire to work from home. Many military members come from varied backgrounds and work in various jobs and locations throughout their careers. Military veterans are often self-motivated and driven by internal forces and can adapt to stressful situations. Because of this, many vets have a skill set and drive that is a better match for entrepreneurship than working in a standard office environment.
What Are the Best Home-Based Business Opportunities?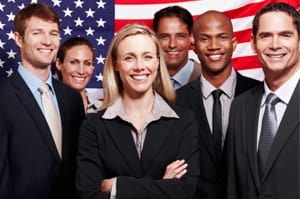 Working from home is such a broad topic, that it would be difficult to cover in one article. There are thousands of ways to work from home, but most take time.
Most entrepreneurs I know started their home-based business in their off time and grew their businesses slowly while they worked a steady job during the week. This gave them the time and opportunity to learn from their mistakes, and helped them have a steady income to provide for their families while they grew their business.
This is how I grew my home-based business (I run several websites, do internet consulting, and freelance writing). I originally started a blog, then grew my business into several sites. After I had made a name for myself in my niche, I began freelance writing for several other Internet publications. I then branched out into consulting as I became more of an expert in the space.
But all this took time – three years from starting my blog until I went full-time. Running websites takes time to learn, and it isn't a guaranteed way to generate income quickly. In fact, you should expect it to take a while to generate profits.
Where to Start
All of these caveats aside, there are many great work-from-home opportunities. Suppose you are looking for a way to get started in something. In that case, I recommend speaking with local entrepreneurs and businessmen and asking how they got started and if there are any opportunities they are aware of.
Millions of people dream about starting their own businesses. But dreaming is usually as far as it goes. Risk, fear the unknown, and fear of failure often stop them in their tracks. But there is a way to spread your entrepreneurial wings that will largely remove that uncertainty, and that's to start a part-time business.
That will enable you to start your business while still having a paycheck from your job. It will also give you the time that you need to test different strategies and even fail couple of times before you get it right. And once you feel certain that your business idea is financially viable, you can take it from part-time to full-time and quit your job only when you're fully comfortable with the transition.
The biggest issue then is how to find ideas for a part-time business. Here are some suggestions…
Start With What You're Already Doing
Would-be entrepreneurs often think they have to come up with an exotic idea that no one's ever thought of to build a successful business. In reality, nothing could be farther from the truth. The closer your business is aligned with your existing skill sets, the greater the chance of success.
That should make finding a way to take what you're already doing on your job, and converting it into a viable business. You don't have to reinvent the wheel to find a good business idea – just go with the skills that you already have.
There are many advantages to this approach:
Since you already know what you need to do, you can start doing it right away.
If your business is related to your current work, you'll have a lot more confidence entering the business.
There will be a much shorter learning curve, since you'll already have the skills and knowledge needed to run your business.
You already have a network of contacts that will make running your business easier.
If you have been doing your job for a while – and especially if you're pretty good at it – you will already know how to speak the "language" of your business, which is especially important when trying to market yourself.
Make a List of What You're Good at Doing
Most of us have several things that we're good at. Some may be related to our work, while others may be in a completely different direction. But whatever it is that you are good at doing, will be easier to convert into a cash flow.
Inventory the primary skills that you use to do your current job. Also, you have used inventory skills on previous jobs and that you're pretty good at. And finally, consider the skills you have that have nothing to do with work. This could include the ability to speak before groups, the ability to teach, a passion for working with computers, or that you have a people personality. It may also be a skill you have gained from one of your hobbies.
While these skills – or a collection of them – may not ultimately decide your business type, they can act as validators. A combination of skills might point you toward your ultimate business decision. Your skills may also support a business choice based on your current occupation.
If you are uncertain what business to choose, be sure that you make a list of your skills, as this will figure significantly in your direction.
Think About What You Like to Do
This can be shaky ground. While what you like to do can point to a business idea where you're most likely to succeed, it can also have the opposite effect. The problem is that the things that we like to do can't always be converted into an income. For example, if your favorite thing in the world is skiing, it may be very difficult to find a way to monetize that.
If your business choice is moving toward doing something that you like to do, first, make sure that you carefully assess your ability to monetize the business. In addition, make sure you have the skills that will support your entry into the business. There's much more to running a business than loving a product or activity. You have to be able to sell it, deal with customers and vendors and have some financial sense to make sure that you can maintain a positive cash flow.
Consider Where You Have Natural Advantages
This is something like taking an inventory of your skills, except that it usually isn't nearly as obvious. You could include factors such as personal contacts and affiliations, hobbies, geography, and even physical abilities and attributes.
For example, entering a business where you know people already in that general industry will be much easier. That will make it easier for you to gain the contacts you need, such as suppliers, vendors, and even a customer base.
If you are in excellent physical condition or even athletic, it could open the door to becoming a personal trainer or owning a gym or a sporting goods store. Interest in organic farming would work a lot better if you live in a rural location where there is a considerable amount of farming already.
Assess your big-picture situation in determining what business you might choose. It'll be much easier to enter a business with built-in natural advantages than the one you will have to begin from a cold start.
11 Low-Cost Business Ideas You Can Start Today
1. Consider a Franchise
Franchises offer an easier way for many people to get into business ownership. The benefit of buying into a franchise is that you don't need to recreate the wheel and build a business from scratch. When you buy into a franchise, you are buying a business model and everything that goes with it.
In a way, it's a shortcut to owning a small business. You get the blueprint, the branding, and the corporate knowledge to start. But you need to bring hard work and some money to the table (small business loans and grants can help with this). Here is some more information about franchise opportunities for veterans.
2. Consulting
Why not get paid for all that knowledge in your head? Offer your services as a consultant on a subject at which you are considered an expert. From gardening to statistics (my husband did this) to social media, your expert knowledge might be valuable to someone else.
It helps to have a website so that others can find you. The costs of buying a domain name, paying for hosting, and even buying a theme you can use aren't usually very high. You can start a professional blog or other website less than a few hundred dollars. A professional design can be more expensive, but isn't always required. It's even possible to do it for no cost beyond what you pay for your home Internet service, depending on what services you use. Promote your services on social media and establish your expertise with a blog, and you can bring in consulting work.
3. Freelancing
In addition to running websites, I have also done freelance writing and consulting. Whether you provide writing, graphic design, web development, or photography services, freelancing can be a great, low-cost business—if you have the requisite skills.
With writing, all you need is a computer and a reliable Internet connection. A graphic designer or web developer can start out with the right software, along with the computer and Internet connection. With a good camera and editing software, a freelance photographer can start out.
Depending on what you already have, it's possible to start a freelance business with no additional cost beyond what you're already paying for your Internet connection and your hobby – especially if you start out using free web hosting for your business website. Even if you need to buy a few things, it's possible to get started for anywhere from a few hundred dollars to less than $5,000.
4. Sitting
Another option is to provide sitter services. Whether you are babysitting children, or providing services for the elderly, your care and companionship can be valuable. You can do fulfilling work and earn money at the same time. However, you do need to check into requirements from your state. There are states that limit how many children you can babysit, and you also need to look into caregiving requirements if you are involved in sitting for adults.
You can also offer your services for house-sitting. If you live in an area where people are gone for an extended period of time, consider providing house-sitting services. You can keep the house clean, watch for problems with water lines, keep up the yard, and provide other house-sitting services. You can start out using your own household cleaning equipment, and then buy other items later. It's possible to start out for less than $3,000, even taking into account tools, cleaning supplies, and limited advertising.
5. Selling Handmade Items
If you are a crafty person, you can sell handmade items. From vinyl cutouts to crocheted items to woodworking to just about anything that you can make by hand, it's possible to sell it and earn money. It is a little more expensive this way, since you have to pay for supplies. However, you can start small, buying a few supplies. As your items sell, you can order more supplies later. You can usually start selling for a low cost, since sites like Etsy, Amazon and eBay offer cost-efficient storefronts.
6. Selling Using a Drop-Ship E-Commerce Store
You can also start an e-commerce store through drop-shipping. Instead of carrying inventory, you arrange to have the vendor ship it to the customer. It's fairly cost-efficient to set up such an e-commerce store, since you don't have to buy the inventory up front; instead, you pay for what you have shipped to customers. The details of doing this are beyond the scope of this article, but here is good starting point to learn more about starting a niche store online.
7. Blogging
Starting a blog is one way you can earn a decent side income, or even a nice living from the internet. Starting a blog is easier than most people think and can be a great way to establish yourself as an expert in your field. Though blogging isn't always a way to get rich, it can provide you with a way to make money through advertising, selling your own products, or using your site as a portfolio and way to market your services to new customers.
8. Social Media Consultant
By now, you probably know that companies want to know how to reach potential customers through Facebook, Twitter and other social media channels. A social media consultant can help companies navigate those waters, setting up profiles, making posts, and coaching them in best practices.
9. SEO Consultant
Search engines are a big part of how we find information online. Being able to show up high in a customer's search results is important to business owners, bloggers and others. There are things you can do to help you increase your search engine optimization, and a consultant can help. This group of entrepreneurs can give you ideas and direction for increasing traffic to a web site.
10. Online Teacher
My ex-husband taught online classes for one of Utah's major universities. Indeed, the Internet has given rise to a whole segment of people who make a career of teaching online—and not just for online universities. Many major universities are adding online classes, and they need teachers to run them. You can also tutor others online, and earn money that way.
11. Web Site Design and Development
You can also start a career as a web site designer and developer. Help others put together an attractive and user friendly web site, and develop it. You will need plenty of specific knowledge about design and development topics, but you can create a business out of providing these specialized services to those who need them.
Beware Multi-level Marketing Scams
The best thing I can do is recommend that you fully research any business opportunities before buying into anything. There are many scams out there, including multi-level marketing scams which sell the dream of owning a business, but often end up costing participants hundreds or even thousands of dollars to be a member.
A popular scam is money merge accounts, which sell expensive software to help people more quickly repay their mortgage (in most cases, these programs aren't good for the people they are marketed to).
Other Scams Abound
Multi-level Marketing scams aren't the only bad deals around. There are thousands of creeps out there trying to separate you from your money. In general, it is a good idea to avoid any advertisement which claims you can make "$$$$ dollars in X Days, Guaranteed!"
Most of those advertisements are scams selling expensive digital products and charging your credit card continuously. They can also be difficult to cancel, and you may be left with several hundred or thousands of dollars in charges on your credit cards, and nothing of value in return.
Give Yourself Time
One last note: Most home-based businesses take time before you can start generating sustainable income. I recommend having a fallback plan, or starting your business in the evenings and weekends until you can generate enough income to go full-time. In the meantime, I recommend looking into unemployment benefits, which are available to those who separate from the military.
Best of luck, and thanks for your service.
About Post Author