Eligible veterans and service members can use a Department of Veterans Affairs mortgage to finance up to 100% of the purchase price of a qualified property, up to VA-approved loan limits.
They can also finance the VA Funding Fee as part of the loan.
This means that veterans can purchase a home with no down payment. The zero-down payment loan is a unique benefit of VA mortgages.
However, to qualify for that financing, the property being purchased must meet VA property guidelines. The cast majority of properties will qualify, but there are a few exceptions.
VA Loan Eligible Property Types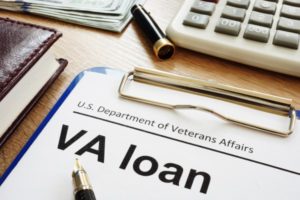 Here is the number one thing to remember when using a VA Mortgage: The purpose of VA Mortgages is to help eligible veterans purchase their primary residences.
VA Loans for Investment Properties
VA mortgage financing is available for one-to-four family, owner-occupied properties. The property may not be used solely as an investment property – one unit must be your primary residence.
VA New Construction
A house that was completed less than one year and never occupied is considered to be new construction.
To close on new construction, the home must be 100% complete, except for customer preference items, such as appliances, countertops and flooring.
A newly constructed home is eligible for a VA loan if it meets one of the following criteria:
The home is covered by a one-year VA builder's warranty
The home is enrolled in a U.S. Department of Housing and Urban Development-accepted 10-year insured protection plan
The veteran acted as the general contractor in the construction of the home and will be living in the home
There are special eligibility rules if the subject property is either proposed or under construction. The VA will require a property appraisal either before or during construction if both of the following conditions apply:
The appraisal will be based on proposed construction exhibits
The builder offers a one-year VA builder's warranty
VA Approved Condos
The VA must approve a condominium complex before you can use a VA loan to purchase a unit in that complex.
The VA maintains a list of approved condo complexes. If you do not find a condo complex on the list, you'll need to work with a VA-approved lender, and the complex will need to go through the VA approval process.
This includes reviewing the complex's organizational documents and bylaws; homeowner's association policies, budget and finances; parking availability and more.
VA Loans for Manufactured Homes
If the property you are purchasing is considered to be a manufactured home, it must be attached to a permanent foundation, and it must also be taxed as real estate. Any property taxed as a motor vehicle or similar classification will be ineligible for a VA mortgage.
In any case involving new construction, you may need to provide a certificate of occupancy, issued by the local authority.
VA Loans for Mobile Homes
Many people mistakenly believe the VA doesn't offer a loan guarantee on mobile homes. This is not true. However, the VA does require the home meet specific qualifications before they will guarantee the VA Loan.
All mobile homes must also meet minimum square footage requirements and have permanent eating, cooking, sleeping and sanitary facilities.
It can be difficult to find a lender willing to offer a mortgage on a mobile home. Mobile homes don't tend to appreciate as much in value and tend to have a shorter lifespan than modular homes and other traditional home types. The default rate is also higher on manufactured homes compared to other home types, including Veterans United, do offer loans on mobile homes under certain circumstances.
VA Loans for Modular Homes or Prefabricated Homes
Modular homes are built off-site and are then disassembled, transferred to the home location and rebuilt on-site. This is often a more efficient and economical way to build a home. Modular homes tend to be sturdier than mobile homes and often appreciate more over time. These homes are eligible for VA loans, and it is easier to find a lender that will back a home loan on a prefabricated house as opposed to a mobile home.
Like manufactured homes, modular homes must have a permanent foundation and must meet HUD guidelines.
VA Loan Minimum Property Requirements (MPRs)
The VA requires a prospective homebuyer to obtain a VA appraisal before they agree to guarantee the home loan.
VA appraisals protect all parties – the buyer, the lender and the VA.
For the most part, VA minimum property requirements are common sense. But there are some specific requirements regarding property value and safety that set VA-approved properties apart.
Minimum property requirements for VA loans include things like property accessibility, space requirements and proper function of mechanical systems.
Ineligible VA Properties
If any of the following conditions apply, a property is ineligible for VA financing:
Does not meet minimum property requirements (and cannot be made to comply): In most cases, this refers to matters of safety and livability and not to cosmetic issues. There may also be times when the property either has – or lacks – features that make it inconsistent with the general market area, such as excessive commercial use.
Located in a flood hazard area where flood insurance is not available: Regular homeowner's insurance policies don't insure against flooding. If you can't get flood insurance and your home is destroyed in a flood, you will have no financial recourse.
Located in the Coastal Barrier Resource System: These are ecologically sensitive areas that are ineligible for federal expenditures and financial assistance. Since the VA is a federal agency, it is unable to lend in those areas.
Proposed or new construction located in Airport Noise Zone Three (high noise): Severe noise could impair the marketability of the property, since very few people are willing to purchase such a home.
Located in unapproved condominium developments: This limitation applies to virtually all types of mortgages. A condominium project is thoroughly analyzed and can be disqualified for such issues as too many non-owner occupied units, an insufficient budget or significant uncompleted common elements, among others.
Co-operatives: Condominiums and co-operatives are often used interchangeably, but they're very different. With a condominium, you own the interior of the unit. With a co-op, you only own a share of the company that owns the entire building. That means that, legally, you don't own real estate. For that reason, many lenders, including the VA, shy away from co-operatives.
Unimproved land: You cannot use a VA loan for the purchase of land unless you also plan to immediately build a home on the property. The most common situation in which a veteran uses a VA loan to buy land is when it is used in conjunction with a new-construction VA loan.
Investment properties or vacation homes: VA loans are for use as a personal primary residence. You cannot use a VA loan to purchase an investment property purchase. So you can't use the VA loan to buy a home to rent out to someone else. You also cannot use it to buy a vacation home, summer home, beach house, lake house or second home.
Farmsteads: Again, this all comes down to intent. Many farmsteads have a home on the land. If you intend to live there, you can use the VA loan to buy a working farm. You cannot use the loan to buy a farm is you only plan to use it for the land value.
Get a Home Inspection With a VA Loan
Despite VA property requirements and the fact that the home will be looked over by an appraiser, consider getting a home inspection performed on the property.
A home inspection can cost anywhere from $200 to $500, but it's money well spent. After you close on the home and move in, any problems with the property will be your responsibility.
At a minimum, a home inspection represents a second pair of eyes. The appraiser will list anything that may be an obvious problem.
But a home inspector does a much closer inspection. Not only will they identify problems and potential problems, but they will also gauge the necessity of making those repairs and even the costs.
The VA doesn't require a home inspection, but getting one is a good way to protect yourself, your family and your investment in the home.

Equal Housing Opportunity. The Department of Veterans Affairs affirmatively administers the VA Home Loan Program by assuring that all Veterans are given an equal opportunity to buy homes with VA assistance. Federal law requires all VA Home Loan Program participants – builders, brokers, and lenders offering housing for sale with VA financing – must comply with Fair Housing Laws and may not discriminate based on the race, color, religion, sex, handicap, familial status, or national origin of the Veteran.
About Post Author