The popularity of VA telehealth services has skyrocketed in 2020 as a result of the Covid-19 pandemic, but the convenience and efficiency of seeing a doctor from home suggests that many medical appointments will remain virtual well into the future.
The Department of Veterans Affairs has, in many ways, been leading the way in telehealth development. As the nation's largest provider of telehealth services, the VA has been rapidly expanding its telehealth offerings and seeking to provide veterans and VA beneficiaries with the necessary technology to avail of virtual services. This article provides an overview of current VA telehealth services, as well as the technology required, services offered and how to get started.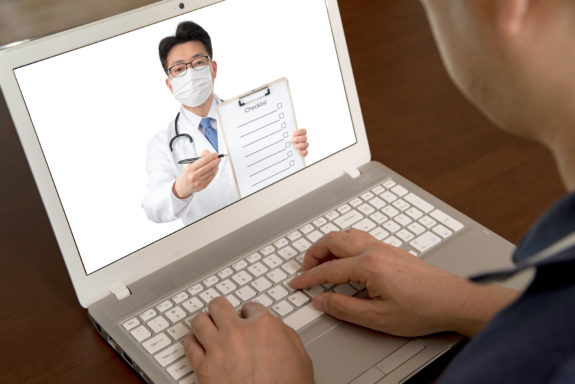 What Is Telehealth?
Simply put, "telehealth" is a health care delivery model that connects patients and providers via technology (such as smartphones, tablets or computers) as opposed to in-person visits. While VA telehealth visits have soared by over 1,000% (up to 25,000 sessions per day) due to the Covid-19 pandemic, the VA has actually relied on telehealth delivery methods for nearly a decade. The VA has made telehealth services more widely available than the related Tricare telehealth services for our active-duty counterparts.
The main benefits of telehealth are convenience and safety, since patients can conduct telehealth visits from the comfort of their own home. Beneficiaries aren't limited to visiting providers in their immediate vicinity, so telehealth has the added benefit of connecting patients with providers across the country and in different time zones.
An additional advantage of telehealth is that specific technologies are often used that can monitor and aggregate important health data, thereby making it easier for health care providers to keep track of their patients' overall health despite the distance.
A drawback, however, is that not all VA beneficiaries have equal access to telehealth technologies. Some, for instance, live in remote areas and lack internet access. Others lack the devices themselves that enable telehealth. Given the growing popularity of telehealth services, some recently proposed legislation calls for additional funding to purchase tablets, laptops and smartphones for VA beneficiaries in an effort to overcome any barriers to telehealth.
Who is Eligible for VA Telehealth Services?
According to the VA, any veteran who qualifies for VA care and lives in one of the 50 U.S. states or a U.S. territory is eligible to use VA telehealth.
What Types of VA Telehealth Services Are Available?
The most convenient (and most popular) type of telehealth service is conducted from the comfort of your own home. Using video platforms such as the VA Video Connect app (currently for Apple, Android or Windows devices,) VA beneficiaries are able to virtually meet with providers, and even specialists across the country.
Additionally, beneficiaries can request prescription refills or communicate with their health care providers through the secure messaging system available through My Healthevet, the VA's predominant telehealth platform, which allows patients to submit non-urgent health queries to their medical team. Responses are typically delivered within three days.
The My Healthevet platform also allows VA beneficiaries to track prescription delivery, create medication lists, request referrals, schedule or cancel appointments, view their medical history, access past records and join video visits.
Telehealth services are also available to beneficiaries at VA clinics and hospitals. This allows VA beneficiaries to have access to a whole network of providers beyond their local clinic or hospital staff. Using Store-and-Forward Telehealth, patients can have imaging or video data collected at a nearby clinic and then reviewed by providers at varying locations, thereby reducing wait times and commutes.
In addition to primary care visits and mental health appointments, specialty care is also available via telehealth, including (but not limited to):
Telecardiology
Teledentistry
Teledermatology
Tele-eye care
Telehematology
Telewound care
Telerehabilitation
How Do I Start the Process?
If you are already actively enrolled in VA health care, the first step in receiving telehealth services is to contact your VA provider to see if the care you require is suitable for telehealth.
After reaching out to your VA provider, make sure that you have the necessary technology to participate in telehealth services. In most cases, these devices include a smartphone, tablet or computer with video conferencing ability, plus an app or a mobile platform.
Before scheduling a telehealth appointment, check to make sure that you've installed any security updates and that your anti-virus software is up-to-date so that your medical data is protected. Then, depending on how your telehealth services will be delivered (for example, by video, phone or within an app or platform), download or register for the VA-approved platform.
Finally, you can schedule a telehealth appointment by calling your local VA provider or through the My Healthevet portal or VA Video Connect app.
What Technology Do I Need to Get Started?
Devices
A smartphone, tablet or computer is required for telehealth services. For VA beneficiaries who do not have a device, the VA can provide devices on loan, equipped with data plans. If your routine medical care requires peripheral devices, such as thermometers, blood oximeters or blood pressure monitors, the VA can lend these for use as well.
VA Telehealth Apps & Platforms
The free VA Video Connect app, which can be downloaded locally to your device, is primarily used for scheduling appointments and for connecting virtually with providers. While the app only scores a 3.7 out of 5 in the Apple App Store, there are enough recent positive reviews to indicate that the app is usually reliable and relatively user-friendly.
The other platform for telehealth services is My Healthevet, which is an online platform that allows VA beneficiaries to schedule and cancel appointments, request prescription refills and send secure messages to their providers. Despite a clunky interface, My Healthevet has received a 78% user approval rating.
How Secure is My Health Data?
Relaying medical information over a web-based app or video chat can raise some security alarms, but VA telehealth services follow the same HIPAA privacy protocol as in-office visits, meaning that only authorized providers have access to your medical data. Additionally, the programs used for telehealth visits are VA-approved and rely on both data encryption and secure connections to keep your information safe.
However, ensuring the privacy and safety of health data is also a patient responsibility. Before scheduling your first telehealth appointment, be sure to install any security updates on your personal devices, check to make sure the anti-virus software on your computer is up-to-date and only visit secure websites, denoted with an "https" URL prefix.
Where Can I Get Technical Help?
Visiting the doctor's office from the comfort of your couch may seem strange for some, and the VA has rolled out a telehealth hotline, as well as technical services to help VA beneficiaries overcome any technology-related hurdles. For technical assistance with the VA Video Connect, beneficiaries can call the National Telehealth Technology Help Desk at 1-866-651-3180 or 703-234-4483, Monday through Saturday from 7 a.m. to 11 p.m. EST. Or, beneficiaries can visit the Telehealth Help Center online, accessible 24/7.
About Post Author