Everyone knows that tax-advantaged accounts can provide benefits that you don't get from taxable accounts.  In the military, the Thrift Savings Plan is a great first step towards saving for retirement.  Within the Thrift Savings Plan, you can even choose specific asset allocations designed for when you need to start using the money by using their Lifecycle Funds.
However, as you depart the military, you should learn more about the non-TSP options that are available to you.  Regardless of whether you're eligible for a workplace-retirement plan, such as a 401k or civilian TSP, you can contribute to either a Traditional IRA or Roth Individual Retirement Account (IRA).  There are several things you should consider when you're deciding between a traditional IRA or a Roth IRA.  While there are compelling reasons to choose a Roth IRA, below are 5 reasons you would want to choose a traditional IRA over a Roth IRA.
Reason #1:  You are better off taking the immediate tax savings.
While it's hard for a lot of people to believe, there are many military families who make a lot more money after separation or retirement than they did during their time in uniform.  If you're looking for every tax break you can get, a traditional IRA might be a place to start.  Below are a couple of examples of people who might fit this category:
People who were underpaid in the military versus their civilian counterparts. While these folks may receive professional pay, incentives, and retention bonuses, they might find that within a few years of getting out, they're significantly outperforming their previous salary.
Dual-income couples, particularly if their spouses have lucrative careers.
People with a successful 'side-gig,' independent of their military salary.  I've met several people like this, and all of them are at the point where a traditional IRA makes sense.
Additionally, there are many servicemembers whose spouses have earned income.  When they're able to settle down, the new stability in that 'second job' might lead to significant income growth in a short time.
Reason #2:  You think you'll be in a lower tax bracket in retirement.
While the tax-free benefits of Roth IRA withdrawals are very appealing, there's a lot to be said for saving today's money on taxes.  Every dollar that you save today is a dollar that you can put to work for decades.  It's even more frustrating if you are in a high tax bracket and paying state taxes.
For example, California has a 13.3% tax rate.  If you're in the highest tax bracket (currently 39.6%), you could be paying a total of 52.9% in taxes.  In other words, if you wanted to set aside $1,000 in your Roth IRA, you'd have to earn $1,890.36 to do so.  Since this income bracket is above the Roth IRA limits, you'd have to contribute to a non-deductible IRA first, then convert to a Roth.  However, it illustrates the point that getting your money tax free at retirement is poor consolation for the fact that you'd have to almost double it just to get back to your starting point.
If you think that you might be in a higher tax bracket now than in retirement (generally, above the 15% bracket for most filers), you might want to consider the tax benefit of putting your money in a traditional IRA.
Reason #3:  You don't have an employer plan, and you make too much money for a Roth IRA.
Your modified adjusted gross income (also known as modified AGI or MAGI) determines whether you're eligible to contribute to a Roth plan.  Below are the IRS' Roth IRA contribution limits for 2016.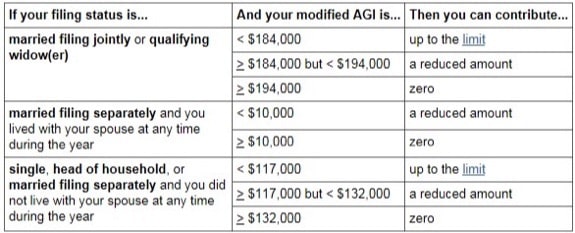 If your modified AGI is above the contribution limits, you have two options:
Contribute to a traditional IRA
Contribute to a non-deductible IRA, then convert that contribution to a Roth IRA (also known as a back-door Roth IRA)
If you really want a Roth IRA, you can do so, with a little extra paperwork.  However, this would also be an opportunity to evaluate whether a traditional IRA is a good fit for you right now.
Reason #4:  You plan to contribute to charity in your retirement years.
A top concern for traditional IRA owners is that they must start taking required minimum distributions (RMDs) beginning at age 70 ½.  For people who live within their means, adding the additional RMD income presents a tax challenge.  However, under the IRS' qualified charitable distributions rule, you're able to directly contribute up to $100,000 from your traditional IRA to a qualified charity.  This is known as a qualified charitable distribution (QCD).  Your contribution must abide by the same rules as other charitable contributions.  Also, the IRA's trustee must make the QCD directly to the charity—you cannot withdraw the money then give it to the charity.  Finally, you cannot deduct the QCD on your tax return…you simply exclude it from your income in the first place.
If you are charitably inclined, QCDs are a great way to contribute to charity without increasing your tax liability.  In fact, this is one of the rare instances that you're able to take the tax deduction on the money you put into the account, then direct the money to the charity you want without having to pay taxes!
Reason #5:  You aren't certain where the tax laws will be when you're retirement eligible.
One of the biggest arguments against Roth IRAs is the uncertainty that Roth IRAs will continue to exist according to today's rules.  Since the Taxpayer Relief Act of 1997, over $500 billion have been invested in Roth accounts.  While this is but a fraction of the $24 trillion held in retirement accounts, the proportional growth in tax-free Roth accounts represents a threat to the US Government's ability to bring in revenue.
As Roth accounts grow, more people in the government will have the incentive to look peeling back their benefits in the interest of increasing revenue.  Don't think that will happen?  It already has.  The President's 2016 budget proposal included a provision that effectively dismantled back-door Roth IRAs.  While that proposal didn't pass, it did set a precedent for future proposals to chip away at Roth IRA benefits until nothing is left.
The older you are, the less of a concern this might be.  If you're in your 50s, you might see some changes, but most of your contribution years are behind you.  If you're in your 20s, you might want to consider that you will have gone through as many as 20 different Congresses (one election every 2 years) until you're eligible to withdraw from your IRA.  Not only that, but you still have decades of contributions (and potential tax deductions) ahead of you.  If you're not confident that tomorrow's promise holds the same benefits as today's, you might consider contributing to a Traditional IRA and taking the current tax savings.
Choosing between a traditional and a Roth IRA is a very personal decision.  Quite frankly, it's one you shouldn't think of making unless you've maxed out your TSP (either traditional or Roth), or are looking at leaving the military.  If you're not comfortable that you're taking the right steps, you should definitely consult a fee-only financial planner, or consult your installation's financial counselors.