Credit scores are an important part of your financial health as they are used to determine your creditworthiness, buy a house, sign a cell phone contract, or even get a job or security clearance. Because your credit score is so important, many companies offer consumers a "free credit score". Unfortunately, some of these free credit score offers turn out to be a bait and switch offer. The problem was so bad that the Federal Trade Commission had to step in a few years ago and create laws dictating how these offers could be advertised.
Free credit scores still exist, but many of them require you to sign up for a free trial offer and then cancel within a certain time period to avoid a fee. Most of these offers require you to give your credit card to the company, then they will automatically charge your card after the trial period ends.
But there are a few companies out there that truly offer a free credit score with no credit card or other payment required. I'm going to introduce you to two of those options today, but first, a little bit of background information on credit scores and credit reports.
Many people confuse credit reports and scores
Credit reports are simply a record of your credit history, as listed by the credit bureaus. They track the credit history for just about everyone. This record is then used to compile your credit score (your score is just a numerical representation of your record, based on a secret formula the credit bureaus use to determine your creditworthiness).
You can always get one free credit report per year, you can't always get a free credit score. The government mandates that the credit bureaus provide a free credit report to each person once per year so they can verify the information in their credit profile is accurate. They do not, however, require the bureaus to give you a free credit score – though the credit bureaus will happily sell you one. To get your free credit report, simply go to annualcreditreport.com. You can get one free credit report from each bureau per year.
Why it's Good to Track your Credit Score
Your credit score is a good representation of your creditworthiness, and it's the primary indicator lenders use when determining whether or not to approve a loan application. Credit scores are also used by landlords, cell phone companies, utility companies, employers, and even during a security clearance screening. If you don't plan on using credit any time soon, you may not need to know or track your credit score. But if you are planning on applying for a loan in the near future, or are working to improve your credit score, then knowing where you stand can be helpful. If you plan on tracking your score on a monthly basis, then using one of the free services below can save you a lot of money over the course of the year.
How to Get Your Credit Score for Free
As I mentioned in the previous paragraph, the credit bureaus are more than happy to charge you for your credit score. But you don't need to pay if you know where to look. There are two major online companies right now which offer consumers a free credit score based on the information found in their credit reports. To be clear, these are not the FICO credit score, which is the industry standard. But the scores are based on the same data and should be a good representation of your FICO score. For most people, these scores will be good enough to give them a fairly accurate idea of their score and any positive or negative trends over time. In other words, these scores are perfect if you aren't planning a major purchase in the near future.
Free Credit Score from Credit Karma
Credit Karma gives consumers a free credit score based on the TransRisk Credit Score by TransUnion, one of the three main credit bureaus.
They also offer three additional tools to help you better understand your credit score: Credit Compare, which allows you to compare your score to others, Credit Simulator, which allows you to see how your score may change with certain variables, and a free credit monitoring service, which helps you track changes as they occur and help monitor for identity theft.
To get your score from Credit Karma, click this link or the banner below:
Free Credit Score from Credit Sesame
I want to introduce you to Credit Sesame. They offer a free credit score to all consumers who sign up for their service and do not require a credit card or other fee. The free credit score is the Experian National Equivalency Score, which based on data from the consumer's Experian credit report. It is considered to be very close to the more popular FICO credit score. To get your score from Credit Sesame, click this link or the banner below:
Two Notes:
I have an account with Credit Karma and have found the scores and information to be very accurate based on my credit history and usage.
These companies are able to offer free credit scores because they offer products and services which may be beneficial to you.
For example, they may offer you a loan or credit card targeted toward your demographic and credit profile. Some of these offers are actually good and can help you improve your credit score, or earn better perks, such as more cash back, better rewards, etc. You are under no obligation to use any of their recommended services. You can simply create an account and check your score with no other obligation.
Experian
Experian offers customers a free copy of their FICOScore8. They also offer credit alerts and basic monitoring. If you have the need, you can also upgrade your account for daily credit scores, proactive monitoring, and much more. You can learn more about this in this article that covers Experian free credit scores.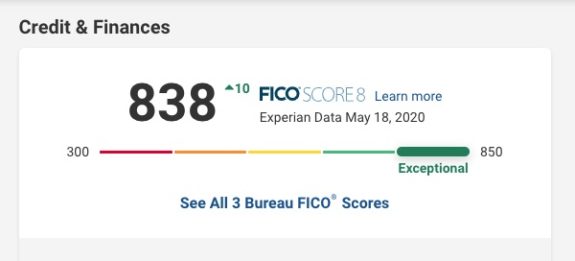 Quizzle – Free VantageScore
Quizzle is a free service that offers members a free VantageScore® 3.0 credit score and a free Equifax credit report every six months. Their tool also offers members a credit analysis tool to help them learn which actions to take to improve their credit score. You can also use their credit comparison tool to analyze your previous credit scores to understand why your score has changed. To get your score from Quizzle, visit the Quizzle website.