Credit score advertisements are plentiful in the media, from radio to television. The companies may be trying to sell you a product, but they are moving in the right direction. A good credit score is very important. It is a valuable financial asset, which is why it is important to take care of it and try to maintain a high credit score.
What Your Credit Score is
Your credit score represents your financial reputation. It is a reflection of your payment history, how much you owe (as well as how much credit you have available), the length of your credit history, types of credit you hold and any recently opened credit lines. You may hear it referred to as a FICO score, but this is only one type of credit score.
The exact formula for calculating your credit score is a secret. This is approximately how FICO determines your credit score: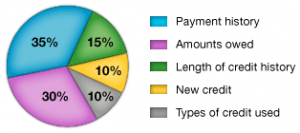 Why Your Credit Score is Valuable
Borrowing money: Banks only lend money to people whom they believe will repay them. A poor or non-existent credit history can prevent you from getting a loan. If you do get a loan, you will represent a higher risk, so your interest rates can be higher than if you had good credit.
Note: The 2008-2009 financial crisis caused banks to restrict lending, making a high credit score more valuable.
Interest rates: Banks charge interest rates based on several factors — namely, how much it costs the bank to borrow money and how much of a risk they are taking when they lend money out. The lower your credit score, the higher your risk, and the higher the interest rates you pay. A high credit score can result in lower interest payments, which can save thousands of dollars over the course of a loan.
Insurance rates: Insurance companies run a credit check when giving quotes as there can be a correlation between credit worthiness and responsibility. A long credit history and high credit score can result in lower insurance premiums.
Employment: Background checks are becoming more common as a pre-screening tool for job applicants. Hiring companies want assuarance that prospective employees are a good investment for their salaries and training dollars. Your credit score is usually part of that background check, especially if your job deals with sensitive data.
Security clearances: Military and government jobs require a security clearance. Part of the security check is your credit score. Your inability to get a security clearance due to debt can ruin your military career.
Renting: Landlords want one thing: to make money. The house or apartment they rent is an investment, and they want to ensure their tenants are going to pay. A credit check is often part of the pre-screening process they use when renters apply for their property. Landlords might not rent an apartment or house to you if you have a bad or non-existent credit history.
Cell phones: Credit history even comes into account when applying for a cellphone. Cellphone companies want to ensure they are going to get their money on time every month, and if you have shown a history of not making payments, cellphone companies might not sell you a phone plan.
Strong Credit History is a Valuable Financial Asset
Having an established credit history and a credit score is essential. Lack of good credit history can put you at a financial, professional and social disadvantage. Your credit score is your responsibility. If you do not have a credit history, you can take out a small loan to prove you can make payments. If you have a poor credit history, you can work on improving your credit score.
About Post Author