Hiring Our Heroes (HOH), a program of the U.S. Chamber Foundation, digs into the veteran, service member, and military spouse career space, going deeper than just connecting the community to a paycheck.
Their platform exists to advocate, equip, connect and support through its various arms. By offering everything from resume tools, fellowships, hiring events and major corporate partnerships, HOH holds the potential to become a must-stop along the journey to a new career move.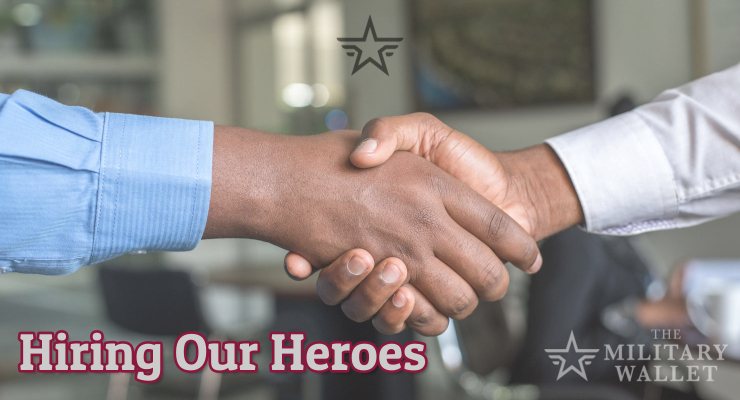 Hiring Our Heroes for Transitioning Service Members
One of the first tasks anyone considering a new career does is to update their resume. HOH offers the Personal Branding Resume Engine, an interactive platform that translates your military record (and jargon) into a strong resume civilians can understand and appreciate.
Effective resumes provide more than a list of dry accomplishments, utilizing word choice to convey individuality. HOH urges servicemembers to show up to military separation prepared, long before the mandatory Transition Assistance Program (TAP) classes begin.
Once the formal transition process has started, service members may be eligible for several fellowship offerings. These fellowships have the potential to build new networks along with an insightful perspective to the professional or technical civilian world they wish to join.
HOH for Veterans
Offerings for veterans through HOH are extremely diverse. They include career summits, a complete VET Roadmap, hiring fairs and various innovative fellowship programs similar to what is offered to those leaving active duty.
The VET Roadmap handles employment and career navigation with military precision through a three-step personalized sequence.
  Customize your roadmap
  Search resources
HOH doesn't simply tell you to seek resources, they've brought the best, top and most relevant options to one easy to use landing page. A common pain point across all service branches is sorting through the overwhelming amount of resources, benefits and programs offered to the community. Stepping foot into new territory is much easier when you have a clear foothold on the foundational support system available to you.
Research is made easy with hiring resources like Soldier for Life, VA benefits, and Transition Assistance Program (TAP) pinned and linked on the step two page. Utilizing this powerful tool could save you countless hours of browsing or help current working veterans be aware of options they might have overlooked.
HOH for Military Spouses
Careers and military spouses have not always enjoyed a complementary relationship due to the frequent moves required with the military lifestyle. Programs offered at HOH aim to disrupt the disconnect by helping spouses confidently explore everything from entrepreneurship to federal employment and many other options.
#HOHMilspouse takes advantage of several social media platforms to push relevant career information, events and spouse-focused talks, making it easier to connect to employment opportunities.
HOH cites that "Around 80% of jobs are filled by referral, putting military spouses at a disadvantage each time they move and need to build their career network in a new loccation." The Military Spouse Professional Network (MSPN) provides international professional network access in each local area, which gives career nomads quite the leg up.
In-person and virtual Amplify events allow for an extra networking bump for participants. These events partner spouses with career coaches and provide opportunities for interactive interview practice and mock salary negotiations.
Employers Welcome
Both private and public sector businesses can join HOH's advisory councils to gain a better understanding of how to not only hire, but support the military spouse and veteran community. Knowledge is perhaps the best tool at ensuring our unique niche population comes into their own within new workplaces.
Friends of Hiring Our Heroes is another avenue for organizations who align with HOH initiatives and wish to actively help recruit and hire veterans and military spouses. For job seekers, going into an interview or position knowing your company is actively involved in your success as a military member is a powerful layer of comfort.
About Post Author