Table of Contents
The United States Department of Veterans Affairs estimates that one in five former soldiers suffer from combat-related Post-Traumatic Stress Disorder. Here's what you need to know if you're considering filing a claim with the VA.
A wide variety of benefits are available for those diagnosed with the condition, however, the claims process itself can be complicated and stressful. This step-by-step guide will help you get to grips with the benefits system.
To complete the process you will need to think about your experiences of combat trauma, and it is likely you will need to document every incident you feel may have contributed to your current state of mind. You are strongly encouraged to submit as much evidence as possible to help with your claim.
How Will I Know If I Have PTSD?
Veterans often find it a struggle to fit back into society, but according to the National Center for PTSD, you should seek help if your symptoms last longer than 3 months, are causing you increased stress, or seem to be disrupting your daily life. If you witnessed violence, carnage, and death during your time in the military then you may need to know how to deal with PTSD.
Common symptoms of military PTSD include: reliving the event through nightmares, flashbacks, or triggers, avoiding situations that are reminiscent of the event, becoming negative about other people and the world around you, and becoming angry or irritable very quickly.
The United States Department of Veteran Affairs will provide benefits to those who developed PTSD due to their military service, so if you feel you might be suffering from the disorder make sure you seek professional help from a doctor or counselor as soon as possible. Take with you a list of your symptoms to allow for a more in-depth diagnosis and be willing to discuss effective treatment options.
Qualifying for Disability Benefits Due to PTSD
You can qualify for disability benefits through the VA and Social Security Administration (SSA). The requirements and criteria are a bit different for each, but it's possible in some cases to collect benefits from both agencies.
If your symptoms of PTSD are so severe that you are unable to work, the SSA will consider you disabled and you will be able to get disability with PTSD. For your PTSD to be considered a disability by the SSA, the first thing that you need to do is to meet the medical requirements outlined in the SSA's Blue Book. The listing that PTSD can be considered a disability for is under Trauma- and stressor-related disorders, which is in Listing 12.15 in the Blue Book.
The key to getting VA PTSD disability benefits is to thoroughly document your claim as outlined below, and then be patient while the process takes place.
How Do You Prove You Have PTSD?
The first step is to make sure you show symptoms of PTSD. PTSD symptoms can begin within three months of a traumatic event but sometimes the reaction can be delayed for much longer periods.
Symptoms can come and go and are often more likely triggered during stressful times which can set off a memory of the traumatic event.
Symptoms to look for include:
Flashbacks, or reliving the traumatic event
Upsetting dreams about the traumatic event
Trying to avoid thinking or talking about the traumatic event
Feeling emotionally numb
Avoiding activities
Feeling hopeless
Having trouble with your memory
Difficulty concentrating
Inability or difficulty in maintaining close relationships
Irritability or anger
Overwhelming feelings of guilt or shame
Self-destructive behavior
Difficulty sleeping
Being easily startled or frightened
Visual or auditory hallucinations
If you check the boxes for one or more of these symptoms, you can take appropriate steps to file a disability claim. Understand that the documentation required to successfully process your claim can be extensive and that the review process will take several months.
You'll need to provide medical records, personnel records, submit to a Compensation and Pension exam, and be prepared to submit additional information if requested. If a service member has experienced a traumatic event that may have caused immediate injury or that service member sought out medical or mental health treatment for PTSD, it would be present in their medical records.
A medical record should include at least one detailed description of the anxiety reaction and provide details the nature, duration, and frequency of the anxiety reaction and the effect(s) the anxiety reaction has on an ability to function.
Your claim will be reviewed and you will be assigned a disability rating expressed in a percentage, or your claim may be deferred or denied.
The VA bases their PTSD diagnosis definitions on DSM-V Criteria, created by mental health professionals.
What Am I Entitled To?
Benefits are provided to those who have developed PTSD during, or as a result of, their active military service and can include: financial support with tax-free monetary payments, free or low-cost health care, rehabilitation options, employment assistance, housing grants, living support, and more.
For PTSD you will be awarded Disability Compensation, and like all benefits, the amount is based on the severity of the condition. Dependents are also considered as part of your claim, along with any payments you currently receive.
You'll begin by completing an application for the Veterans Benefits Administration department who will examine both the medical and psychological evidence of your condition.
How Do I Make a PTSD Claim with the VA?
The VA has created an 8-step guide for claiming PTSD compensation and full details of this process can be found on the official United States Department of Veteran Affairs website. Getting free help with your claim from a specially trained Veterans Service Officer will also give you a better understanding of the benefit laws and procedures.
Step 1: Claim Received – You can submit your claim in person, online, or via the postal service.
Step 2: Under Review – Your claim will be assigned to a Veterans Service Representative to determine if additional evidence is needed.
Step 3: Gathering of Evidence – They will obtain supporting evidence from the available resources.
Step 4: Review of Evidence – The VSR will assess if more evidence is needed.
Step 5: Preparation for Decision – They will begin to recommend a decision.
Step 6: Pending Decision Approval – A final award approval is made by a supervisor.
Step 7: Preparation for Notification – A claim decision pack will be prepared ready to be sent to you.
Step 8: Complete – You will receive a claims decision packet outlining your compensation attributes.
Completing a claim may be a slow and lengthy procedure, and you must allow for requests for additional evidence as your claim is being processed. Make sure you fully track the progress of your claim, apply to any correspondence you receive and keep copies of all your paperwork.
How Long Do VA PTSD Claims Take?
The VA will review all evidence in your file and assign you a disability rating. You'll be sent a decision notice shortly thereafter. Each claim is different, but on average, expect this process to take 3-4 months.
There are several factors that can impact the amount of time it takes for the VA to reach a decision and the amount of time it may take for you to hear back. Some of those factors include:
The number of conditions you are filing for.
How complete your military medical records are.
How long it takes to assess the results of your Compensation & Pension exam.
Whether the VA runs into any obstacles when processing your claim which may lead to your claim being deferred. In some cases, those obstacles can result in delays of between three months and as long as two years.
If your claim involves more than one disability, the VA will take more time processing your medical records to determine the most appropriate rating and to ensure you'Important Tips for Your VA PTSD Claimre not "pyramiding."
A deferred claim means the VA needs more information to make an informed decision regarding your disability status. This may include military medical records, personnel records, information from your personal doctor, or other documentation.
The VA will notify you if your claim has been deferred but you can also check the status of your claim while you're waiting for a decision.
Before a Veteran can receive a disability rating, they first need to undergo the VA's Compensation & Pension (C&P) exam. The C&P exam assesses a veteran's condition, and is used to help the VA determine whether a veteran can qualify for disability benefits.
Be sure to schedule your C&P exam after you've filed a claim for disability benefits. The sooner you go to your exam, the sooner you can move forward in the decision-making process.
Important Tips for Your VA PTSD Claim
Don't take bad advice from well-intentioned friends or family. Seek out experts and get the best possible professional advice you can.
Reach out to people you served with because they may be able to better support your claim. Your best bet is to ensure your PTSD Stressor Event(s) can be verified by at least one other firsthand witness.
Obtain statements from them to support your other documentation.
Fill out your application correctly.
Be patient throughout the VA process. Accept that as urgent as your circumstances might be, processing simply takes time to complete.
Use medical records and reports. The more information you supply, the better you can support your claim and avoid delays.
All VA PTSD claims depend upon the Frequency, Severity, and Duration of your mental health symptoms over time, and your current level of Occupational and Social Impairment. You must explain how your PTSD is negatively affecting your work, life, relationships, and social functioning.
Consider writing a strong personal statement in support of a claim on the VA Form 21-4138.
If you received a dishonorable discharge, your PTSD claim will be denied.
If you believe the VA wrongly denied your PTSD claim, you can file a PTSD VA disability appeal. You have one year to start your appeal.
Your PTSD stressor did not have to happen in a foreign country or in a war zone. PTSD can affect veterans who only served stateside as well.
The VA will give you a disability rating based upon the severity of your PTSD. If you are considered service-connected, you will receive a VA disability PTSD rating of 0%, 10%, 30%, 50%, 70%, or 100%. Your PTSD must be severe enough to warrant a 100% rating but many vets do obtain this level for PTSD.
Veterans that can't work from PTSD may be eligible for both Individual Unemployability and Social Security Disability. Both benefits are completely separate from each other. Each has different eligibility guidelines, so it is possible to be approved for one benefit and denied the other benefit.
Related: Learn how VA disability ratings are calculated.
What Extra Help Can I Get with My Claim?
There are many Veterans Service Organizations that offer free benefits claims assistance, such as the DAV, AMVETS, American Legion, VFW, and more. Many of these organizations helpful advice about PTSD and how to claim compensation.
Filling out a worksheet created by the PTSD Help Network will help you massively with Step 1 of the claims procedure
The PEB Forum is a great online resource.
If your claim is denied outright, or if you feel the disability rating you have been awarded is not correct, you can appeal.
Remember, doing nothing or hoping the symptoms will simply go away will not heal PTSD. Without the right help, it can have a devastating effect on your life.
If you feel you are displaying the symptoms of the condition take control by discussing it with your friends and family, visiting your physician, and seeking the correct benefit options from the VA.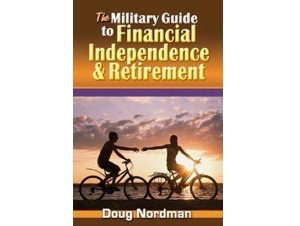 View on Amazon
Military Guide to Financial Independence
This book provides servicemembers, veterans, and their families with a critical roadmap for becoming financially independent. Topics include:
Military pension
TSP
Tricare Health System
& More
About Post Author