Many people think of Social Security benefits as something you can receive once you reach retirement age. But there are actually several variations of Social Security benefits, including two versions of disability insurance. The first, Social Security Disability Insurance (SSDI), pays disability benefits to people who have paid into the Social Security system for a required number of years, and in some cases, it may pay benefits for select family members. The second, Supplemental Security Income (SSI), pays disability benefits based on financial need.
If a disability has impaired your health to the point where you are not able to engage in gainful employment due to a medical or physical impairment for at least a period of 12 months, you may be eligible to receive Social Security Disability Insurance (SSDI). Not everyone who feels they are entitled to receive Social Security benefits for a disability will meet the eligibility terms but it is important to understand how these benefits work should something happen.
Eligibility for Disability Benefits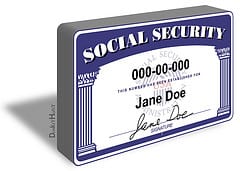 If you have worked for at least 5 of the last 10 years at a job that is covered under the Social Security Act, you are likely eligible for benefits from Social Security if you become disabled. The test for eligibility is not a measure of when you can go back to a job or whether you've been able to find a new job, the only concern is if you are capable of doing a job that is typically open in the average workplace.
In order to apply and be accepted for receiving benefits, you must have a licensed medical provider offer proof of your disability. In situations where a diagnosis is difficult to prove through objective testing, it may be necessary to employ the help of an attorney to secure your benefits eligibility.
Related: See how Military Service Affects Social Security Benefits.
How to Make a Claim for Benefits
Any individual can file for Social Security disability benefits of their own accord. Statistically, applicants who are aided or represented by legal help may secure their benefits much faster. The process for claiming benefits can be confusing and is typically a rather long process.
You can apply either online through the SSA.gov website or by calling toll free at 800-772-1213 to make an appointment request with your local Social Security office. Claims can also be taken over the phone. Typically, it takes an hour or more to complete the application process.
You will need to provide the following data to the Social Security representative:
Your Social Security number
Your birth certificate
Names, addresses and phone numbers of the doctors, caseworkers, hospitals and clinics where you sought treatment and dates of your visits
Names and dosage of all the medications you take
Medical records from your doctors, therapists, hospitals, clinics and caseworkers that you have on hand
Laboratory and test results pertaining to your disability
A summary of where you worked and the kind of work you did
A copy of your most recent W-2 Form (or, if you are self-employed, your federal tax return for the past year
You will want to file for benefits as soon as you know you are disabled. The processing time for most benefit claimants is three to five months or longer.
Related: Social Security Benefits for Wounded Warriors (how servicemembers can receive Social Security disability Benefits while on active duty)
How Much Will You Receive?
The amount of benefits you will be eligible to receive is based on the average earnings of your lifetime. You should receive a statement of Social Security Benefit amount each year that provides an estimate of how much you would get if you become disabled. The statement also contains information about what family members may be eligible to receive should you become disabled.
Photo credit: DonkeyHotey