For military parents, researching and paying for child care is one of the most frustrating parts of moving to a new location. And unless you qualify for a high priority category, you may not get a spot with a Child Development Center (CDC), forcing you to find civilian care. Thankfully, the Department of Defense has made paying for alternative coverage easier by offering Military Child Care Fee Assistance Programs.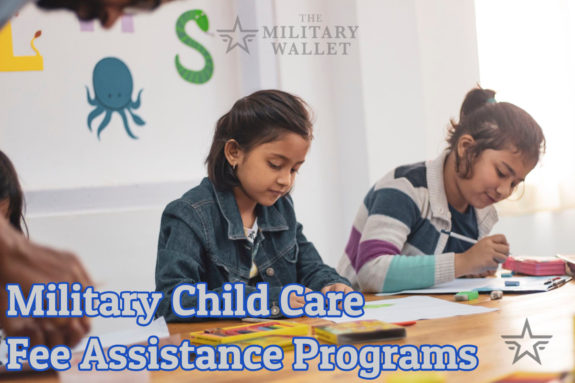 What Are Military Child Care Fee Assistance Programs? And Why Are They Needed?
As a result of the COVID-19 pandemic, many military-provided child care options are limited. However, the military child care system has been strained for years with thousands waiting for too-few child care spots. In order to correct this gap in care, legislators proposed program improvements that will go into effect on September 1, 2020 (postponed from June 1). Changes will give a higher priority for Coast Guard families and the ability for Centers to disenroll a student should someone with a higher priority need immediate placement.
For those who can not avail themselves of on-installation child care, Military Child Care Fee Assistance Programs are there to help. Child care subsidies help keep rates at CDCs low for families. However, because installation facilities are limited and expensive to operate, these subsidies are also available to families who receive eligible civilian care. Previously paperwork was funneled through one's service branch and was difficult to manage. This online service is provided through Child Care Aware® of America (CCAoA). Once alternate care has been secured and fee assistance approved, CCAoA pays the provider directly.
What Will You Have to Pay?
Subsidies are based on the cost of local child care and fluctuate based upon servicemember's rank and spousal employment status. According to CCAoA, "fee assistance is determined by calculating the difference between the community child care provider's monthly fee, which shall not exceed the program's predetermined provider cap for the family's locality and type of care, and the DoD parent fee for similar child care services based on locality and income category."
The Navy, Air Force, and Marines have the same coverage and have a provider rate cap of up to $1,100 per month and up to $1,300 in high-cost areas.
The Army does things differently and covers up to $1,500 per month. Parents will be responsible to pay for their branch's installation rate and anything over the provider rate cap.
So for instance, if a Navy dual-income family making $90,000 (category IV) annually in a high-cost area would pay the following:
Base CDC Full-time Rate: $632
Off-Base Civilian Child Care: $1,450
Subsidized Amount: $668
Family Pays: $632 + $150 = $782 (total)
What Care Is Eligible?
Active duty military members who serve in the Army, Air Force, Navy, and Marine Corps are eligible to apply for Military Child Care Fee Assistance Programs. Coast Guard families will apply through a Navy program (link below). But it is important to note that not all providers are covered. Civilian care must be accredited and each branch has different accreditation criteria. You can search for accredited providers through the following tool.
While the Air Force, Navy, and Marine Corps program offers both full and part-time coverage, the Army Child Care Fee Assistance Program does not have a part-time option. Non-school age children must be enrolled in at least 16 hours of care per week. School-age children must be enrolled in a minimum of six hours of care per week during the school year and a minimum of 16 hours of care per week during summer break.
It is also important to note that this program is not an entitlement program and therefore is contingent upon receiving annual appropriations. When funding is exhausted often the individual service branches go to a waitlist status.
How to Apply for Military Child Care Fee Assistance Programs
Getting these subsidies is not as simple as asking and filling out paperwork, although that is part of the process. You first have to be denied a spot at your local military installation. Here is an overview of what to expect should there be a waitlist at your local military installation's CDC:
Determine eligibility (Active duty, Reserves, National Guard, DoD civilian, etc.)
Register with your branch's child care provider's online service (below)
Sign up for military-provided child care waitlist at your local installation
Collect required documents*
Sign up for CCAoA's branch-specific application
Each service branch offers specific guidance:
Required Documents*
Each branch has detailed submission requirements, but in general, you can expect to need access to the following documents:
Leave and Earning Statement (LES)
Orders/SF-50/DA3434
Spouse pay stubs/school schedule
Self-certification form
Statement of Non-Availability from military installation CDC
Provider application documents
For those who have already secured care, this is a great option and is worth applying for this benefit. However, because funding is not secure and the benefit is not something you can plan on it is essential to know all your options.
For additional child care resources, childcare.gov has state-specific resources that include overall COVID-19 closure information and resources to find care. Additionally, the DoD has recently released a partnership with SitterCity, a website similar to Care.com that links military families with vetted providers. To sign up for this free service visit Military OneSource.
About Post Author