PCS (Permanent Change of Station) moves require a lot of military families. The last thing you need to worry about is going over on your weight allowance. As the Department of Defense continues to tighten its budget, it's important that you understand your weight allowances so you don't end up paying out of pocket costs.
When you choose to have the military transport your household goods (HHG), a weight allowance based on the servicemember's rank and dependency status is determined. Weight allowances apply to all branches of the military. Movers are paid based on the predetermined weight that's authorized.
When you go over on your allowed weight, you're responsible for paying for the difference. What that cost will be for you varies depending on where you're located and where you're heading. Overweight charges can add up, so it's crucial you use the PCS moving system to your advantage. This way, you avoid paying out of pocket costs unnecessarily.
Let's take a look at your different PCS weight allowances based on your rank, the types of goods you are shipping, and whether or not you have dependents.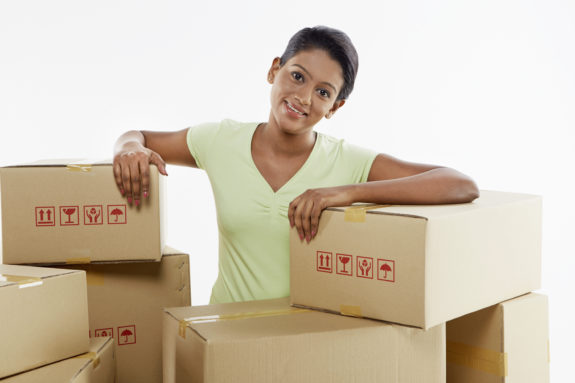 PCS Weight Allowances By Rank
Moving allowances are not only based on rank and dependents, but also particular circumstances. OCONUS moves, military separation (ETS), and retirement (RET) moves all have their specific guidelines.
If you're not sure about an aspect of your PCS, it's a good idea to reach out to the Joint Travel Regulation (JTR) in addition to checking with your branch of service for supplemental regulations. Your local personal property office (PPO) can always answer questions and offer advice.
GRADE
*Note 1 / Note 3
Permanent of Station (PCS) Without Dependents
Permanent Change of Station (PCS) With Dependents
*Note 2
O-6 through O-10
18,000
18,000
O-5/W-5
16,000
17,500
O-4/W-4
14,000
17,000
O-3/W-3
13,000
14,500
O-2/W-2
12,500
13,500
O-1/W-1/Service Academy Graduates
10,000
12,000
E-9
13,000 *Note 4
15,000 *Note 4
E-8
12,000
14,000
E-7
11,000
13,000
E-6
8,000
11,000
E-5
7,000
9,000
E-4
7,000
8,000
E-3 and Below
5,000
8,000
Aviation Cadets
7,000
8,000
Service Academy Cadets/Midshipmen
350 *TDY Weight Allowance
Footnotes:
NOTE 1: Includes a Uniformed Service regular and Reserve Component member, and an officer holding a temporary commission in the US Army/Air Force.
NOTE 2: For this table, a member "with dependents" is a member who has a dependent eligible to travel at Government expense incident to the member's PCS. Actual dependent travel has no bearing. Incident to a member's first PCS after:
The death(s) of all of the member's dependent(s), or
A divorce that leaves the member with no dependent(s) eligible to travel at Government expense, the member has the weight allowance of a member "with dependents"
NOTE 3: A member appointed from an:
Enlisted/warrant officer grade to a commissioned officer grade, or
Enlisted grade to a warrant officer grade or rating is authorized the grade's weight allowance:
a. Held on the member's PCS authorization/order effective date used for HHG transportation, or
b. From which an appointment was accepted, whichever is greater.
Upon reversion, the member is authorized the military weight allowance of the grade held:
a. On the member's PCS authorization/order effective date then being used for HHG transportation, or
b. Before reversion, whichever is greater.
NOTE 4: A member selected as Senior Enlisted Advisor to the Chairman of the Joint Chiefs of Staff, Sergeant Major of the Army, Chief Master Sergeant of the Air Force, Master Chief Petty Officer of the Navy, Sergeant Major of the Marine Corps, or Master Chief Petty Officer of the Coast Guard is authorized a weight allowance of:
17,000 pounds with dependents, or
14,000 pounds without dependents
For a PCS authorization/order issued on or after receiving notice of selection to that position and for the remainder of the military career.
What's Included in Your Weight Allowance?
Firearms can be included as part of your HHG, as long as the weapon complies with local laws (state-level and international Status of Forces Agreements). There are specific shipment instructions that have to be followed to ensure the firearm complies with transport rules.
Alcohol is allowed as part of a complete HHG shipment, provided it doesn't violate import laws. Check with the US Customs and Border Protection and/or the Bureau of Alcohol, Tobacco, Firearms and Explosives (ATF) for detailed information.
Lawn furniture needs to be clean and free of dirt and debris to be shipped. This applies to CONUS and OCONUS moves.
CONUS moves can include motorcycles and dirt bikes as part of the HHG pack out and won't count toward your total allowance. OCONUS moves allow one motorcycle to be transported as a POV. If you choose to include it as part of your pack out, the weight is included in the total allowed.
Spare vehicle parts are allowed and don't count toward the total. Similarly, if you choose to include a utility trailer in your move, its weight isn't calculated either. Trailers have to be single axle with an overall length of no more than twelve feet and no more than eight feet wide.
Miscellaneous sporting vehicles and single-occupant vehicles like snowmobiles or golf carts can be shipped without altering your total weight allowance. In some instances, they can be shipped with their trailer as well.
Professional Gear
Professional gear or "Pro-Gear" and equipment doesn't count toward your total weight allowed. This includes books, papers, uniforms, or anything else that is needed for official duties at a current installation or the gaining installation. However, in order to qualify for Pro-Gear status, a servicemember needs to declare the equipment at their transportation brief and fill out a DD Form 1299 with the estimated weight.
During the pack out, Pro-Gear needs to be separated from the rest of the HHG. In the inventory, it needs to be noted as Pro Gear to ensure the gaining installation doesn't count it against the total weight.
Spouses Qualify for Pro-Gear Too!
That means that anything required for a spouse to continue their employment can be included in the Pro-Gear shipment at no additional weight cost. Spouses are allotted up to 500 pounds of Pro-Gear, and just like the servicemember, this "gear" needs to be declared and packed separately.
Items Allowed at Your Own Expense
Pets aren't included in your weight allowance because you're responsible for paying for them to travel. Moving companies aren't able to ship live animals as part of your PCS. Before you move, it's imperative to check with your gaining installation to learn about vaccines and quarantine requirements. This is especially imperative for OCONUS moves, as some host countries might limit specific animal species and breeds. Some quarantine fees might be reimbursable.
Boats, personal watercraft, and POVs can be shipped. Depending on the type of POV you own, you might be required to pay for shipment yourself. In most instances, a truck, car, or SUV can be shipped at no additional charge to you.
That said, if you're a two-car family, paying to ship the second vehicle will be out of your pocket and can range from two to four thousand dollars. Mobile homes and tiny houses are allowed for CONUS moves only and can often be complicated because of existing local laws. Check with your local personal property office.
You have too much weight – now what?
You should have had a pre-inspection appointment with your Transportation Service Provider (TSP) to evaluate your house and determine approximate weight estimates. This is an important appointment to keep because it helps the moving company assess how many movers your house will need and how long your pack out will take.
If you're anxious to begin a pre-PCS cleanout, it's easy to estimate the total weight of your HHG. Just multiply each room of furniture by 1,500 pounds. So, if you have seven total rooms in your house, a rough estimate of your total HHG might be 7 x 1500 = 10,500 pounds.
OCONUS Moves
Non-Temporary Storage (NTS)
For OCONUS moves, non-temporary storage allows you and your family a place to keep items that are oversized like large furniture or items that might be provided in government quarters, like washers and dryers. To gauge whether or not NTS will be useful for you, it's a good idea to speak with your OCONUS sponsor, if you have one. If a sponsor isn't available, your local installation might be able to offer additional guidance.
Unaccompanied Baggage (UAB)
Sometimes called "express shipments", unaccompanied baggage should be used to ship anything that you might need for up to 60 days while you wait for your HHG to arrive. For most people, this will include bed and bath items, along with any seasonal clothing you might anticipate needing. UAB is shipped ahead of your HHG to ensure it's ready to be delivered when you arrive at your next installation. UAB typically moves by plane versus HHG which is transported by boat. Before the UAB pack out, consider what you and your family might need on a daily basis that won't be available via lending closets at your installation. TVs are allowed to be shipped in UAB, along with smaller kitchen appliances.
UAB is generally limited to 2,000 pounds, but there might be lower limits in instances of unaccompanied tours or to specific OCONUS locations. These express shipments allow you to begin setting up life at your new installation while you wait for your HHG to be delivered.
Furniture is generally not permitted in UAB shipments, but exceptions are made for small collapsible cribs and air mattresses.
If you receive correspondence from your movers that you're overweight, there are a few things to keep in mind.
Remember that packing materials add real weight to your totals. Most moving companies estimate that packing materials account for around 10% of your amount. This can push you over the top, so pay attention.
Understand that every branch and every rank has different weight allowances. There are no set overage charges for going over your weight allowance. Since there's no way to self-weigh an entire house, don't be afraid to push back on a notification that you have exceeded your allotted weight. Make sure the TSP is removing the weight of packing materials from the gross total, and then have the shipment weighed again.
The easiest way to avoid going over on your allowances is to clean out your house before a PCS and take advantage of both NTS and UAB when you are moving OCONUS.
The military PCS system is designed to provide you with lots of options to make it easy to avoid being overweight and having to pay.
About Post Author